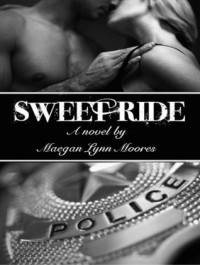 Today we welcome Maegan Lynn Moores to our blog as they celebrate their new book Sweet Ride which released on May 25th.
Enter for a chance to win a giveaway using rafflecopter below! Good luck!
---
4 STARS!!!
Synopsis
Appearances can be deceiving.
Payton Clare, the easy-going, fun-loving party girl, moves to Del Mar, California to be closer to her best friend. No one knows that a violent act in her past has left her damaged beyond repair.
She finds it hard to trust men, especially Jack De Luca, the badass, motorcycle-riding, undercover cop who had the potential to turn into something more. Jack's been absent from her life for years and has just ridden back in town and struggles with his own personal demons.
Can they find their way back to each other, overcoming their pasts to make a life worth living together?
Kim's Review
Sweet Ride is the
second book in the Ride series following on the heels of Wilde Ride where we first meet that sexy bad ass motorcycle riding President of the Mayhem MC Club & sweet Ella ~ well now we continue on with Payton's & Jack's story ~ There is no way you can forget the chemistry between these two in Wilde Ride and then the little well BIG secret that Deuce laid out ~ I'm not going to give you too much cause if you didn't read Wilde Ride I don't want to ruin it for you!!
Payton that crazy ass, partying, fun loving, sex loving sassy beautiful girl~  She had me cracking up at times and at other times my heart broke when we learned what happened to her when she was in high school ~ it kind of explains something's but still it was something she has lived with so long that you just ache for her to FINALLY open up and trust someone like ummmm JACK!!!!!!!!!!!!!
It's been 2 long years since Payton & Jack have been together and boy oh boy their fire never went out when they were apart heck it just EXPLODED in Sweet Ride ~ these two have some serious sexy as sin toe curling sex scenes that had me fanning myself!
Sweet Ride should also be called chaotic ride as well as WTH was that ride!  This book has more twists & turns than a windy mountain road~ at times I felt like I was going crazy trying to figure things out ahead of times but once I resigned myself to just sitting back and enjoy the ride I did and it was quite the ride but hell it's PAYTON come on and Jack FREAKING De Luca with his sexy Italian ass and his tattooed rocking body ~ He's working another case and don't you think for one minute that Payton becomes the helpless little Miss nope this girl has big kahunas and she's not afraid to stand up for herself.
The best part is we have a few more stories with a few more sexy boys coming  our way along with some Ryder & Ella in this one ~ loved when Payton & Jack paid a little earlier than expected drop by to Ryder & Ella's house never laughed so hard in my life and BEST LINE in a book I hope you get the sh**ts ~ totally freaking rolling when I read that part!
This was a solid 4 star read for me some parts definitely 4.5! It's my opinion that the authors writing style grew from Wilde Ride to this one ~ it read smoother for me and more in depth making me definitely wanting to read the next one ~ so if you like sexy ass bad boys who just might be part of the good guys and wild crazy ass beautiful women then I recommend you get your hands on this one as soon as possible.
An advanced read copy was provided in exchange for an honest review~
About the Authors
As the result of a joke between three friends by the names of Jillian Moores, Maegan Rowe and Tanya Baikie, the book Wilde Ride was born.