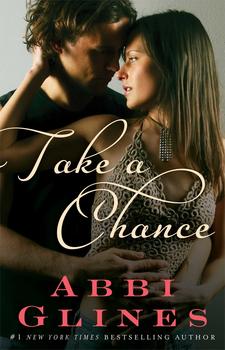 Today we welcome Abbi Glines to our blog as she celebrates her new book TAKE A CHANCE which released on February 25th.
Enter for a chance to win some amazing giveaways by clicking this link HERE. Good luck!!!
---

From #1 New York Times bestselling author Abbi Glines comes the story of Grant, the sexy playboy who first captured readers' hearts in Fallen Too Far.
When Harlow Manning's rocker father goes on tour, he sends her to Rosemary Beach, Florida, to live with her half-sister, Nan. The problem: Nan despises her. Harlow has to keep her head down if she wants to get through the next nine months, which seems easy enough. Until gorgeous Grant Carter walks out of Nan's room in nothing but his boxer briefs.
Grant made a huge mistake getting involved with a girl with venom in her veins. He'd known about Nan's reputation, but still he couldn't resist her. Nothing makes him regret the fling more than meeting Harlow, who sends his pulse racing. Yet Harlow wants nothing to do with a guy who could fall for her wicked half-sister—even if there are no strings between Grant and Nan. Grant is desperate to redeem himself in Harlow's eyes, but did he ruin his chances before he even met her?

Christine's 4.5 STAR  Series Review!!!
So I must admit here that I had a lot of catching up to do with this series.  I read Fallen Too Far a while back and fell in love with all of the characters in this series.  So when this book came along at just the right time, it was my chance to catch up with the Rosemary Beach cast of characters.  I will try not to make this too lengthy but have a lot to catch you up on as I devoured this series in a matter of days!
Getting to know and watch each bad boy in Rosemary Beach find their perfect girl has been a delightful experience for me.  This is a series that is both unforgettable and will stick with you – Abbi has created a world that readers want to revisit over and over again!
It all started with Rush and Blaire and watching them grow from the drama, angst and insecurity of young love to where they are today.  Love is never easy and there will be doubt and mistakes and from that true growth along the way.  For me, its the relentless and overpowering love that Rush has for Blaire that ultimately gets us to their place of perfection – happiness, marriage and a baby in Forever Too Far.  It was the most perfect ending for such a great couple who experienced many hardships along the way and seeing this man grow from playboy to a romantic man who makes the things most important in his life his top priorities made my heart burst with pride for the person he has become because he found true love. <3
In this series, we have also met Woods Kerrington who I loved from the start.  He was so wonderful to Blaire in previous books and I was ecstatic to see that Woods would get his own books in Twisted Perfection and Simple Perfection where we get to read about his journey to finding happiness with Della Sloane.  Both characters have their struggles in these books that hurt my heart.  Della trying to escape her past hurts and to truly live life while Woods is working hard to create a name for himself in his father's company though not truly living for himself but for the things that he always thought he wanted.  One HOT one night stand leaves an impression on their minds (as well as mine!) and we watch an undeniable attraction form where both question what is important in life while finding safety, happiness and the freedom to be their true selves and love with each other.  Twisted Perfection ends with something so unexpected and Woods and Della's story continues in Simple Perfection where we see Woods really come out to protect the woman he loves, putting her above all others.  This book brings to light the struggles of mental illness and Della's fear for any kind of future happiness with Woods.  There was a lot of unexpected twists in this book that lead into future books for more characters in this series which of course I welcome with open arms!  Woods and Della will continue to face many hardships in this book ultimately leading to finding safety, comfort and family with each other.
Which leads me now to Take A Chance – this was BY FAR my favorite in the series to date! I have wanted to knock some sense into Grant since learning he was hooking up with Nan…NAN the bitch sister of Rush who has made everyone's life a living hell!!  Seeing how Grant was raised, I understand his need to feel needed.  Nan has needed him but not in the way that Grant's heart desires.  This senseless need to help Nan changes when he meets Harlow, Nan's half sister.  Harlow is the good one, quiet, shy, and insecure yet fiercely protective of her heart, her body and yes her virginity.  You couldn't meet two more different people.  Harlow is somewhat broken – knowing that men only want her for the "status" of dating a famous rock star's daughter.
Watching this relationship grow was so enjoyable for me.  Yes, Grant is another Rosemary Beach player but this all changes when he meets Harlow and for once he really feels for someone in his heart and mind.  In this book, we learn the importance of taking chances in life, risking your heart because you will never know love if you don't take those risks – taking risks = really living life.
In true Abbi fashion, even more secrets are revealed, mistakes are made and I can't help but see everyone in a new light.  And YES! It's a cliffhanger but thankfully we don't have too long to wait as One More Chance will be coming out in July.
What I adore about a series like this is the sense of family and getting to know each and every character – this makes for a compelling read because we come back always wanting to know more – what happens next, what does the future hold.  With every book, previous characters make appearances, showing us more of their happy which in turn puts a huge smile on readers faces.  We are vested…we are always wanting more…keep it up Abbi!  I look forward to what you will bring us next!

Abbi Glines is the New York Times, USA TODAY, and Wall Street Journal bestselling author of the Rosemary Beach, Sea Breeze, Vincent Boys, and Existence series. A devoted booklover, Abbi lives with her family in Alabama.