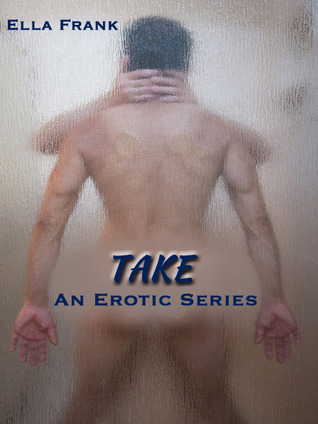 Take

by Ella Frank
on July 8, 2014
Pages: 265
Buy on Amazon
Goodreads


TAKE – verb: to reach for and hold in one's hands or get into one's possession, power or control. 

Logan Mitchell is a man who's always been more than happy to take what he wants. It's a philosophy that's proven lucrative in both his business and personal life, and never was it more apparent than the night he laid eyes on Tate Morrison. After pulling out all the stops and convincing the sexy bartender to give him a try—he's hooked. 
Now, Logan finds himself in a predicament that demands more from him than a smart-ass answer and his innate ability to walk away when things get too deep. 
He has a choice to make, and it'll force him to do something he's never done before—take a chance.

Tate Morrison knows all about taking a chance. He took the biggest one of his life the night he showed up at Logan's apartment to explore his unexpected reaction to the man. 
Ever since then, he's thought about little else.
At first he was convinced his attraction was based solely on his body's curiosity. But the more time he spends with the silver-tongued lawyer, the more Tate realizes that their physical chemistry is only the beginning.
He's starting to catch a glimpse of what life with Logan would be like, and it's one full of excitement and satisfaction—a far cry from what he had in the past with his soon to be ex-wife.

Each man will face their fears as they begin to understand the true meaning of give and take. Their feelings for one another will be tested, as will their very beliefs. But now that they've found love where they least expected it, will they be brave enough to reach out and take it?
First please do not read this book until you have read Try; Try tells the story of how Logan Mitchell and Tate Morrison come together.
Logan is a sexy lawyer and Tate, the bartender Logan knows he wants. We learn in book 1 that Logan is bisexual and Tate is getting divorce from a woman (a not so nice woman) and has never been with a man before.
I thoroughly enjoyed Take and for me it was a return to Ella Frank greatness; the work of a masterful storyteller who weaves emotions, sex and a wonderful story line.
Take pulls the reader deeper into Logan and Tate's relationship and into each man's head. In this book, you see the relationship developing beyond just the physical connect. Book 1 Try was hot, book 2 Take is hot and then some as the sex is woven with emotion and a deep connection for these men.
Tate's journey to self acceptance is a powerful one as he deals with the ugliness that comes from his family not accepting him. Many of these scenes pulled at my heart and had me gripping my kindle hoping Tate would be strong enough to follow his heart in the face of rejection from his family.
I adored the backstory for Logan (nope not telling you what it is). It was well crafted and allowed the reader to see the man beneath the bravado. Logan's deep wounds truly allow the reader to understand his actions in book 1 and book 2. Logan embracing Tate and wanting to share his life with him was so well done.
I loved Logan and William.. I know I know it sounds odd but trust me it so works.. the banter between these two was adorable and added to Logan and Tate's relationship.
I also wanted to add I love the use of the other characters in this book; Cole, Logan's half brother had some wonderful scenes and the pulling in of the cast from the Exquisite series was really well done. Yes, I admit I LOVED seeing Mason, he was the character that first introduced me to Ms. Frank's writing and catching up with him and Lena warmed my heart.
The book develops well and as a reader, I was able to see these men were truly made for each other despite all the obstacles the world threw at them.
I personally think new readers to this series will have an even more enjoyable read than I did as they can read Try and jump right into Take. It truly is the development of Logan and Tate's relationship from a physical pull to a deep emotional connection.
The final scene of this book was so well done! I loved the play on what a small world it truly is sometimes.
I truly hope we get another book for Logan and Tate!


"That's your truck?"
"Yes."
"It's so…"
"So what?" Logan challenged as he pulled his keys from his pocket.
"Old?"
"Excuse me. I'll have you know I was driving this baby all through college and she still runs like a dream."
Tate watched as Logan walked over to run his hand over the scratched-up tailgate, and he was amazed that he even made that look sexy. Like he was stroking a lover.
"And it's a she, huh?"
Now around at the passenger's side, Logan opened the door and looked at him over the bed of the truck. "Yeah. Jealous?"
Laughing, Tate walked over to where Logan stood with a hand on the door and kissed him slowly on the mouth.
"I'm jealous of anything you stroke like that."
"Get in the truck, Tate."
"Or else?"
Logan stepped forward, crowding him back against the inside frame of the vehicle. "You're not ready for the or else…"
♥SERIES READING ORDER♥
Book 1 – Try

Book 2 – Take