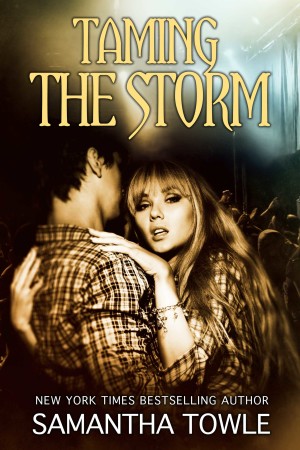 Taming the Storm

by Samantha Towle
on July 1, 2014
Pages: 357
Buy on Amazon
Goodreads


Lyla Summers hates men. Okay, maybe hate is a strong word … Lyla intensely dislikes men.

Her father has let her down her whole life. Her brother betrayed her in the worst way possible. And her past relationship experiences with men have been less than great.
Lyla is focussing all her energy into her band, Vintage, so when they receive an offer to sign with TMS Records, it seems that things are finally turning around for her. The last thing she wants is a man getting in the way.

Tom Carter loves women. Okay, love might be pushing it … Tom enjoys screwing lots of women.

When tragedy befalls his best friend, Tom finds himself making a promise to the big man upstairs – he'll change his ways, if he saves the woman his best friend loves.
Tom's prayer is answered. Now he has to change. Which means no sleeping around.

After Vintage's manager breaks her leg skiing, Tom steps in as tour manager, and Lyla finds herself on tour with the man whore of rock.

Put one perpetually horny Tom and one sex resistant Lyla together, equals a recipe for disaster. Or so you'd think…

But an unexpected friendship is formed. A closeness neither of them expected. Putting one chastity belt and one lamp that is in desperate need of rubbing, to the test.

Will the sex storm that is Tom Carter, finally find himself tamed by the rock chick with a hardened heart, or will he go back to his womanizing ways…?


Taming the Storm tells the story of Tom Carter, one of the members The Mighty Storm; the band profiled in The Mighty Storm and Wethering the Storm; though you do not need to read these books for the story to flow, we recommend you read them as it is a more enjoyable experience to read the series as a whole to get to know the characters better.
Denise: Taming the Storm pulled me right in, the prologue of this story makes it very easy for the reader to understand why Lyla wants no man in her life, why she does not want to love and has decided to to focus on her career.
Christine: I SO agree Denise! I was totally shocked with what happened.  With what should have been one of the greatest experiences of her life turns her life 360 degrees and her band is forever broken.
Denise: Lyla is determined to make her band, Vintage, a success. Lyla's best friend Caleb and the other men in the band are the only men she has in her life. These boys are her family and I love how protective they tried to be of her at times.  Lyla's band signs with TMS Records (the labels owned by The Mighty Storm front man Jake Wethers) I love how this and a cute event leads to Tom Carter being the band's manager for the their tour.
Christine: I have been intrigued with Tom since we met him in prior books so to see Tom become a manager for Lyla and her band, I knew that we would be in store for some fun and adventures.  The interactions between them Lyla and Tom had me laughing throughout and of course the sexual tension between them is scorching HOT! Lyla has stayed away from men and sex to protect her heart and avoid anymore hurt and pain and to see Tom break down these walls was something magnificent to experience.  Ms. Towle does a phenomenal job at evoking such feelings in a reader.  I enjoyed Tom and Lyla's interactions from friendship to more and although they both try to hide their attraction, it's so hard to ignore that there are deeper feelings between these two.
Denise: Ms. Towle did a great job at allowing the reader to experience the bond building between Lyla and Tom. Lyla opening up about her past allows Tom and the reader to see her in a new light.  When these two finally connect it was HOT; Tom is a machine and Lyla is so open to all Tom is willing to give. Lyla's trust of Tom when they are alone (I won't say in the bedroom because these two get it on in many locations) showed their friendship blooming into even more; even if both have no desire to put a label on it. Tom slowly evolved as the story moved forward but he is very resistant to his feelings; why Tom is the way he is, the reader has no clue at least for most of the book. Lyla gets a glimpse of the man between the Tom Cat persona and as a reader I could not wait to learn more about him. Since the reader knows Lyla's hurt, watching her accept her feelings for Tom and take a chance on loving again pulled at my heart. The reader does get more Tom and when it is revealed, I loved Tom's backstory though the reader and Lyla don't hear his why until toward the end of the book, it was masterfully crafted in a way that had many of his actions falling into place and making sense.
Christine: What I SO loved about this book is that Samantha was able to turn Tom, a guy who never wanted a relationship, who slept around with everyone and everything, into a real and true gentleman who has met the one he was destined to be with.  Tom's evolution was complete perfection and I so enjoyed their journey.
Denise: The epilogue of this book warmed my heart; the setting beautiful and seeing everyone together had me smiling hoping Tom truly found love. The things Tom suggested towards the end, making those things happen, involving Lyla in that, Tom Cat has his forever in Lyla's love and support (yes I am purposely being vague).
Christine: I love rock star romance reads and this series has always been one of my top favorites.  I look forward to more from the secondary characters in the band and to watch Ms. Towle evolve as an author as she gets better and better every time. <3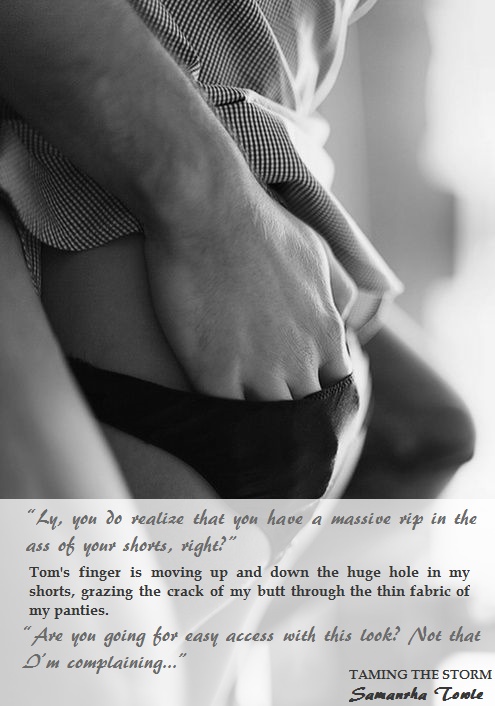 *fan made trailer by Cris Hadarly at The Book Avenue

I'm clean, I promise. I have regular checkups. And I never go bareback. I've singlehandedly kept Trojan in business for the last fifteen years. You have nothing to worry about."

Fifteen years? He started having sex when he was fourteen?

How am I surprised by this? This is Tom Carter we're talking about.

And I was just starting to consider maybe giving in after his whole trust thing. But now, all I have ringing in my ears is, I've singlehandedly kept Trojan in business for the last fifteen years.

Nice reminder of his whoring ways. I feel sick.

I hold back the rising bile and clip out, "Nothing to worry about? Oh, okay…" I can feel my anger climbing to epic proportions. Only he can get under my skin this way. I try not to think just what that means. "I gotta say, Tom, I feel a whole lot better about your proposal of letting you have sex with me bare-fucking-back," I yell, "when you just reminded me that in the past you've been ridden more times than an elevator in the Empire State Building!"

His eyes narrow. "You knew all along who you were getting into bed with, sweetheart."

"Ugh! Sometimes, I wonder what the hell I'm doing with you." I don't mean that. But I'm angry, and when I'm angry, I'm not rational.

I push against his rock-hard chest and start wiggling, trying to get out from underneath him.

But Tom is a lot bigger and a lot stronger than me. Pinning me with his hips, he grabs my hands and holds them tight against the pillows above my head. I can't budge an inch. And I don't like it one bit.

"You know exactly why you're with me. Because I fuck you like no man ever has before or ever will again."

Not impressed, I scowl up at him. "Let. Me. Go."

"No. Seems you need reminding of a few things. One, I am always the one who does the riding, not the other way round. The bedroom is my domain."

Shifting his hips, he presses the bare length of his hard cock against my clit. I have to bite back a moan. But my body shudders, giving me away. I hate the way my body betrays me when it comes to him.

He smirks. "You got that, or do you need a little more reminding?"

Ignoring my body's screaming needs, I snap out, "Fuck you!"

"We'll be doing that real soon, but for now, just answer the goddamn question. I said, you got that, or do I need to remind you again?" He thrusts against me, harder. It's more precise this time, hitting that perfect spot.

I'm sure that man has a mental blueprint of my vagina because he knows just when and where to touch me at the exact right moment. My eyes roll back in my head, a moan escaping this time. The words leave my lips without thought, "I got it." My voice sounds breathy, girlish, not like me at all.

Just who am I with him?

"Good girl."

I see a look of power take over his face before he lowers his head to mine. Our lips are almost touching but frustratingly not. And it scares me just how badly I need his mouth on mine in this moment.

His hot breath mixes in with my own as he rumbles out, "For some ass-backward reason, you are the only one I want to ride. Constantly. Over and over. I can't get enough of you, and you are the only one I have ever wanted to ride bare-fucking-back. So, that kind of erases the rest, wouldn't you say?" He sucks my bottom lip into his mouth. "I want to feel you," he murmurs.

Breath knocked out.

Tom doesn't push for an answer because he doesn't need to. I'm a limp, pliable mess of emotions under his firm hands and mind-fucking words.

"Tom," I whisper, breathless. "Ride me…now…bare-fucking-back."
Series Reading Order
Book 1 – The Mighty Storm

Book 2 – Wethering the Storm

Book 3 – Taming the Storm