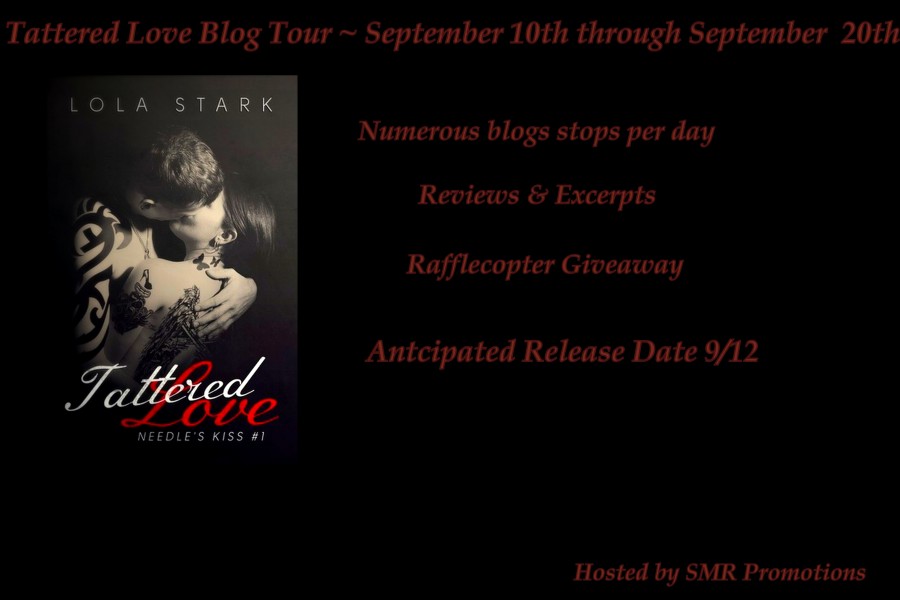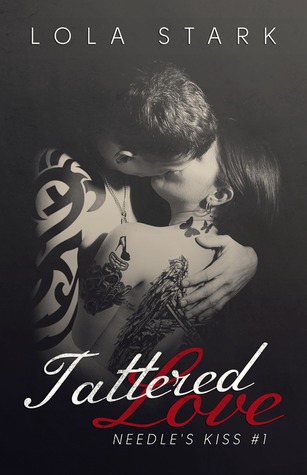 Today we welcome Lola Stark to our blog as she celebrates her new book Tattered Love which released on September 9th.
Enjoy a dual review from Kim and Jen below!
Enter for a chance to win some amazing giveaways using Rafflecopter. Good luck!
---
Synopsis
When ex-Special Ops bad-ass Mace walks into Needle's Kiss tattoo parlour, he never expected to find the girl who would turn his life upside down.
Hard as nails Scarlett has been unlucky in love: she's been burnt, chewed up and spat out. Reluctant to have another relationship, can she keep her wits about her when hot-as-sin Mace walks into her tattoo parlor? Or will he break her down and leave his mark within her ink?
What starts out as a little fun, turns into something so much more.
Can Scarlett look beyond Mace's devastating past or will his demons come back to haunt them both?
Content warning: contains steamy, anywhere-goes sex, an alcohol induced embarrassing night out and two headstrong lovers taken on a whirlwind of crazy.
Kim's 5 STAR Review
WOW! I can't remember the last time a book had me ….


and not even a second later …


and then totally….


Tattered Love was one heck of a ride ~ I really didn't want to get off the ride ~ Scarlett is one bad ass chick! She's not a girly girl ~ She is into cars, drinking beer, kicking back with the boys and owns her own tattoo shop, Needle's Kiss. She has one girl friend, Teeny. She loves her high heels! She's tatted & pierced out and she is funny as all get out. She is a total….


Then one day in walks Mace ~ He's the brother of Trip who works for Scar. He just got out of Special Op's. He is tattooed, ripped and just all around fine specimen of a man. Oh yes he would've have you…


and once he did you would surely….


But Mace also has a past that haunts him. Well when these two connect it is instant….


and the……


was some of the hottest sex scenes I've ever read! There is so much more to this book though. Scar has been hurt bad in her past and she's very protective of her heart but that heart doesn't stand a chance with Mace around. This book took me from ….


to absolute ….


These two start out hot and heavy but one omission left me…..


and Scar does what I would do she ….


Thankfully, there's a second chance there but will there be a third? You have to read it to find out! After the second chance this book grabbed me and it started to get downright WILD ~ One person in this book had me …..


and I wanted to punch her, repeatedly. When Mace came clean with his past I just ….


it was so well written it broke my heart. When Mace and his infinite wisdom does something that left me…


I had to ….


I couldn't freaking BELIEVE he did that and thankfully he wised up cause he needed a good ….


The closer I got to the end I started to get this feeling. Things were kosher and things had gone down ~ vague I know but no spoilers from me. Well those last few minutes of the book had me …..


and a total ….


I got to the Epilogue and I started….


Oh heck yes it's told from Trip's POV and I was so freaking excited! Of course I was left hanging cause Trip & Teeny's story is next but I did a big fat ….


for both Mace & Scar ~ perfect ending!!!!
Tattered Love is roll on the floor laugh your arse off sexy as sin book that you will not be able to put down! It was a total 5 star read for me. I connected with the characters and I loved that Lola stayed true to form with them. They didn't annoy me at all ~ the only thing I want is MORE and I can't wait for Conflicted Love I just have a feeling I will be…


when I read that one. I recommend you get your hands on Tattered Love like NOW! I guarantee you will laugh out loud, cry and fist pump all the way through this one!
Jen's 5 STAR Review
Thanks to the girl's at Shh…Mom's Reading for the opportunity to guest review this sinfully sexy read! When I first got my hands on Tattered Love by new Author Lola Stark, I couldn't wait to dive into it! The synopsis and the HOT cover is what attracted me to this book. I mean really, she had me at Ex-Special Ops, and Tattoo Parlor! After I read the first chapter, I would have never guessed this was Ms. Stark's debut novel, the beginning of the book pulled me right in, and I didn't want to quit until I had read every last word!  She will definitely be an author to watch for!
I adored the storyline in Tattered Love, it's about Scarlett Garcia, a twenty-six year old, tough as nails business owner of a successful tattoo shop called Needle's Kiss. Owning this shop had always been a dream of hers, but only half a dream, the other half, finding 'The One'. Scarlett had no problem making the first half of that dream come true, the second half was not going as smoothly as she wanted. She couldn't seem to find Mr. Right. After growing up in a broken home, and dating a string of losers, Scarlett who has a fetish for expensive lacy underwear and sexy heels, came up with these words to live by…"Keep your head, heels, and standards high." Those words seemed to be helping her get through the everyday, until the doorbell in her shop sounds unexpectantly. Enter, a gorgeous, muscular, sexy as hell man invading her space, looking to have a tattoo done. All of those words and promises she had said to herself about not falling in love with a bad boy, might be shot to hell!
From the moment that the aqua-blue eyed, ex-special ops, gorgeous alpha-male Mace Torres walked into Needle's Kiss, I knew two things. First, I'm going to love reading about him, and Second, I couldn't wait for the sparks to ignite between Mace and Scar! These two have an undeniable chemistry that jumps off the pages of this book! Yes, it was going to be fun to see just how Mace was going to break down those walls that Scarlett had built up! When reading a book the chase to me is often the most exciting part of the journey, and in Tattered Love, even with all the twists and turns, I really enjoyed how wonderfully the characters were written. The dialogue between all of them had me wanting to keep turning pages, laughing out loud, and often fanning myself to avoid overheating from the scorching HOT scenes!
When I started Tattered Love, the only thing I was skeptical about was the length of it. I'm usually a fan of books a bit longer, but this story had everything I look for! It was funny, sexy, emotional, and also contained intrigue that kept me on the edge of my seat! Another great aspect of this book that I adored, the dual POV's, it was fun to get inside Mace and Scarlett's thoughts throughout the entire book. Having an Epilogue is another component to a book that I love, and this one was superb! It will leave you with a great ending to the main characters, while setting up book two in the Needle's Kiss Series called "Conflicted Love" which will be about Mace's younger brother Trip, who is also in Tattered Love., and works at the tattoo parlor. Ms. Stark is also working on a Cowboy themed book called Destry, it will be part of the Hard & Rough Series ( I can't wait for that one, I love a HOT cowboy read!)
The wonderful thing about being a guest reviewer, it provides me with another outlet to read and recommend amazing stories by Indie Author's like Lola Stark, Tattered Love is a must "Click" book!! I enjoyed it from beginning to end, and can't wait for the next installment!
Favorite Quotes
Trip to Mace, when talking about his motorcycle~ "Watch it! That hunk of metal's my girl. Only chick I'll ride twice, so be nice to her."

Mace~ "Let's get a few things straight. I'm not a toy. You being pissy at me only turns me on, and this 'thing' has no Goddamn rules, except you are mine, Scar."

Scarlett (I was seriously laughing out loud!) ~ "Mace if you don't get in the back of that ambulance right now, I'm gonna have to punch you in the junk. And I really don't wanna do that baby; I'm kinda in love with your junk."

Mace~ "Let me protect you, baby. That's what a man does for his girl. He protects what's his."

"This was my love, her love – torn, damaged, broken, ripped apart and put back together. This was our Tattered Love."
About the Author
Lola Stark lives in Australia, Is an at home mummy with no filter raising a hoard of minions and a husband who sometimes appears not to have grown up. Lola has loved to read for as long as she can remember. When not wrangling the family she can be found sitting at her computer , writing, facebooking or just generally messing around.
Upcoming Author of 'Needles Kiss' series. A sexy contemporary romance/erotica series. Stay tuned for updates on Book one 'Tattered Love's Scarlett and Mace's story.
Here's to tatted up ladies and hard as nails men !
With all things going as planned there will be 4 books to this first series with the possibility of another spin off series to follow