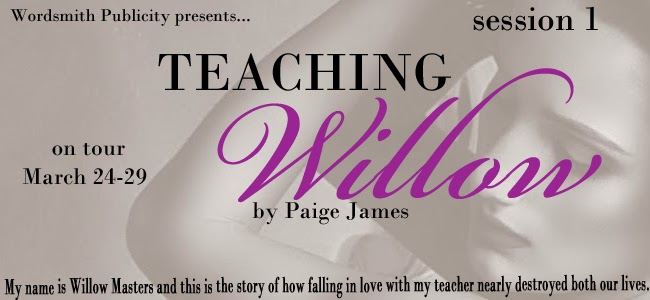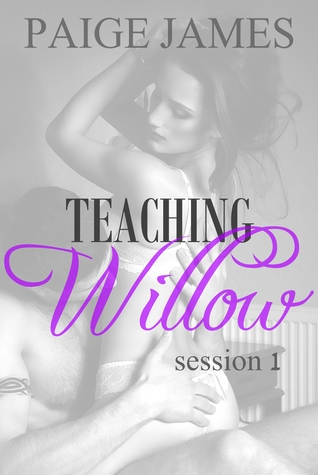 Happy Release Day to Paige James and her new serial – Teaching Willow: Session One. This is a new serial following 2 HOT characters. Enjoy my review below and be on the lookout for Session 2 coming out in April!
---

My name is Willow Masters. I'm a senior in college, I'm smart and I keep to myself. I haven't had an "incident" in years. What all of these facts have in common is that none of them made any difference when it came to Ebon Daniels.
He started out as my sister's date. I was instantly infatuated, but had no plans to do anything about it. I even managed to keep my feelings hidden when he took over my Modernist Literature class for the semester. The problems didn't start until my sister took pages from my book—literal pages from a book I was writing—and gave them to the one person never intended to see them. That's when the lies started. That's also when I saw an opportunity to make my only dream become a reality.
So I took it.
And nothing will ever be the same again.
How could one lie spark a wildfire that burned down everything in its path? How could it get me all I ever wanted and then cost me everything that ever mattered?
It doesn't seem possible, but it is. It's possible, it's true and it's tragic. In my book, there is a happy ending, but I don't know if my life will have the same outcome.
My name is Willow Masters and this is the story of how falling in love with my teacher nearly destroyed both of our lives.
And how it still might.
Ok so when fellow bloggers ask me to read books, its very hard for me to resist and say no even when I am so busy and scheduled reading other books.  When Autumn contacted me, of course I had to say yes and I am SO glad that I did.
Paige James is a new author to me and I definitely look forward to reading more from her.
I love forbidden romances and most especially the student/teacher kind.  This was a quick, HOT read.  The opening sucks you right in and there is no looking back.
There were some unexpected twists that I wasn't expecting which made it even more enticing to read and then OMG it was done and I am left wanting more!
This was a well written debut and totally different from what I have been reading in that it is a serial so very short, to the point, hot and will leave you wanting more.
If you are looking for a quick read, I definitely encourage you to give it a try.
Great job and can't wait til Session Two to see what happens!!! <3