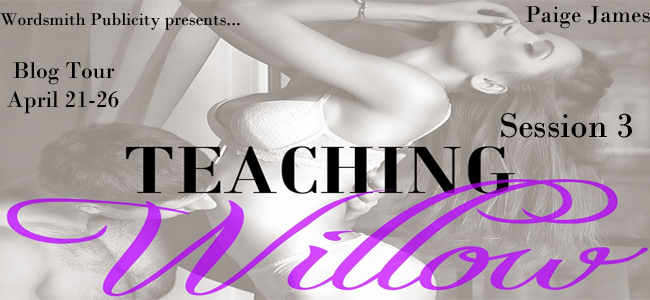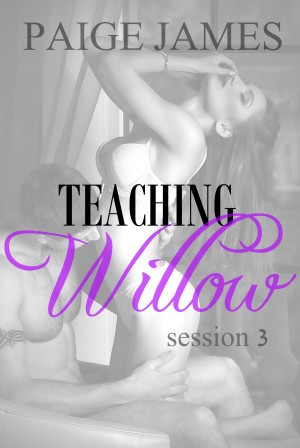 Today we welcome Paige James to our blog as she celebrates the next session in her serial – TEACHING WILLOW: SESSION THREE.
Make sure to enter the giveaway below! Good luck!
---

It started with waking up in a strange place.
It ended with everything that I thought I knew coming into question.
Now, I'm watching love turn into hate, bend turn into break and lies turn into truth that hurts worse than the deception ever did.
Such is my life, The Wicked World of Willow Masters.
So things are definitely heating up in Session Three of Teaching Willow with the big secret being revealed. I guess when this secret was revealed I expected more of a reaction from Ebon than what we got. Yes, he has lost his job because of it but I would have expected more anger from the deception than what was shown to us.  I am also wondering what Sage's reaction to this whole thing was as I feel that I kind of missed it in this book.
Paige James definitely has the hotness factor working in these sessions with each encounter between Ebon and Willow getting better and better with each book. *fans self*
When things start getting more exciting towards the end, it's done and we have to wait for the next session! Grrr….
We do learn more backstory about Willow and I am definitely interested to learn more about Ebon especially with how this session ended! Ahh!
While this is my first serial and I am enjoying reading it in between other books because of the length, I almost wish that I could just have the complete story because as it starts getting good, it's done and now I have to wait for the next installment. I almost wish that I could get it in one shot because I do feel like the wait in between causes me to forget the impact the previous session had on me.
However, I am still captivated by the story and look forward to session 4!  I WANT all the answers!!!

My name is Paige James. I'm a fairly shy bookworm and lover of all things romantic and steamy. I'm a wife, a daughter, a sister, a friend, a drinker of wine, an animal advocate (even the ones that look like rodents) and a spinner of tales. Thank you for taking a chance on my work. You're making this working girl's dream come true.

Series Reading Order
Book 1 – Teaching Willow: Session 1

Book 2 – Teaching Willow: Session 2

Book 3 – Teaching Willow: Session 3