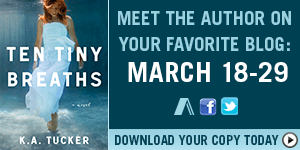 Today we welcome K.A Tucker to our blog as she celebrates her book Ten Tiny Breaths!
Enter using Rafflecopter below for an amazing giveaway! Good luck!
---
4 STARS!!!
Summary
Kacey Cleary's whole life imploded four years ago in a drunk-driving accident. Now she's working hard to bury the pieces left behind—all but one. Her little sister, Livie. Kacey can swallow the constant disapproval from her born-again aunt Darla over her self-destructive lifestyle; she can stop herself from going kick-boxer crazy on Uncle Raymond when he loses the girls' college funds at a blackjack table. She just needs to keep it together until Livie is no longer a minor, and then they can get the hell out of Grand Rapids, Michigan.
But when Uncle Raymond slides into bed next to Livie one night, Kacey decides it's time to run. Armed with two bus tickets and dreams of living near the coast, Kacey and Livie start their new lives in a Miami apartment complex, complete with a grumpy landlord, a pervert upstairs, and a neighbor with a stage name perfectly matched to her chosen "profession." But Kacey's not worried. She can handle all of them. What she can't handle is Trent Emerson in apartment 1D.
Kacey doesn't want to feel. She doesn't. It's safer that way. For everyone. But sexy Trent finds a way into her numb heart, reigniting her ability to love again. She starts to believe that maybe she can leave the past where it belongs and start over. Maybe she's not beyond repair.
But Kacey isn't the only one who's broken. Seemingly perfect Trent has an unforgiveable past of his own; one that, when discovered, will shatter Kacey's newly constructed life and send her back into suffocating darkness.
Denise's Review
Ten Tiny Breaths is a powerful story about how one event can affect and change so many lives; it is a story of struggle, perseverance, redemption and speaks to the power of forgiveness.
Kacey Cleary's life was torn off course when a horrific accident took her parents, best friend and boyfriend.
Ms. Tucker makes Kacey's emotional pain and struggle tangible, you can feel her struggle and truly appreciate her feeling that she too was lost in the accident.
Kacey and her younger sister Livvie depart their home town determined to start a new life in Miami. Kacey is determined to do what is best for Livvie, to do whatever she needs to get Livvie into college and to keep her life on track.
The girls' new apartment puts Kacey in the path of Trent Emerson, her handsome neighbor who she just can't seem to stay away from.
Trent is determined to find a way into Kacey's life.  His determination to make her smile will warm your heart.  I initially struggled a bit with Trent's desire to "fix" Kacey but as the story unfolds I truly understand why Trent was pushing her so hard.
Ms. Tucker does a nice job at developing a relationship between these two, you really start to root for them to make it.
Kacey's journey for me felt real.  Ms. Tucker did not down play the effect an event can have on someone's mental health. She really laid out a journey for Kacey and the use of an expert in PTSD was well done.
The use of secondary characters in this book was very enjoyable.  Kacey developing bonds with Storm and even the men she works with allow the reader glimpses into her walls coming down. Kacey is so closesd up when you first meet her, this character development helps you see a path for healing.
As the story develops you then learn Trent has his own past, a past that could destroy both of them.
Will these two find away to accept the past and move forward?
Well you have to read to find out.
I will say those who know me know I am big fan of epilogues, and this book delivers one that truly warmed me heart.
I am very much looking forward to Livvie, Kacey's sister's book.
---
Guest POST – Inspiration behind your characters

My favorite books are those with well-developed characters—both main and supporting—so it only makes sense that creating characters with depth would be a key ingredient in my own writing.  In Ten Tiny Breaths, I ensured that every single character had a purpose to the story and their own voice. I think that's why so many readers have taken to them as well as they have.

My inspiration? Nothing specific (like a person or a place or a point in my life). I knew that I wanted to create characters that were not typical. I also knew that I wanted to cast all of the characters in a positive light, despite their own demons. The story is very dark to begin with, as is Kacey. She needed to be surrounded by people she couldn't help but open up to.

Aside from that, I knew I wanted to avoid the stereotypical characters. Hence, Trent is broken and battling his own demons but he's nothing but loving and sweet to Kacey (with a bad boy edge to him, of course).  Livie's sister is naïve in some ways but wise beyond her years in many others. She and Kacey have an unusual relationship where Livie is consistently tolerant of Kacey's erratic behavior. Really, she is Kacey's rock. Even Storm is about as non-typical as you can get. She's got the body and looks of a stripper but the heart and patience of a mother trying to make a life for herself and her daughter.  Even Cain (the club owner) is as non-typical as you would expect a strip club owner to be. There are specific reasons for his character. Reasons that will be made clear in Book 3 J

I could tie tiny bits of inspiration from life into these characters but nothing that defines them. I knew two Irish sisters in high school—one with jet black hair, the other with fiery red hair. When I think of Storm, I picture Rita from Dexter (her physical appearance, minus the ginormous breasts, and her kind demeanor). Also, anyone who has travelled with me to Florida knows of my obsessive fear of alligators, hence why they're mentioned several times.  Little things like that tend to creep into my writing.

Thank you so much for having me here today! xoxo
About the Author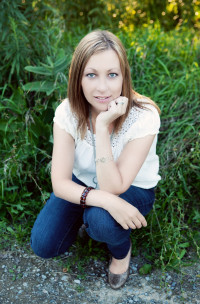 Born in small-town Ontario, Kathleen published her first book at the age of six with the help of her elementary school librarian and a box of crayons. She is a voracious reader and the farthest thing from a genre-snob, loving everything from High Fantasy to Chick Lit. Kathleen currently resides in a quaint small town outside of Toronto with her husband, two beautiful girls, and an exhausting brood of four-legged creatures.