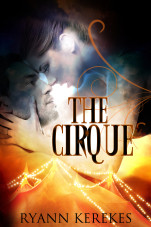 Today, we welcome Ryann Kerekes as she celebrates her new NA book, The Cirque, which released on February 25th!
Enter below using Rafflecopter for a chance to win a signed paperback or an ebook from Ryann.  Winners will be announced on March 8th.  Good luck!
---
4 STARS!!!
Summary
A good girl trying to find herself.
A troubled boy running from his past.
The seductive allure of the cirque.
One summer that will change them both forever …
Eighteen year old ballerina Ariel is determined to experience life outside the dance studio. She
auditions for the cirque on a whim, and though ballet training didn't prepare her for dodging
knives, she refuses to flinch and wins the spot of target girl alongside Gabriel, the mysterious
knife thrower.
There's something unmistakably dangerous yet tempting about Gabriel's crystal blue eyes and tattoos. She's determined to solve the mystery of his past after learning he's on the run from the law. Especially since the distraction is just what she needs to avoid admitting to her parents she was dismissed from her ballet contract.
The more she learns about Gabriel, the scars on his body, the foster homes he grew up in, and
his fascination with knives, she knows she should run the other way, but that boy's like crack, oh
so bad for you, yet addicting as hell. When he's arrested and forced to deal with his past, she
has to choose between putting her own life back together and dealing with her parents, or taking
a chance on Gabriel, as no one else has.
The Cirque is a contemporary new adult romance.
Christine's Review
This was my first Ryann Kerekes  book and it will not be my last!  My blog partner, Denise, speaks very highly of Kendall Ryan so when Ryann contacted me about her new NA book and I learned that they were one and the same person, I jumped at the chance to read her book.  I was instantly captivated by the cover – the mystery and intrigue and the inner workings of a traveling cirque.  I was so excited to dive right in!
Ariel (Ari) is 18 years old and attends a performing arts high school for ballet.  She is not only beautiful and angelic looking with her blond hair and blue eyes but she is also a true innocent.  Ballet has always been in her life as her mother is a former dancer – ballet has always defined her as a person though inside she questions whether this is really her life and dream she is living or those of her mother.  When Ari gets kicked out of ballet school because of her lack of interest that is shown to her teachers, it is the only thing she knows and she doesn't know what she will do or how she will explain this to her parents.  She comes across the flyer for auditions for Mystique, the traveling cirque and goes to check it out on a whim.  And though Ari at first doesn't feel that she belongs, she encounters something she has never seen before – people similar to herself – looking to escape from their lives; everyone looking for a common place to fit in.
Ari is placed into an act with knife throwing, tattooed hottie bad boy – Gabriel.  Gabriel with his messy brown hair and sky blue eyes is a loner and a complete mystery.  He fascinates Ari (and truthfully myself!)  I want to know more about him – why is he an outcast?  What is his story?  And though Ari is in this act and she is self-conscious about the act and the non-existent skill it takes for her to perform it, for once in her life, she is excited, energized and ALIVE!
So of course, a story isn't a story for me without a good love triangle and a hot new boy to absolutely fall in love with!  Gabriel is definitely more than meets the eye.  He is smart, kindhearted and overprotective of Ari though he tries to act like he doesn't care for her.  I enjoyed learning his back story and love even more that he took things slowly and truly cherished every moment with Ari.  Gabriel has a dark past that you will learn about.  His issues with abandonment and trust tore at my heart.  Despite his bad boy persona, as the story develops and as Gabriel slowly opens up to Ari, we can see a boy who just wants to be loved and wants to love in return.  Can this broken boy open his heart to love?  Will these two people stop running from their past and just live?
This was a true coming of age story – a story about two people trying to escape their lives and finding each other, and learning how to do what's right for themselves.  It's about truly living your life.  It's about dealing with the consequences of your choices.
I truly enjoyed this story.  It was so eloquently written and it never felt rushed.  It was such a nice pace that I was able to savor and cherish every moment with Ari and Gabriel.  The setting was something that I have never read or experienced before but I truly enjoyed reading and learning about the cirque – all the beauty and the hard work it takes to perform.  In my mind it was so colorful because it was so well written that I could visualize everything.  I loved it and I loved this couple.
On a side note, I loved the secondary characters in this story.  They all added a special depth to the story – each one endearing to my heart.  Operation spatula had me laughing out loud! 🙂
Job well done!  I can't wait to read more from this author!
We were done running from our pasts done dodging the future.  It was time to live.  And there was no place I'd rather be.
Character Inspirations
The Cirque Playlist (taken from Ryann's website)
I listened to these songs over and over while writing The Cirque and several of them I even imagined playing during the scenes I was writing, in those cases I've made notes about how I imagined them fitting into the scene. (Possible spoilers ahead if you haven't finished the book)
A lot of the songs are dark and heavy, the others are about love. It's the perfect mix of fascination and falling in love, so I think it represents the book well.
Giveaway
a Rafflecopter giveaway
About the Author

Ryann Kerekes writes young adult novels with a strong dose of romance. She lives in Minnesota
with a super cute husband and two puppies, one of which may be part monkey. When not
writing, she enjoys reading, hiking, laughing and day dreaming about kissing scenes.
Also writing adult romance as Kendall Ryan.