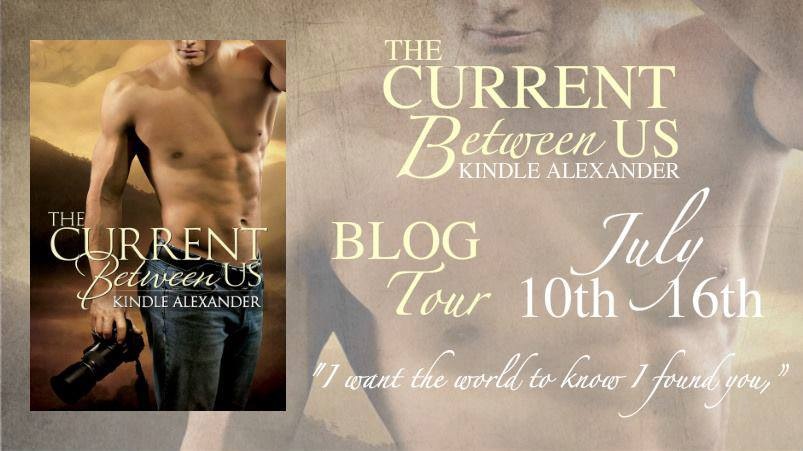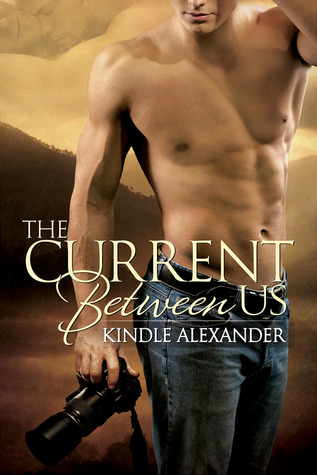 Today we welcome Kindle Alexander to our blog as she celebrates her new book The Current Between Us which released on June 18th.
Enjoy an EXCLUSIVE deleted scene that Kindle has provided to us especially for you!
Enter for a chance to win some amazing giveaways using Rafflecopter below.
---
4.5 STARS!!!
Synopsis
Gage Synclair, international, hard-hitting investigative photojournalist, is preparing for the final special report of his career…a story of deception and murder six long years in the making. And after ten years in some of the worst parts of the world, he's ready to settle life down and open an art gallery in his hometown of Chicago. The only thing getting in his way, he needs to find a competent electrician to finish the job before his grand opening.
Trent Cooper, electrical contractor, is surprised by the last minute request for a fast-paced electrical remodel, wanting nothing more than to get his foot in the door with Layne Construction. Being gay in the construction industry isn't easy, nor is being father to his two young adopted children. Trent keeps his life in separate zones to avoid a short circuit. But when the gallery owner propositions him on the first day, Trent can't help but think his worlds are a little too close for comfort.
Will their high-voltage passion spark everlasting love or will their lives break the circuit between them forever?
Denise's Review
I truly enjoyed this M/M read.
The Current Between US tells the story of Gage Synclair, an investigative photojournalist and Trent Cooper an electrical contractor and single Dad.  From the moment these two meet Ms. Alexander relays an instant chemistry that the reader can feel.
Gage is used to replying on his gut and jumping in feet first, so when he decided he wants Trent – watching him push forward was so enjoyable.  Trent has spent years putting his children first, his attraction to Gage is something he struggles with. It was wonderful to see the adults in his life push him to move forward, helping him to see that his life has to be about more than just being a Dad.
As these two connect, it becomes clear that Gage is feeling things he has never felt before and that Trent is leery of this man who he sees as so far out of his league.  When Trent accepts Gage's offer for a date these two interact so easily that the reader truly roots for their happy from the moment their lips touch. Oh and their lips do more than just touch, so yes this book is steamy but also tender as these men accept the love the feel for each other.
Trent's children Emmalynn and Hunter were so well done, the use of them moved the story and was true to how children often behave. There were silly moments, tender moments and moments when kids do what kids often do and say exactly what's on their mind.
The twist in this book was unexpected, so well done and truly added to the story value. It pushed the characters, created real conflict and asked the tough question – How much can you really sacrifice for love?
I loved the ending to this book, it highlighted how much these men want a future together and just what it mean to be a family; family is about love not blood!
Ms. Alexander has become one of my favorite M/M authors; check that one of my favorite authors. Her characters are mature, well rounded and seem to find a place in my heart.
I look forward to more wonderful reads from this author. And I was excited to learn to secondary characters in this story may get their own story soon! Ms. Alexander please keep the great stories coming.
Deleted Scene
Nerves held Gary momentarily still as he stood at the front door of Trent Cooper's suburban home. He clenched his fist in frustration letting out a pent up breath. He looked down to see his palms were actually sweaty. Why was he so nervous? Disgusted with himself, he ran his hands down the front of his jeans and forced himself to ring the doorbell. No more stalling. Seconds felt like hours until the front door struggled open. Emalynn stood before him dressed in a pink, frilly dress and bright red, glitter shoes. She had a big grin on her upturned face.
"Em, you aren't supposed to answer the door. Daddy said to wait," Hunter said from the front of the entryway.
"It's Rhonny's boyfriend, Hun-ter," Em shot back, flipping around toward her brother. Her tone of voice didn't match the sweet little girl who just grinned up at him. He was totally forgotten as the two started to square off right there at the front door. Now this was something he understood well; fighting siblings were an everyday occurrence in his world.
"Guys, let Gary in and Em, go get Rhonny," Trent said. He appeared from out of nowhere, working a dish cloth over his wet hands. "Gary, come in. Hunter, let him in, son."
Hunter kicked into gear as Em took off in a run, disappearing around a corner. Gary stepped in, and the small reprieve in his nerves didn't hold as he entered the house. Trent tossed the dish towel over his shoulder and extended his hand, shaking Gary's. "Come in. I'm guessing Rhonny's almost ready. Can I get you something to drink?"
Trent was so casual. Actually the entire house was comfortable and inviting, yet Gary still couldn't find it in him to settle down. How was this even possible? He was the youngest of five children. He was a college graduate with a master's degree in Construction Engineering. He'd dated hundreds of women over the last ten years… Gary Layne was never stressed out over anything.
"She's almost ready, daddy. And she looks pretty! Her hair's down!" Em called out, busting through a side door. Just like at the grand opening, Emalynn rarely walked anywhere, and she skipped over to her father.
"Gage sent me these gifts." Em pointed to a stack of gifts sitting in the middle of the living room. He'd completely missed them when he walked in. There were several boxes, all ranging in different sizes, most bigger than Em herself. "Daddy, can we invite Gary to my birthday tomorrow in private?"
"Honey, do you know what in private means?" Trent looked down at her, cupping the back of her head. Em looked up and stood there clearly thinking the answer over.
"She doesn't know. Em it means to ask Daddy when no one else is around," Hunter explained. The expressions that lit Em's face were comical. All in about thirty seconds she went from being excited, to angry, to thought provoking until her eyes shot back to Trent's.
"Is that right. Is that what it means?" Trent scooped her up in his arms, anchoring her on the side of his hip.
"That's what it means, honey. You need to ask me when no one's around." Trent confirmed. All Em's attention was focused on Trent as she thought through it.
"But Gary will be gone when we're alone. How can I invite him?" It made perfect sense to Em and they all chuckled until Rhonny came through the side door. All eyes turned toward her. Earlier in the day, Gary and Rhonny had decided on casual. Jeans, T-shirts, walking shoes. There was a carnival in town, but even in jeans, Rhonny was the most beautiful thing Gary had ever laid eyes on. His heart connected. Right then, without question, Gary knew why he had been nervous.
"See, she does look pretty," Em said, very matter of factly.
"Yes she does," Trent said, his gaze cutting back to Gary. He knew Trent caught the look. It was a total guy thing, but Gary couldn't find it in him to turn away.
"Thanks, squirt," Rhonny said, she came to stand beside Trent. Her sweater and purse were slung over her arm. The awkwardness Gary felt earlier magnified as everyone looked at each other. Well except Gary. He stayed fixed on Rhonny.
"Are you ready?" Rhonny finally asked in the silence.
"I feel like your parents would want me to enforce a curfew or something," Trent said, his brow narrowed, looking between Gary and Rhonny. That father figure from Thursday night was clearly back on his face and that jerked Gary out of the trance she seemed to have on him.
"Whatever, Dad. I'm twenty one. See you in the morning!" Rhonny laughed and turned toward the door, dismissing everyone. Trent's brow lowered further making it clear he didn't see the humor in her joke.
"I'll have her home early," Gary rushed to say. Rhonny opened the front door completely nonplused, walking out with not much a backward glance. That whole casual vibe from a few minutes ago was gone in a flash. Somehow Gary innately knew if Trent had a shot gun, he'd be cocking and taking aim right about now to flex his parental muscle. It was another thing he'd watched with his own dad and sisters. It shouldn't have added to the tension, but somehow it did.
"I'll be home early, guys. Big birthday day tomorrow!" Rhonny said from the porch. That sent Em into a fit of giggles as Rhonny reached out and pulled Gary through the front entry, shutting the door behind him.
"Trent gets protective of me. My parent's webcam him and my dad always ask him to keep an eye on me," Rhonny said. It was dark outside as they stood there alone on the porch.
"That's not a bad thing," Gary said and his voice came out in almost a croak. He cleared it and started again. "Are you ready? We better get going. It was almost dark outside. He extended a hand and she looked at him before moving. "Are you alright?"
"Yes, I'm fine. Why?"
"I don't know. You look…sick?" Great! All these nerves were showing.
"I'm fine. We better get going." He tried again and after a minute more of studying him closely, she turned away, trotting down the steps. He followed behind her, giving himself a good lecture, not noticing that she came to a dead stop at the bottom of the porch steps. He busted right into her, forced to wrap his arms around her and juggle to keep them both on their feet.
"Are you alright?" He asked after making sure they were steady.
"You drive a Ferrari?" He looked down at her, and then at what she stared at. His arms were still around her and she held on to him, but her focus never faltered.
"I have to confess…No. It's Gage's." Gary said, letting out his pent up breath and pulling her a little closer until her back pressed against his chest.
"He let you borrow his Ferrari?" Rhonny's eyes darted up, staring back at him. Surprise was clear on her face.
"Yes. Well sort of," Gary said, said, hoping the look on his face came off as remorseful. It came down to being the sibling issue. Borrowing from your unsuspecting brother was just part of life.
"What do you mean sort of?" Rhonny asked, her eyes back on the car, but she didn't move from the embrace. They stood right there in the moonlight. Just staying together like this. It was perfect!
"Well, I guess borrow is a stretch. By the time Gage finds out, I'll have worked it all out in my mind as to how he agreed to let me borrow it. It took a good hour and a half to find the keys. He's a clever one at hiding what he doesn't want us to find. They were inside a sock, tucked farthest back in his underwear drawer. It took time and energy, but I'm sure he'll be fine with it in the end." Gary chuckled, knowing without question, Gage would so not be fine with this. Whatever, he wanted to impress Rhonny and Gage knew the consequences of murder. So in the end, this shouldn't result in Gary's actual death.
"He doesn't know?" Rhonny grinned, and lifted a hand to high five him.
"Not yet!" Gary grinned down at her, and touched their palms together before taking her hand in his.
"Well, let's get going to make the most of it," Rhonny said, moving from the embrace, holding Gary's hand as she started toward the car.
"I knew I liked you for a reason!"
About the Author
Best Selling Author Kindle Alexander is a innovative writer, and a genre-crosser who writes classic fantasy, romance, suspense, and erotica in both the male/male and male/female genres. It's always a surprise to see what's coming next! Happily married, with five children, and four dogs living in the suburbs of Dallas, where the only thing bigger than the over active imagination, may be the women's hair!