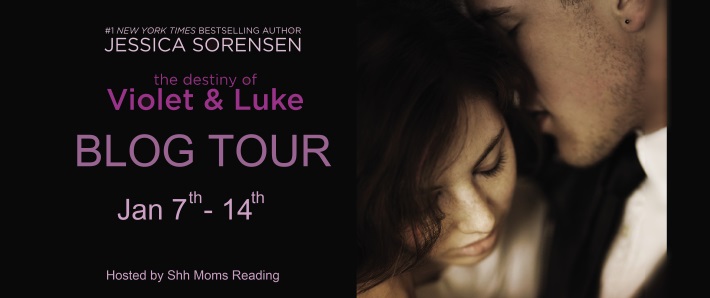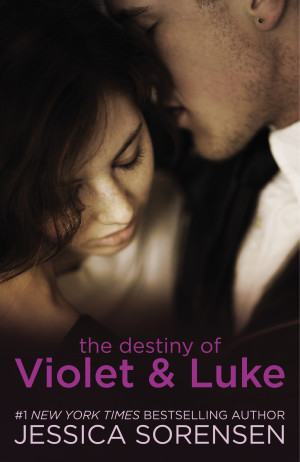 Today we welcome Jessica Sorensen to our blog as she celebrates her new book THE DESTINY OF VIOLET & LUKE which released on January 7th.
Check out a teaser for book 2 in this series The Probability of Violet and Luke!
Enter for a chance to win a kindle fire and ebook copies of this book using rafflecopter below. Good luck!
---

Luke Price's life has always been about order, control, and acting tough on the outside. For Luke, meaningless relationships are a distraction-a way to tune out the twisted memories of his childhood. He desperately wishes he could forget his past, but it haunts him no matter what he does.
Violet Hayes has had a rough life. When she was young, she was left with no family and the memory of her parents' unsolved murders. She grew up in foster homes, living with irresponsible parents, drugs, and neglect, and trying to fight the painful memories of the night her parents were taken from her. But it's hard to forget when she never got closure-and she can't stop dreaming about what happened that tragic night. To make it through life, she keeps her distance from everyone and never allows herself to feel anything.
Then Violet meets Luke. The two clash instantly, yet they can't seem to stay away from each other. Although they fight it, they both start to open up and feel things they've never felt before. They discover just how similar they are. But they also discover something else: The past always catches up with you . . .

Christine's 4.5 STAR Review!!!
Oh my – new favorite Sorensen couple alert!!!  For anyone who has read Callie and Kayden, we know that Luke and Violet come with baggage.  What I didn't expect was what kind of baggage until I started reading The Destiny of Violet and Duke.  I am literally shattered reading the history behind these two and it breaks my heart countless times as I read this book.
I had a totally different take on Violet in the past books – I thought she was kinda slutty and into drugs.  I learned while reading this book why she is the way she is – why she closes herself off to people and intentionally says mean things.
Conversely, I've always liked Luke – yes he was borderline OCD with his cleanliness and he smoked and drank a lot but I always thought he was a good friend to Kayden.  Being a mother and seeing his past with his mom literally makes me ill.
With both characters, it was so intense and emotional….I wanted to jump into my kindle and smother them both with love.  Their attraction was undeniable and more than once while I was reading I wanted to yell at them to wake up and see how good they could be together!  Luke wants to protect Violet yet he doesn't understand his need to and she won't let him.  Both characters so broken so flawed that they don't recognize the good and light in each other.
I enjoyed this book immensely.  It was so dark and so sad for me.  It was hard for me to get through at times because I kept waiting for the happy and hoping with my heart that they could find it in each other.
In true Jessica fashion, she has left us with a cliffhanger!  Truths come out that shock the heck out of me….Where I thought I might have seen the silver lining and the light at the end of the tunnel comes crashing down as Violet and Luke realize that their history is intertwined.
Will they ever be able to find happiness?  And truthfully how can someone move on from this?
We will have to wait and see in book 2 The Probability of Luke and Violet – enjoy an excerpt below!
Jessica is a true artist being able to evoke such emotions from her readers – I have experienced the gamut reading her books and I always come back for more…I can't wait to see what happens next!

 Here is a teaser from book 2 – The Probability of Violet and Luke!
As I'm heading in the doorway, I'm a little distracted, and react a little bit slow when I realize there's someone entering at the same time as me from the other direction. I step back a little too late and end up bumping my shoulder against them.
"Where'd you learn how to walk," I say, feeling the urge to bring out my don't-mess-with-me attitude to try and shut out the emotion stirring in me. The second I say it though is the exact moment I catch the scent of Vodka, cigarettes, and cologne; a scent that I'm very familiar with. I glance up and am greeted by a pair of intense brown eyes, an unshaven jawline, scraggily brown hair, and I pained expression that I'm sure matches mine.
Emotions pour through me, like razors, and needles and fire, so potent and painful I can barely breathe. I want to touch him so badly. Kiss him. Feel him. Let him feel me. I want everything we had a month ago. The smiles. The rainbows. The sunshine. The cheesiness of dates and flirting even though normally I couldn't stand it. But with Luke things were different and I'd more than welcome right now if meant it could get rid of what I've been feeling.
But it can't—nothing can erase the past. I know that, which is why I should move away from him, yet I can't bring myself to and neither can he. We end up just standing there, staring at each other, stuck somewhere between reality and the make believe land we wished existed; the one where monsters never showed up at night at my house and his mother wasn't one of them. The one where we could touch each other and not have to think. The one were we could be together and not hurt. The one we had before we found out the truth.
It's the first time we've been this close since it happened and it's more powerful than I ever could have imagined. We don't speak, move, breathe, even when people file in and out of the classroom doorway between us. Our eyes are locked, our breathes ragged. The longer we stare at each other, the more confused he looks and the more lost I feel because I'm not moving, even though it seems like I should be, heading away from him. But instead I feel like I'm being pulled toward him, or maybe I'm falling. I'm not sure. And I don't want to be sure. What I want is for time to stand still, right at this moment, so we never have to move forward.
But then his lips part, and everything around me starts moving again. I have no idea what's going to come out of his mouth. If I'll hate it. Like it. Want it. I don't know and I never get to find out, because the Professor walks between us and breaks the moment like broken glass. We both blink and step away from each other as the Professor says something to the classroom while he walks up to his desk. Abruptly we're both reminded that make believe is just that and it doesn't really exists.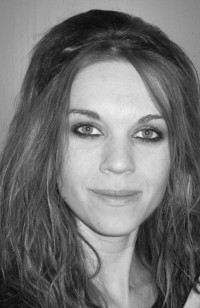 The New York Times and USA Today bestselling author, Jessica Sorensen, lives in the snowy mountains of Wyoming. When she's not writing, she spends her time reading and hanging out with her family.
---
Series Reading Order
Book 1 – The Coincidence of Callie and Kayden

Book 2 – The Redemption of Callie and Kayden