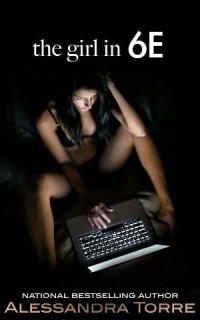 Today we welcome Alessandra Torre as she celebrates her new book The Girl in 6E which released on April 17th.
Enter using Rafflecopter below for some amazing prizes!

---
3.5 STARS!!!
Synopsis
I screw men for money. Not literally, think phone sex operator with a 15 megapixel web cam thrown in. They tell me their deepest, darkest fantasies while paying me $6.99 a minute.
What would possess me to engage in such a business? Throw in a tortured past, 24/7 murderous thoughts, and a desire to keep the innocent people of my small town safe.
I was contained, out of the way, sexcamming my way to utter obscurity until HE came along. A twisted client armed with a target's name. Annie. And in that name, everything changed.
Denise's Review
The Girl in 6E is a unique story about a young woman,  Deanna  who shuts herself off from the outside world; well except for her online interactions where she lives as  Jessica, a Camgirl.  "Camgirl" chat model is an Internet term for women who are featured on webcams. The word is used for women who operate their own webcams.
Ms. Torre provides a unique look into the life of a Camgirl and crafts a backstory that allows the reader to believe this woman would choose this as a career and a way to live her life.  She truly builds a career for herself, learning about her clients, keeping a fake journal to keep track of the "life" she tells them about and scheduling chats to ensure maximuim income for herself.
The reader is given a look into Jessica's clients, her interactions with them; you are taken into the chats with a few clients and it is interesting to see the various things men ask of Jessica and what they want from her. Some want companionship, some wants things they won't ask their partners to watch them do, some ask Jessica to do things she is uncomfortable with.
You also learn Deanna's reasons for living this life as she struggles to accept a past that has shaped how she feels about herself.
At a pivotal point in the book, we see that Deanna knows the lines between fantasy and real life.  This book then becomes about how far is this young woman willing to push her boundaries to fight for what see feels is under the surface.
This book is almost a game of cat and mouse and to some extendt almost like a crime scene episode.
I enjoyed reading Jessica's journey to becoming Deanna again.
About the Author
Alessandra Torre is an exciting new author who astonished the publishing world with the success of her first novel, Blindfolded Innocence. Initially self-published, the intriguing romance and erotica title quickly rose to the top of the charts on Kindle and Amazon and attracted the interest of major publishing houses. Currently available on Kindle, iBookstore and Nook, Blindfolded Innocence will be available in print in 30 different countries through Harlequin Publishing in June 2013.
Torre's captivating story about a young intern's sexual awakening has won praise and rave reviews from numerous critics, bloggers and book reviewers, including the acclaimed Dr. Laura Berman. In her recent article "35 to Read After 50″ in Everyday Health, Dr. Berman recommended Blindfolded as a must-read for book enthusiasts searching for a new fix after Fifty Shades of Grey. The book has also received high marks from readers on Goodreads and other literary web sites where fans frequently remark they can't wait for a Blindfolded sequel!
Momentarily stunned by the book's rapid success and loyal following, Torre is currently at work on a thriller that will be released in the next two months as well as a sequel to Blindfolded. From her home near the tranquil warm waters of the Emerald Coast in Florida, she devotes several hours each day to various writing projects and interacting with her fans on Facebook, Twitter and Pinterest. Happily married to her "best friend" and with one son, she loves watching SEC football games, horseback riding, reading and watching movies.
---
GIVEAWAY
a Rafflecopter giveaway