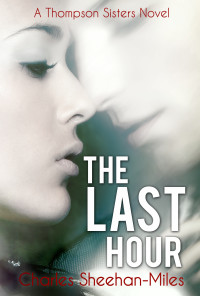 Today we welcome Charles Sheehan-Miles to our blog as he celebrates his new book The Last Hour which released on April 19th.
Enter for a chance to win an amazing giveaway using Rafflecopter below! Good luck!
---
4 STARS!!!
Synopsis
Twenty-seven year old Carrie Thompson-Sherman has the life she always wanted: her PhD, a prestigious fellowship, and an amazing husband.
Her life begins to unravel as a jealous colleague puts her fellowship in jeopardy and a haunting secret Ray Sherman carried home from Afghanistan comes to light.
Hounded by a federal investigation and the ensuing media feeding frenzy, Carrie and Ray desperately lean on each other, until a disastrous accident puts both Ray and her sister's lives at risk.
In the last hour, Carrie and Ray will each find themselves faced with a choice.
A choice that will change everything.
Denise's Review
The Last Hour is powerful, gut wrenching, heartbreaking and exceptionally well written.
Mr. Sheehan-Miles tell the story of Carrie Thompson-Sherman, PhD and her husband. Ray and Carrie's first meeting in seen in book 1 of this series, Just Remember to Breathe. You feel the spark there as does the Dylan, Ray's best friend and Alex, Carrie's sister.
This book takes the reader deeper into their relationship.  You feel see their devotion to each other and the strong pull they have. Carrie and Ray's time together is not easy but their love for each other is so apparent.
Carrie is an intelligent woman with a career.  Ray is not intimidated by her smarts or career, he encourages her and is proud of her accomplishments. I so loved Ray's nickname for Carrie, he calls her doctor, babe.
This story is one about choices, your choices and the choices of others; how this impacts so many lives and what those choices leave in its wake.
It is a story I think the reader needs to experience first hand so I will not be revealing any big points.  I will say this stories changed POV and alternates between time frames, Mr Sheehan-Miles masterfully pulls this off.
I enjoy how interconnected that characters in this story were, the sisters connections to each other each which is crafted in its own unique way along Ray's connect to Dylan his best friend and now brother in-law.
I do feel I should warn readers that if my opening line did not give it aways, this book may tear your heart out.
This book can either read alone or as part of his Thompson Sisters series, I will say either way it will leave wanting book 4, so Mr Sheehan-Miles please start writing the next week.
Book 1 Just Remember to Breathe (Alex and Dylan) Book 2 A Song for Julia (Julia and Crank).
About the Author
Charles Sheehan-Miles has been a soldier, computer programmer, short-order cook and non-profit executive. He is the author of several fiction and non-fiction books, including the indie bestsellers Just Remember to Breathe and Republic: A Novel of America's Future.