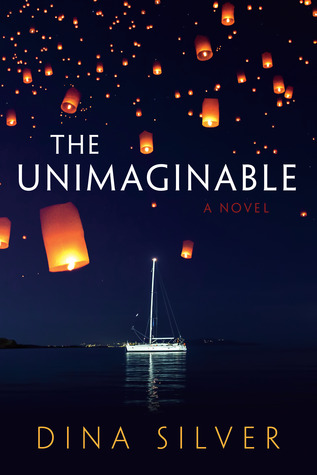 The Unimaginable

by Dina Silver
on December 1, 2014
Pages: 300
Goodreads


From the author of One Pink Line comes a story about letting go of the past and finding bravery in the depths of fear. Set on the sun-soaked beaches of Thailand and the rough waters of the Indian Ocean, The Unimaginable paints a vivid portrait of a young woman on a journey to find herself—and her harrowing fight for survival.

After twenty-eight years of playing by the rules, Jessica Gregory moves from her small Indiana town to Phuket, Thailand. But her newfound routine is upended with the arrival of Grant Flynn, a captivating, elusive man who is sailing around the world while trying to move on from a past tragedy. Jessica volunteers to help crew Grant's boat, Imagine, on a passage across the Indian Ocean and finds herself falling in love with him as the voyage gets underway. But when disaster strikes, Jessica must summon her courage as the crew is confronted by unspeakable terrors––and, aboard a boat named for such promise, comes the unimaginable.
What a beautiful novel by Dina Silver that had me completely captivated from start to finish.
Ms. Silver is a new author to me and I have heard so many great things about her so was so excited to read this book.
Jessica's parents passed away and she is moving to Thailand to teach English to children. She is looking for a new life and is seeking excitement and change from the norm. Jessica is a do-gooder, always wanting to help others. Jessica is persistent and head strong and has a strong love for the children she works with and it is apparent she is just a kind-hearted person all around.
Grant is a traveler, a well to do guy passing through Thailand as he continues his journey across the world. Grant is looking for a new crew member for his boat for a trip he is about to embark on and Jessica wants to satisfy her need for trying new things and applies for the job despite having zero experience on a boat. Grant is somewhat mysterious. When he talks about his travels, they are exhilarating and so detailed that I could imagine them in my mind. He seems like such a nice guy but I can't help feeling puzzled by him knowing that there are secrets that he is hiding.
When Grant finally agrees to take on Jessica as his crew member, I can't help but hope for more between them as there is an apparent connection between them.
But as their journey together takes on a turn for the worse, I can't help but get sick to my stomach with nervousness as an ominous sense of doom fills my head and heart for something so unimaginable to happen to these two wonderful characters.
Well written, soul searching and completely inspiring and different, I thoroughly enjoyed my experience reading The Unimaginable. This is a beautiful story of following your dreams, imagining the endless possibilities, living life to the fullest without regrets with love and peace in your heart. Completely addicting…you will understand what I mean when I say..they were the lucky ones. To know that this was based on real life events, had me even MORE enthralled and I truly recommend for everyone to read this as it is and will be an unforgettable experience for you all too.  <3