Today we welcome Tarryn Fisher to our blog as she celebrates her book Thief which released on July 21st.
Enter for a chance to win some AMAZING prizes using Rafflecopter below!
---
5 STARS!!!
Synopsis
Note to Self
Love is patient; love is kind. Love doesn't boast or brag. There's no arrogance in love; it's never rude,  crude, or indecent-it's not self absorbed. Love isn't easily upset. Love doesn't tally wrongs. Love trusts, hopes, and endures no matter what. Love will never become obsolete. I'll fight for her.
Thief
Caleb Drake never got over his first love. Not when he got married. Not when she got married. When life suddenly comes full circle Caleb must decide how how far he is willing to go to get the aloof and alluring Olivia Kaspen back. But for every action in life there is a consequence, and soon Caleb finds out that sometimes love comes at an unbearably high price.
Christine's Review
I posted my review a while back as I read Thief at the moment it was released.  This series is among my TOP favorites and any time anyone asks for a book/series recommendation, this is one that I recommend often.  Hosting this blog tour for this author and working very closely with her PLN's (Passionate Little Nutcases) has been a dream come true for me – I LOVED reading each and every review on this tour.  Most especially from blogs who have never read Tarryn's work before.  It gave me a sense of pride to share this author and her books with more people because I do feel that this is an author that is overlooked among the very talented authors out there.  I hope that you all consider reading Tarryn's work as it was often said throughout the tour, that her books are something that is so different and unique.  The story and characters stay with you.  Tarryn has a magical way of evoking such emotions out of us that we live and breathe these characters, we care about the outcome of the story, we root for them, we cry with them and ultimately we just hope for a happily ever after.  We love them so much that we don't want to let them go.  Here is my review of Thief again as well as an EXCLUSIVE bonus from Tarryn – 10 Things You Don't Know about Caleb and Olivia…..enjoy!!!
---
I don't know where to start with my review for this book.  Claire Contreras recommended that I read The Opportunist not so long ago and my obsession with Olivia, Caleb and Tarryn Fisher began.  You couldn't talk to me about books without me recommending this series to anyone who would listen.  I had SO MUCH anxiety going into this book that I needed a glass of wine before I started.  The Opportunist broke my heart, Dirty Red pissed me off and Ms. Fisher did not DISAPPOINT with Thief.  People often say you never know what you will get from Tarryn and I didn't when I opened up the first page on my kindle at 11pm….and by the end at 3am – I experienced so much emotion and cried so many tears for something that I didn't want to end.  But it did…and it was SO DAMN GOOD!
All I have wanted to know over the past few months is if Caleb and Olivia would end up together…..so did I cheat and read the last couple of pages first?  Nope I did not.  Because I didn't want to spoil the read and Ms. Fisher's genius writing.  And I will not for you either so will try to write this review without spoilers because this is a series that you NEED to read in its entirety ASAP!
This is a book that despite all of the lies and deceit in the past was based on honest and real love.  It was a fight for all to the very end.  But who will win and will there be an HEA for everyone?
You will have to read it to find out! 🙂
I will say this…..I have loved Caleb from the beginning.  Not all of his choices were wise.  But like everyone says – there is a side to every story.  And this was Caleb's story.  Tarryn writes the male POV well – I enjoyed hearing Caleb's voice.  Through this journey, we see Caleb's love for Olivia.  I love how he calls her Duchess.  I love when they want to know the truth they say "Peter Pan."  There were so many quotes and passages I highlighted because it was simply beautiful and something I wanted to go back and re-read over and over again.
Ultimately Caleb wants to love her.  And I just want to cry for time lost for these two and I just want them to work it all out and move forward.
A lot of questions are answered in this book.  And A LOT of tears were shed throughout my read.  But in the end – it was beautiful.  This is an example of real life.  It is not perfect and not an ordinary HEA.  Its unexpected and plays with your emotions and wrecks havoc on your heart because you don't know who and what to believe and you don't know who will end up together.  Can two people who lie and run finally stop and realize that they are meant for each other and have always been destined to be together?  Will the constant obstacles tear them apart?  Can they ever admit that they are in fact true soul mates?
This was another job WELL DONE by Tarryn Fisher.  I know I didn't say much but I can't because I don't want to ruin this read for you.  I can't begin to express what an emotional roller coaster ride it was because you didn't know what to expect with every turn of the page.  And though it's not the ending I thought it would be, it was PERFECT for Olivia and Caleb because they are not perfect themselves.
This series is and will always be among my top favorites.  It sticks with you – the characters embed themselves into your heart and you fall in love with them – lies and all.
So thank you Ms. Fisher for sharing this AMAZINGLY WONDERFUL BEAUTIFUL story with us…you are a true writing genius and I loved every single minute I spent reading your unforgettable words.  Thank you! <3
BONUS: 10 Things You Don't Know About Caleb and Olivia – have a tissue handy as I needed one 🙂
1) Olivia drinks heavy whipping cream instead of milk

2) Caleb didn't know he liked brunettes until Olivia. Then he branched out to redheads.

3) Olivia won't sleep on white sheets. They have to be patterned and a color.

4) Caleb's favorite sexual position is missionary. He thinks it's the most intimate. He likes to look in her eyes.

5) Olivia named her baby the day she found out she was pregnant. She didn't even know if she would keep the baby. But she named it.

6) Caleb wanted to be a firefighter when he grew up. (He always wants to save people)

7) Olivia named her baby Charlie. Boy or girl.

8) Caleb never liked Pickles. He tried.

9) Olivia always forgave Leah. Because she's like that.

10) Caleb and Olivia take Estella to every and all author book signing that comes to Florida. Because she wants to be an author. And she will be.
About the Author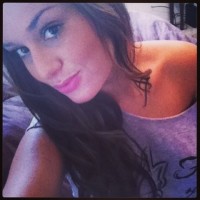 I am a real life villain, truly. I drink sick amounts of Starbucks. Most of the time my hair smells like coffee. I was born in South Africa, and lived there for most of my childhood. I moved to Seattle just for the rain. Rome is my favorite place in the world so far, Paris comes in at a close second. I read and write more than I sleep. When I was eleven, I wrote an entire novel about runaway orphans, using only purple ink. I am addicted to Florence and the Machine and will travel to see concerts. I love scary movies and giraffes. I spend way too much time on Facebook. Meet you there?…
---
GIVEAWAY
a Rafflecopter giveaway

If you have not read this series already, make sure to read in order – see below:

Book 1 – The Opportunist – see where it all began – Christine's 5 STAR review can be found here

Book 2 – Dirty Red – Christine's 4 STAR review can be found here

JOIN US FOR A FAN CHAT WITH TARRYN TONIGHT! 9PM EST!!!

Facebook Event Page: https://www.facebook.com/events/658241007553346/