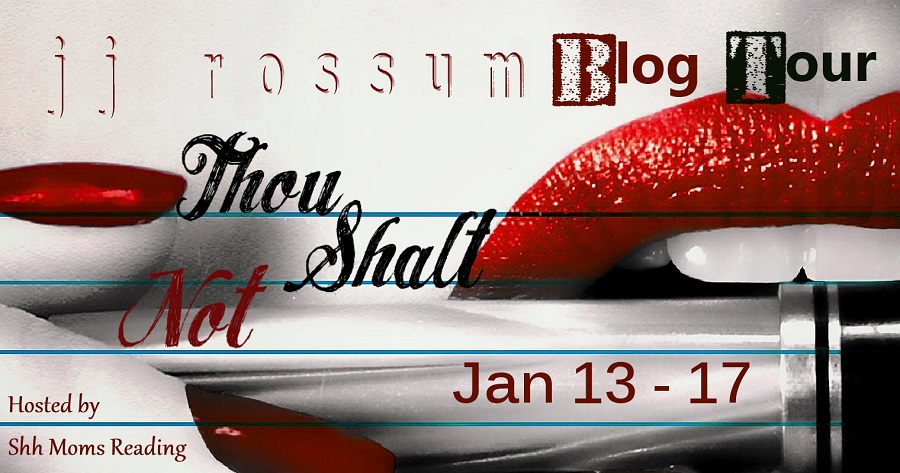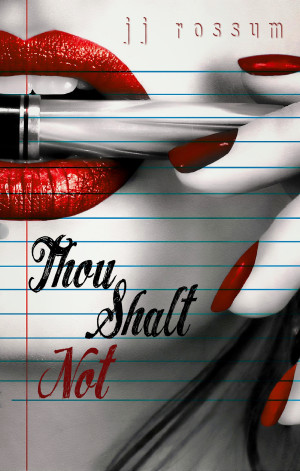 Today we welcome J.J. Rossum to our blog as he celebrates his new release THOU SHALT NOT which released on December 9th.
Enjoy 5 Fun Facts you didn't know about Luke, Holly and April – the main characters of THOU SHALT NOT below.
Enter for a chance to win an ebook of this book or a $25 gift card using Rafflecopter below. Good luck!
---

Luke Harper was finally starting to settle into his life – a life that had previously been full of more heartbreak and pain than most people ever experienced. He had a job he loved, and was blissfully content in his on-again, off-again relationship with the striking, and highly sexual, Holly. But, life throws Luke another curveball with the arrival of the alluring April, a woman stuck in a tumultuous, violent marriage to a famous athlete. Luke soon finds himself torn between what is safe, familiar, and right, and what is dangerous, unknown, and forbidden.

The Ten Commandments state Thou Shalt Not Covet Thy Neighbor's Wife…To covet is to have the strong desire for the possession of others' specific personal properties or relationships, going beyond simply admiring someone…
Oh Luke Luke Luke!  JJ Rossum's debut novel was refreshingly different…not at all what I expected in a good way.  I love reading the male POV and thought this book was well written.  It gives us insight into the male mind being written by a guy and it was recommended by Tarryn Fisher (one of my ALL TIME FAVES) – how could I not read something that she referred to us!  I dove in with open arms!
Luke Harper is not the typical guy I would go for.  He is a nerdy English teacher at a Christian high school but in my eyes definitely sexy.  I was captivated by his honesty, about his feelings and his internal thoughts.  Luke has a friends with benefits relationship with Holly who I adored from the start.  She is feisty, tells it like it is and though he isn't ready for a relationship (which we learn the reasons why as the book progresses), I want them to be together DESPERATELY!
Enter the sexy, hard to resist sub teacher for Luke's good friend Robin who is ill.  I have to be honest…I didn't like April…like at all.  I know its crazy but I found her manipulative and in my mind she knew exactly what she was doing by  being flirty with Luke despite her being married.  April played into his nice guy sensitivity and I haven't loathed a character since DIRTY RED!  That's how strong I despised her!
Yes it takes two to tango…I get it….and so without revealing too much (hello the title!)…what will Luke do?
Luke has had a hard past filled with loss and sadness.  He sees something in his mind that doesn't exist and has built up this woman to unrealistic expectations without seeing what is truly in front of him.
So yes there were things that made me mad…I definitely cried (three times!) but I was left with a smile on my face once truths came out and of course the sex was completely HOT and I enjoyed it even more so that I was in a MAN'S MIND!
Hazelnuts anyone???
Thou Shalt Not is not a bad cliffhanger but definitely a To Be Continued and I can't wait to see how this author grows in this next book and the direction these characters will go.
This was a wonderfully written debut novel and I look forward to more from this author!
FIVE FUN FACTS We do not know about Luke, Holly and April!
Luke
1) Luke lives in Florida and has never been to Disney World.
2) He hates Sprite with a passion.
3) Luke can never spell the word "surprised" correctly. It's the damndest thing.
4) He loves the movie Top Gun.
5) Luke has a pet name for Holly that he has never actually spoken out loud for her to hear.
Holly
1) Holly took ballet through most of her childhood.
2) She will never completely finish a can of soda.
3) As a child, Holly thought The Parent Trap was real and was always on the lookout for her twin.
4) She manages to get food particles in her hair whenever she eats.
5) Holly has always dreamed about going to Rome.
April
1) April has an immense shoe collection, but owns even more books.
2) She lived with her family in Egypt for a year when she was a child.
3) April is scared of heights.
4) Her biggest pet peeve is when people don't say "excuse me."
5) April is not her birth name.

JJ Rossum traveled the world as a child, and called many places "home". Currently, home is Portland, Oregon, where he is at work on other novels that were hatched while people watching during many airport layovers.