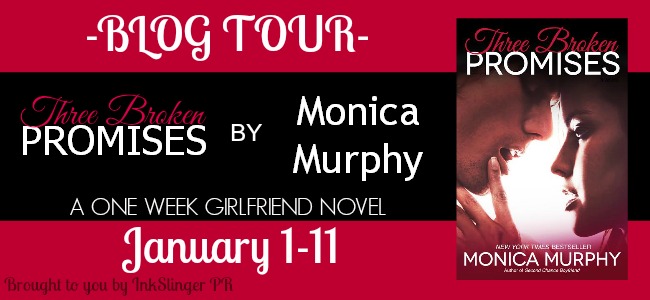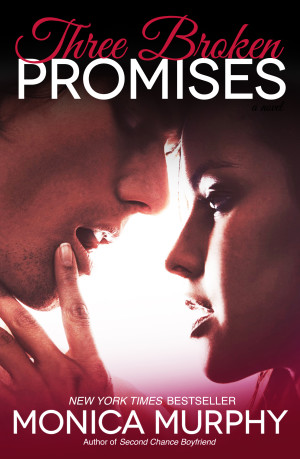 Today we welcome Monica Murphy to our blog as she celebrates her new book THREE BROKEN PROMISES which released on December 31st.
Enter for a chance to win a complete set of this series using Rafflecopter below! Good luck!

---

Breakout New Adult sensation Monica Murphy returns with a hot new contemporary romance—a heartfelt story of second chances, forgiveness, and redemption.

Commitment. That's what I really want from Colin. Ever since my brother, Danny, died in Iraq, Colin's done so much to help me, including giving me a job at his popular restaurant so I can leave my crappy waitressing job at the strip joint. But lying in bed with him every night to comfort him from his horrible nightmares isn't enough anymore. I know he feels guilty about Danny's death, about not going to Iraq, but I can't keep living this double life.
I love him desperately, but he's got so many demons, and if he can't open up to me now, then he'll never be the real partner I need him to be. I gave him a month, and now I'm out of here. If he truly loves me like he says, he knows where to find me.
I met Jen in Second Chance Boyfriend and because of the circumstances surrounding her and her boss' relationship (Colin), I can't deny that I immediately thought there was something more than the average boss/employee relationship.  Especially because she was living with him!
Reading Three Broken Promises made me realize that there is more than meets the eye with these two characters and I am immediately sucked into their story and can't wait to find out more!
I thoroughly enjoyed the alternating POV's and seeing how deeply Jen and Colin cared for each other.  It's definitely not easy for these two – with their shared pasts, hurts combined with some guilt.  Through it all, they are there for each other, supportive and kind.  Neither are perfect and together they could be, if they could get past the denial and be brave enough.
Yes sometimes people break promises, sometimes even out of their control.  It's the here and now – the present that is most important.  My hope is that these two could live in the now and realize how much they deserve this and that they are both worthy of each other's love.  Their attraction to each other is undeniable and I hoped beyond hope that they would give in because I knew in my heart that they were meant for each other.
Will it happen???  Of course, I would never say – so you will have to read this book to find out! 🙂
I will admit that Colin frustrated me at times because of his need to always do the right thing.  I wanted to jump into my kindle to knock some sense into him.  When it did happen, the sex is combustible!  Monica's writing gets better with each book and I look forward to Owen's story and seeing more of this cast of characters that I love.  I miss reading about Drew and Fable and every scene they were in, I had a smile on my face.  Monica has created characters that you love to read about and I can't wait for more! <3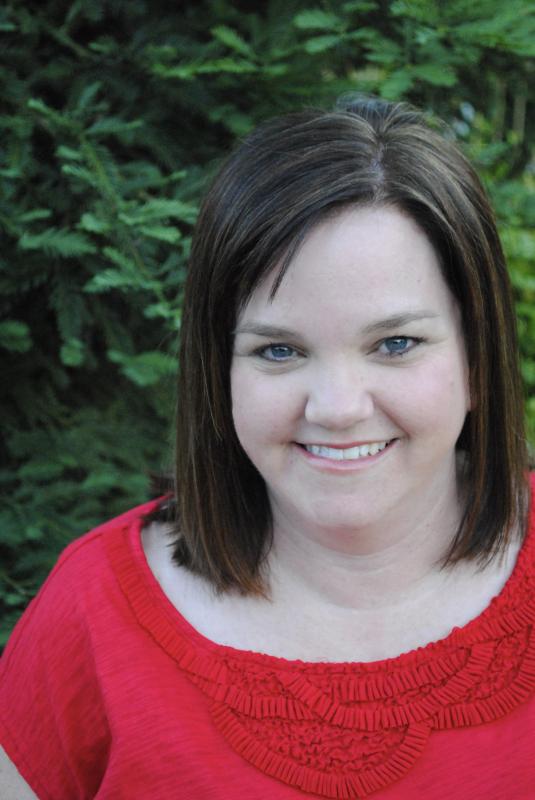 New York Times and USA Today bestselling author Monica Murphy is a native Californian who lives in the foothills below Yosemite. A wife and mother of three, she writes New Adult and contemporary romance for Bantam and Avon. She is the author of One Week Girlfriend and Second Chance Boyfriend.
---
Series Reading Order
Book 1 – ONE WEEK GIRLFRIEND

Book 2 – SECOND CHANCE BOYFRIEND