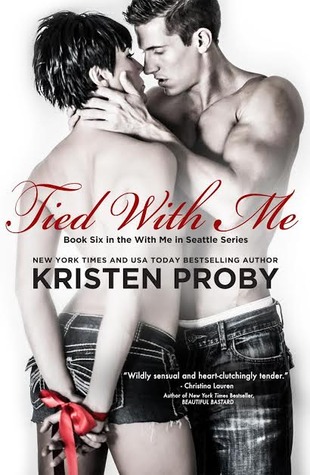 Today we welcome Kristen Proby to our blog as she celebrates her new book TIED WITH ME which released on March 18th.
Read an EXCLUSIVE excerpt from the next book in the series – BREATHE WITH ME below and make sure to enter for a chance to win a giveaway! Good luck!!!
---

A man whose lifestyle is so different from her own…
Nic Dalton's cupcake bakery is thriving. She serves both rock stars and locals alike, content with her growing business. But one adventurous night out with her best friend, Bailey, turns her life upside down. She meets a handsome stranger who makes her skin sizzle and her heart race. Their one night together is explosive and unexpected, but when he has to suddenly leave without taking her phone number, Nic resigns herself to never seeing him again.
…What will it take to trust and submit to his every desire?
Matt Montgomery is one of Seattle's finest. He works hard, loves and protects his family fiercely, and is loyal almost to a fault.
And he has a penchant for bondage.
Matt enjoys the way a woman looks wrapped up in his ropes, and makes no apologies for his preferences. When he meets Nic at a fetish festival, the small, beautiful woman catches his eye, drawing him to her. His one night with her was everything he's ever looked for in a partner, but is cut short because of a family emergency. Even before he sees her again weeks later, he knows he'll never get her out of his system.
And he'll do whatever it takes to make her his.
"Give in to this, Nic. Let me prove to you that I will be one of the best decisions you ever make." –Matt Montgomery
Well.. well… we finally get Matt Montgomery's story, the second oldest Montgomery brother, the brother's whose lifestyle has been hinted out in a few of the prior books in With Me in Seattle series, scenes that have made for some of the funniest moments in the series.  For those of us who have been dying to get to know Matt and to see Ms. Proby write about a dom, let me say this book does not disappoint, it hits the ball out of the park!
In Tied With Me, Matt meets the missing ingredient in his life in Nic Dalton; the owner of the cupcake store that readers have seen in prior books in the With Me Seattle series.
I loved the prologue of this book, it pulls the reader right into Matt's world while allowing them to get to know Nic. The book then throws you right into the Montgomery family craziness as the story picks up at Brynne and Caleb's wedding a scene we saw part of in the prior book Safe With Me. Ms. Proby adds some wonderful moments to this milestone event moments that include a heartfelt and make me smile speech from Matt, Caleb's best man.
Matt and Nic go from a moment of deep to connection, to misunderstanding, to Nic struggling to come to terms with what it means to be in Matt's life.  The reader is allowed to clearly understand Matt, and his kink as Matt shows Nic his lifestyle he does it with words and actions. This ascent of the book is something I thoroughly enjoyed as Matt leaves no room for guessing as he is very clear with what he wants from Nic.  Matt is a man any woman would want by their side, I adored how Matt was so much more than just his kink for bondage. The man who played such a key part in the Safe With Me and in bringing Caleb and Brynn together fights for his own happy while showing the woman he wants what it is like to be cared for and cherish and yes loved in the bedroom and outside of the bedroom.
This book was a wonderful combination of new characters to love and visiting with characters who already held a place in my heart. Nic's best friend Bailey, was used so well throughout the book to help the reader understand Nic's mindset and emotions. Bailey is someone I hope Ms. Proby will decide to write more about!  And speaking of characters I want more for, please please Ms. Proby write a happy for Asher and Casey (they are not what you think, yes you will have to read the book to find out more because I am not telling you).
There were so many wonderful scenes in this book that reminded me why I love this series; it is amazing to me how Ms. Proby builds unique relationships between each of the characters; I love Will having Matt and Nic over for dinner and Caleb's one on one with Matt both sets of interactions showed that these characters are so well developed.
In true With Me in Seattle fashion there were also group scenes; the pool scene with the whole gang was so enjoyable, containing the masterful Proby character interactions those who love her writing have become accustomed to layered with a turn of events that turns a fun day into a powerful interaction.
Tied with Me was more than just alone scenes or group scenes; it was a true glimpse into Matt's life. His interactions with Will made me love Will even more and the use of Caleb the brother Matt was closest to provided for wonderful moments that made me giggle, smile and forced me to remind myself that these characters are not real (ok maybe they are because they do live in my heart).
Tied With Me also brings the reader a wonderful though at times heart in your throat moments with the couple who started it all, yes the reader gets Luke and Nat front and center for a pivotal scene that reminds all family is about love, those who support you and those who would do anything for you. Nope, again not telling you what happens, just that it truly adds to the story.
I thoroughly enjoyed reading this book as Ms. Proby's talent for weaving a wonderful story into a hot read was again present in this book as the use of Matt's kink and his visits to the club opened a door for the author to paint vivid mental pictures for the reader as Matt shows this new world to Nic.  Also, the author's use of "Kaleb" a book by Nicole Edwards was a wonderful addition to the story, opening communication between Matt and Nic.
The With Me in Seattle series has slowly shown the reader the matriarch and patriarch of this family, Steve and Gail; well let me say I love Gail even more after this book. Tied with Me provided the reader with a scene that allows Gail to transcend her place in the background and thrusts her into the forefront of the story and the how do you get to happy part of the book. No, I am not saying more except I love Gail and I loved her making it so clear that family is what you make it.
Speaking of the happy, I loved the end of this book. It was so true to the characters built throughout the book!
I also want to add though they say never judge a book by its cover; in this case the cover is just as hot at the contents inside and truly reflects the two main characters inside! I hope more authors take this approach.
Thank you, Ms. Proby for Matt Montgomery and now please go write Mark; Breathe With Me (with me in Seattle book 7).


Enjoy an EXCLUSIVE excerpt from book 7 – BREATHE WITH ME!
I sweep my hand down his neck, over his shoulder and down his arm, pausing where his T-shirt ends over his biceps.
Jesus, the man's arms should come with a warning label. May cause panties to spontaneously combust.
"Go back to sleep," he whispers and kisses my forehead again. I lift my eyes to his to see his bright blue gaze peering down at me through heavy eyelids.
"You have great arms."
He growls and quickly rolls on top of me, resting on his elbows at either side of my head, brushing my hair off of my face with his fingertips lazily. He sweeps his nose against mine and kisses me softly, still not quite fully awake.
"You're gorgeous in the morning," he says and nibbles his way down my jawline. I feel his dick grow hard against my core through his jeans and I can't help but wiggle, just a bit, trying to get closer. "And if you keep that up, we won't leave this bed today."
"I want to cook you breakfast." I glance over at my alarm clock. "Make that lunch. And I want to go to the movies."
"I want to strip you naked and kiss every inch of your incredible body." My nipples pebble and I bite my lip as he pushes back to look down at me. "I want you, M."
"I know, and trust me, I want you too." I push my fingers through his hair and smile up at him softly. "Let's just take today and play. I want to laugh with you today. We used to laugh all the time."
"That's because you're silly," he says and kisses my palm twice before rolling us back to our sides.
"I'm not going anywhere," I say seriously. His eyes jerk back to mine, and I know that there is doubt there. I pull my fingertips down his rough cheek, over his bottom lip. "I'm not going anywhere. I'm all yours, M."
"Fuck yes, you are." He kisses me with dominance, claiming me like he never did before, and it makes my body come alive against him, but he slowly backs away and glides his hand down my neck, to my breast, over my nipple and to my ribcage. "We'd better get out of this bed before I say fuck it and strip you naked, baby."
I smile wickedly and bite his chin gently. "Yes, sir."
He slaps my ass playfully as I roll away and step out of bed. I immediately stretch, like I do every morning, reaching my arms up to the sky, then bending to press my palms flat on the ground next to my feet.
"Showing me your perfect ass isn't helping, Mer."
I toss a smile over my shoulder and shake my head. "Do you only think of sex?"
"No, sex is not all I think about." That naughty smile spreads across his handsome face. "I also think about you naked."

KRISTEN PROBY is the USA Today bestselling author of the popular With Me in Seattle series. She has a passion for a good love story and strong characters who love humor and have a strong sense of loyalty and family. Her men are the alpha type—fiercely protective and a bit bossy—and her ladies are fun, strong, and not afraid to stand up for themselves. Kristen spends her days with her muse in the Pacific Northwest. She enjoys coffee, chocolate, and sunshine. And naps.
---
Series Reading Order
Book 1 – Come Away With Me

Book 1.5 – Under the Mistletoe With Me

Book 2 – Fight With Me

Book 3 – Play With Me

Book 4 – Rock With Me

Book 5 – Safe With Me

Book 6 – Tied With Me