Click on the Banner above for the tour schedule for Torn!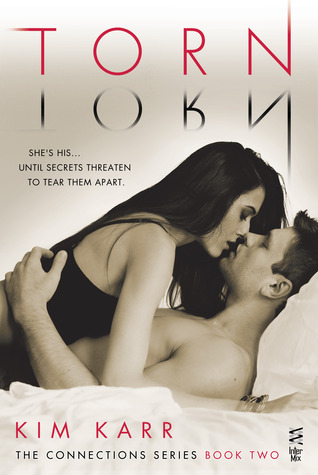 Today we welcome Kim Karr to our blog as she celebrates her new book Torn which releases today. HAPPY RELEASE DAY! Torn is the much anticipated sequel to Connected.
Enter for a chance to win a signed copy of this book using Rafflecopter below. Good luck!
---
4 .5 STARS!!!
Synopsis
Rock star River Wilde brought Dahlia London back from the brink of hopelessness with his unwavering love and devotion. But their entangled history is about to test the strength of their relationship…
Dahlia was certain she had found true love and met her "Once in a Lifetime' when she reconnected with River. But Dahlia's world comes crashing down when someone from her past resurfaces, and all of River's carefully hidden secrets are exposed.
River wants to show Dahlia that life isn't about waiting for the storm to pass—it's about dancing in the rain. But how many times can one broken heart be mended? Will River and Dahlia be able to stay together or will they be torn apart?
Excerpt
His body tenses and I know this still isn't the time to discuss Ben, but it is the right time to tell him how I feel. I run my fingertips along his cheek, silently apologizing for slapping him before saying it. "I really am so sorry." I hope he knows I mean it for more than just the slap. Leaning into him, I take his other hand and bring both to my mouth as I tell him what I've wanted him to know since I drove away this morning. "River, I love you, Ben being alive doesn't change that. You know that—right?"
Exhaling, he grabs my face and looks directly into my eyes. Despite his drunken state, his eyes seem more focused and his words are clear. "I want to believe your love is only for me. That your lips are mine. That your kisses are meant for me. That your body belongs to me." His arms move to my waist and tighten around me and he presses his hard body against mine. "But when you leave me to see him, it's hard to know for sure."
Trailer

Christine's Review
The end of Connected was a total cliffhanger and I couldn't wait to dive right into Torn to find out what would happen.  I will try to keep this as spoiler free as possible as I feel that you should all be able to read this book and experience it for yourselves the magic that Kim Karr has yet again created.
I love the prologue to this book – the history behind River and the relationship he had with his dad.  A lot of what we experience in the prologue shapes River as we see him today.  River felt a lot of pressure growing up as a child and having to fill his father's shoes in the music industry.  And though I am saddened for what he had to experience, I am somewhat grateful because if he wasn't pushed into this industry then he would have never met Dahlia thus not having the life that we see now.
Torn picks up where Connected left off and Dahlia is in the hospital after being attacked, with a very overprotective River taking care of her.  I LOVE his nurturing side, his care and love that he has for Dahlia – this is a love that people dream about.  And as we watch River and Dahlia come to terms with their "Once in a Lifetime" love and decide to move forward to elope, Dahlia receives a call that will change her life forever.  You see someone from her past has come back and everything we once knew is gone and in its place is a lot of pain, heartache, mistrust for all of the parties involved.
The ending of Connected blew me away – you see that twist was something that I NEVER saw coming and to read about it in Torn, to read from this person's POV and seeing what they went through and everything they would do to be back in Dahlia's life, I completely understood.  People will say that there is no redeeming qualities in this person or that you can't come back from all of the lies, but how can I say that when I have never been in those shoes, how can I not feel the pain and heartache seeing someone who was a huge part of my life gone forever?  I have to say that I truly felt sympathy for this person because I don't know how I would have reacted in a similar situation, I don't know how I could walk away from the only life I have ever known and I don't know how I would have come back knowing that everyone else has moved on without me.
There was never any question in my mind that River and Dahlia weren't meant to be together.  But because of the obstacles that they will face, a lot of insecurities will arise about their relationship.  My main concern was whether or not they would be strong enough to stop running and to fight for the love that they so deserved?
What worked for me in this book was seeing the love that resided in River and Dahlia's relationship.  River is so protective of her because he loves her SO much – it is that "Once in a Lifetime/Soul mate" kind of love.  The sex between them was HOT as hell and you could feel their connection throughout the book.  What I would have wished more for was more communication and understanding between them.  But seeing what they went through, I understood everything and it all made sense.  No relationship is perfect.  It takes hard work, compromise and listening.  This we learn with time and Dahlia and River can only grow as a couple even more from here.  This was a beautiful journey to watch from start to finish – these two met in college and to ultimately find their happy was a beautiful thing to experience.
Kim Karr's writing grew leaps and bounds in this book and I applaud her for all of her hard work and dedication to getting each nuance just right…because it was more than just right…it was perfect!  I can't wait to see what she has for us next!  Job well done! <3
About the Author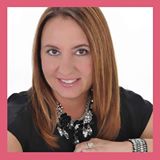 I live in Florida with my husband and four kids. I've always had a love for reading books and writing. Being an English major in college, I wanted to teach at the college level but that was not to be. I went on to receive an MBA and became a project manager until quitting to raise my family. I currently work part-time with my husband and full-time embracing one of my biggest passions—writing.
I wear a lot of hats! Writer, book-lover, wife, soccer-mom, taxi driver, and the all around go-to person of the family. However, I always find time to read. One of my favorite family outings use to be taking my kids to the bookstore or the library. Today, my oldest child is in college and my twins are juniors so they no longer go with me on these outings. And although I don't need to go to the actual store anymore because I have the greatest device ever invented—a Kindle, I still do. There's nothing like a paperback. So now my four year old and I make dates out of going to the bookstore–it's time I love and cherish.
I like to believe in soulmates, kindred spirits, true friends, and Happily-Ever-Afters. I love to drink champagne, listen to music, and hopes to always stay young at heart. <3