Today we welcome Sarah Biermann to our blog as she celebrates her Rock Bottom Series.
Enter for a chance to win an ebook copy of book 1 – Trials below. Good luck!
---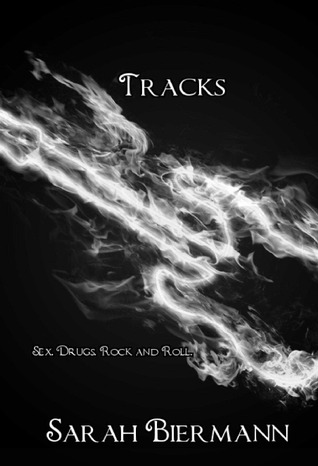 Synopsis
When Harvard Law student, Dylan Ackhart, moves to Boston with her best friend- the last thing she expects to find is Jeremy Mason. Jeremy is sexy, smart, and passionate- and currently the most famous rock star in the world.
From the first moment Dylan meets Jeremy, she's attracted to him. But she soon finds the fame and press can wear on you. Plus, Jeremy seems to be hiding things from her- including his relationship with the mysterious blue-haired girl.
Tracks takes you on a ride through the not so glamorous side of dating a rock star- sex, drugs, rock and roll.
Excerpt
I stand back and look at him. His face still has a sheen of sweat, his eyes beautiful and glassy. His cheeks look unbelievably chiseled in the light, aided by the dark black scruff on his face. His lips are pale pink, and I watch them turn up in a smile. The realization hits me that this brilliant, gorgeous man is somehow now officially mine.
I run my arms up his bare chest and push the shirt off from his shoulders. It falls to the floor. I lean over and kiss along his collar bone. He sighs, grabbing my hair. I trail my fingers down his chest, letting my fingernails dig into him.
"Careful," he says breathlessly. "We won't make it to bed."
I stand up straight and look in his eyes, undoing my zipper and letting my dress fall to the floor. I step out of it. "Good," I say, low and deep.
He grabs my chin hard. "Oh, Miss Ackhart." He kisses me hard, biting my bottom lip. He pulls away. "You're in trouble," he says, his eyes burning with desire.
---
Synopsis
"They think Jeremy murdered her."
Drugs pushed them away…will murder bring them together?
Since losing the rock star love of her life, Harvard Law student Dylan Ackhart is doing the best she can to move on. Now in her third and final year, she's doing well in school and just landed her dream internship in Boston's District Attorney's office. She keeps away from the news so she doesn't hear about Jeremy Mason- about his frequent parties, new women, and apparent drug use.
But when the body of a young girl is found in his home, suddenly Dylan and Jeremy are thrust together in the most difficult and awkward of circumstances. Dylan is forced to choose between the only man she ever loved and the only dream she ever wanted. Will she leave everything behind and be with Jeremy? Or will Jeremy find himself in more trouble than she can help him out of?
Excerpt
Overcome with emotion, I walk around him, keeping my arms around his waist. I stop when I'm standing in front of him. I look up at him, his hands covering his face, until he drops them to his side. He looks down at me, his eyes deliciously exposed. I understand that this moment is another trial for me- one I'm about to fail.
I stand on my toes and kiss him passionately. I release his waist and place my hands in his hair. He tastes better than I could ever have remembered and when we connect, my entire body tingles. It's like he is breathing life back into me.
He's still for a moment, shocked into rigidness. As my mouth begins to move against his, he starts to move his lips in synchronization. He wraps his arms delicately around me, but we've been apart too long for gentle. I push my mouth harder into his and wrap my fingers tighter in his hair.
His breathing increases and his mouth moves faster with mine. He grabs the back of my shirt roughly, flipping me around and slamming me back against the wall. I moan and wrap my legs around him. He drops his hands to hold me under my ass.
"Damn you, Dylan," he says, growling the words in between kisses. "Damn you for making me love you so much. I need you. I need you now. I've never needed anything more in my life than I need you right now." His voice breaks.
I understand now, in a way, his addiction. I understand having the pull to something you know is probably bad for you. You know it will probably end horribly. But it makes you feel so good that how can you deny it? I guess that makes me an addict, too. Maybe not of drugs, but to something that has the potential to be just as damaging to me and those around me.
The difference between Jeremy and I is that while he's beating his addiction, I'm succumbing to mine.
About the Author

Sarah Biermann, RN, BSN was born Wilmington, Delaware and grew up in Claymont. She attended Cab Calloway School of the Arts in Wilmington for high school, majoring in creative writing. She went on to Montgomery County Community College in Blue Bell, PA for her Associates Degree in Nursing. She recently graduated Drexel University with her BSN in nursing and is currently in their Masters program for nursing education. Sarah's nursing specialty is in drugs and alcohol detox and rehab.
Sarah has been married to her husband, Jon, for 8 years. She has two beautiful daughters: Anna, age 7, and Quinn, age 2. They live in Lansdale, Pennsylvania.
She enjoys reading, singing, art, music, television, going to the movies, Hershey Park, and writing.
GIVEAWAY
Leave a comment after this post to enter for a chance to win an E-book of book 1 in this series, Tracks. Winner to be picked using Random.org tonight. Good luck!
Book 1 – Tracks

Book 2 – Trials