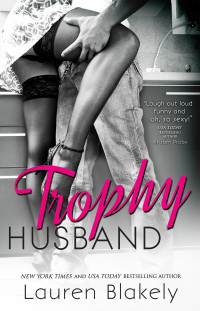 Today we welcome Lauren Blakely to our blog as she celebrates her new book Trophy Husband which released on May 21st.
Enter to win an amazing giveaway using Rafflecopter below! Good luck!
---
4 STARS!!!
Synopsis
Sometimes you can't help falling in love, even when you try to do the opposite…Successful fashion blogger McKenna Bell has spent far too long protecting herself after the way her ex-fiancé left her at the altar for a college chick he met the night of his bachelor party. Loving again, trusting again, well, that's just not in the cards. Especially now that her ex is back in town with his new woman, demanding custody of McKenna's favorite creature in the whole world–her dog. No effing way. McKenna's had enough of him, and she decides to even the score by finding her own hot young thing — a Trophy Husband. Sure, she's only twenty-seven, but doesn't that make it even more fun — and infuriating to her ex — to pursue a younger man? When she declares her intentions on her daily blog, her quest quickly skyrockets in popularity, and that's when Chris enters the picture, and he's got all the assets. He's handsome, successful, and turns her inside out with a kiss to end all kisses, the kind that makes you feel like a shooting star. But loving again could mean losing again, and it's so much easier to focus on getting even, isn't it? Unless, you just can't help falling in love. Which means McKenna will have to come face to face with what she really wants in life — protecting her heart from hurt, or letting go of her fears of a new beginning.
Christine's Review
I am honored to have received an ARC copy of this book from the author for an honest review.
I am a big fan of Lauren Blakely and Trophy Husband did not disappoint.
What I loved about this book was that it was a sweet no frills romance that put a smile on my face because it was light, no angst and just filled with pure happiness.  McKenna lost her fiance to another woman the night before her wedding.  A year later she runs into them at her favorite diner and I can't help but think that she hasn't lost that much because he was such an ass! UGH!
After seeing him and his younger wife, McKenna decides to come up with a pact and agreement with her girlfriends to find a trophy husband.  What I loved about McKenna was that she owned her own business, is smart and sassy.  She utilizes her online blog to capture the moments of her dating.  Yes, there is a double standard in the dating/marriage scene with men vs. women. And this for me was a nice change because it was hysterical to see this woman breaking the rules.
McKenna meets several men but for me the one that stuck out was Chris who had me at their first interaction at the video game store and I loved their fun, flirty and light hearted interactions.
When McKenna finally sees how silly it is to put her life on display and she sees who is right for her no matter what the age, I am so happy with her decision.  This book is about trusting in someone and more importantly falling in love again and allowing yourself to feel again even after a hard breakup.
It was a fun quick read and I am definitely looking forward to more from Lauren.
About the Author
Lauren Blakely is an unabashed fan of clever jokes, toast, and good guys in novels. Like the heroine in CAUGHT UP IN US, she thinks life should be filled with movie kisses and coffee drinks. Lauren lives in California with her husband and children, and spends her days writing both true stories and make-believe ones.