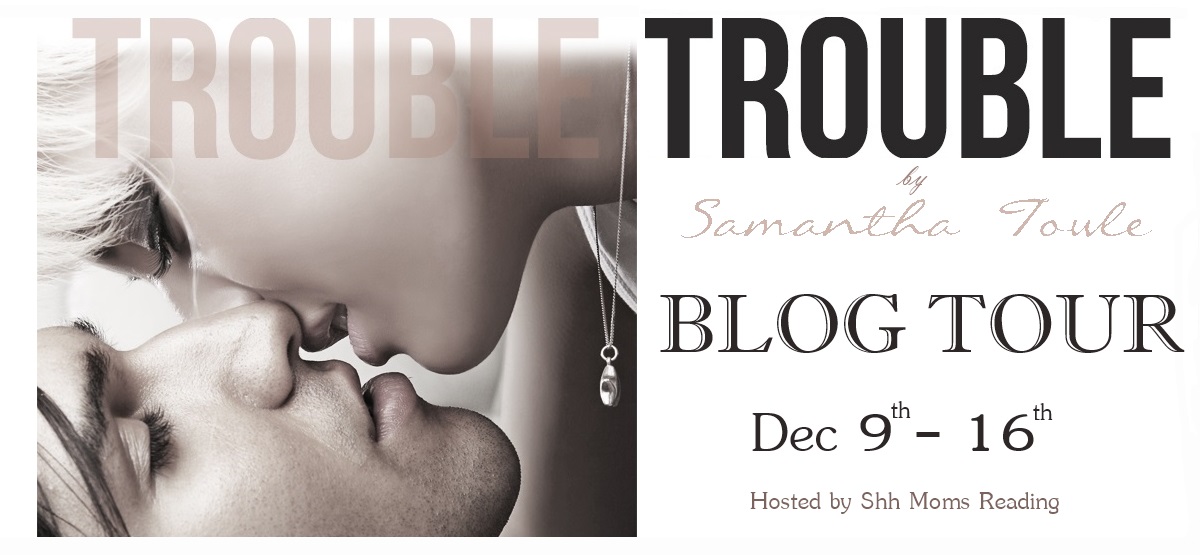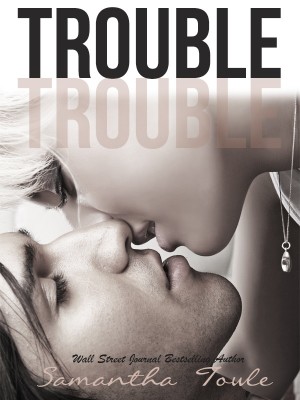 Today we welcome Samantha Towle to our blog as she celebrates her new book TROUBLE which released on November 18th.
Enjoy a look into Samantha's playlist for TROUBLE below.
Enter for a chance to win an ebook copy of this book using Rafflecopter below. GOOD LUCK!
---

Mia Monroe is running. Running from a person she doesn't ever want to find her. Running from a past she doesn't ever want anyone to know. Desperate to find a future, that yesterday, she could only dream of having.
Jordan Matthews likes easy. Easy women. Easy life.
Then he meets Mia.
She's damaged, troubled and has more baggage than any person can carry. But the more Jordan gets to know Mia-for the first time in his life-he finds himself wanting to try hard for something… for someone… for her.
And then life isn't so easy anymore.
Jordan is everything Mia shouldn't want. A whole bunch of dirty hotness, tattooed, cocky bad boy, who made his money at poker tables and picked his women up in bars. Yet, Mia finds herself falling for him. Then the past Mia was running from, quickly starts to catch up with her. Because that's the problem with running… you have to stop sometime.
And when you stop, you get caught.
Genre: New Adult Romance
I adored TROUBLE from the start – yes I will forewarn you that what everyone says is true about this being a very dark and different book by Samantha Towle.  But I enjoyed it completely – this to me shows the range that Samantha can write and I am happy to have read and experienced something new and different from her.  This was a very emotional and heartbreaking story that pulled at my heart strings.  But it wasn't all sadness…there was light at the end of the tunnel and it left me filled with such happiness and love.  This is a story that I will not soon forget (and I have already asked Samantha if there will be more because I am obsessed!)
TROUBLE starts with Mia being elated that her father has died…not the normal reaction from an only child for her father, but upon learning of the emotional and physical abuse that she suffered in his hands, I can't help but also think good riddance.  Mia has no other family and is sadly dating Forbes, a lawyer, who treats her in the same manner as her father did – with physical and emotional abuse.  It saddens me to see her with someone so like her father.  It's like she can't escape the pain and suffering and doesn't think that she deserves any better.  Sadly Mia doesn't know what real and true love feels like because she has never experienced it.  And though in my eyes, Mia is a beautiful and smart girl, studying in school to be a doctor, she has no self confidence in herself.  I connected so much with Mia because I just wanted to protect her, I wanted to help her through her suffering…most of all I wanted to be someone for her that she could talk to and be friends with.  I literally want to jump into my Kindle and beat the ever living crap out of Forbes while protecting her in the process. 
Mia runs away to CO to get away from Forbes but to also discover some secrets of her past.  Upon arriving at the hotel that will be her home for a couple of weeks, she meets Jordan, a tattooed and moody bad ass.  Jordan is a total womanizer, is totally ok with it and I absolutely LOVED being in his head.  Samantha rocks the male POV and I found myself laughing at some of his thoughts and antics.  Another character I truly enjoyed was Jordan's big dog Dozer who also fought for Mia's attention.  A lot of these scenes had me laughing out loud and smiling at my kindle.
Despite never formally dating any girl, Jordan is attracted to Mia.  She is different for him and affects him in a way that no other has.  He wants to help her and protect her and he knows to tread lightly as he realizes that Mia is going through some issues too.  Their attraction and lust for each other is palpable and I am DYING for them to get together.  Jordan also has a past that has affected himself and his family and how he views being in relationships.  He is typically a loner and I love seeing how with Mia that there is a chance that he may want more.
With all of their differences, will Mia and Jordan be able to get to a place where they can trust in each other and give in to their attraction?  Will Jordan continue to maintain his distance from her or give in to his hopes to be a better person?  And will Mia finally open up and let someone in to her heart and life?
You will have to read this book to find out!
Samantha is an amazing story teller and elicited such strong and intense reactions from me while reading this book!  I felt every emotion – sadness, pain, laugher, happiness and love.  I loved Mia and Jordan individually and together as a couple, they filled with my heart with such intense love….it was unreal how I felt after completing this book in basically one sitting.  Samantha did a great job writing both character's POV's and I enjoyed being in both of their heads, seeing their reactions to each other and taking this journey with them.  The journey was a tough one for these two characters but so worth it to experience all of the emotions – I cried in at least 3 different spots in this book!
Everyone knows I am a huge TMS/WTS fan, and with TROUBLE, Samantha totally outdid herself.  I am an even BIGGER fan than before.  Samantha shows us the beauty of coming out of the darkness of fear, control and anger and into the light with the happiness and love these two characters found in each other.
I know that this is a standalone but I HOPE HOPE HOPE she will write us something about Mia and Jordan in the future…this is a couple that I would want to continue on their journey with them any day.
Job well done! <3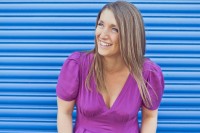 Samantha Towle began her first novel in 2008 while on maternity leave. She completed the manuscript five months later and hasn't stopped writing since. She is the author of The Mighty Storm, The Bringer and the Alexandra Jones series, all penned to tunes of The Killers, Kings of Leon, Adele, The Doors, Oasis, Fleetwood Mac, and more of her favourite musicians. A native of Hull and a graduate of Salford University, she lives with her husband, Craig, in East Yorkshire with their son and daughter.