Today we welcome Aleatha Romig to our blog as she celebrates her book Truth which released on November 2012.
Enter for a chance to win some amazing giveaways using Rafflecopter below!
---
5 STARS!!!
Synopsis
Claire Nichols endured the CONSEQUENCES of Anthony Rawlings' vendetta. When she first arrived to his home, her goal was survival. Through strength and compartmentalization Claire captivated her captor. Her resilience in the face of his rule threatened Anthony's well developed plan. Domination became desire and power turned to love. Their passion and adoration in a world of opulence appeared perfect. Yet, reality was a roller coaster of emotion. Claire's world teetered on the edge of sanity as Antony monitored her every move. When given the opportunity to flee, Claire drove away. A fateful decision which set a well laid plan into motion. However, unbeknownst to either of them, there were others who saw past the perfect facade of Anthony Rawlings. There were others who saw the TRUTH. Conspiracy and unfulfilled promises result in an early prison release for Claire. Not just a release – a pardon. According to the law, her crime never happened! Will it be that easy? Faced with freedom from her past… can Claire seize it? Can she build a new life, mend her broken spirit, become the woman she once was, and seek her own revenge? Or is it all a game? And does the game master have different plans? How does Sophia Burke fit into the puzzle that is Tony and Claire? Will her presence affect the future of this well esteemed man? Can he dominate twice? Is that his goal? TRUTH continues the tumultuous saga of CONSEQUENCES, introduces new players, and uncovers more intrigue. Aleatha Romig skillfully weaves past transgressions through current deception to create a fervent world of obsessed desire. In this reality can an all-consuming relationship survive? When buried sins are discovered they threaten not only Tony and Claire's future — but their very lives! Will the TRUTH be revealed in time?
Teaser
"Good for you." He leaned toward her, his eyes devouring her entirely, until she questioned her own presence. "Your ability to admit your displeasure is refreshing. It encourages me to be honest, too."
Claire did her best to glare, "Honesty. That would be a refreshing change."
His expression remained soft and so were his words, "You should know …I am sorry."
The world as Claire knew it, shifted. Perhaps it was an earthquake, they do happen in California. Why couldn't he be domineering or abrasive? That she could resist. But, apologetic, in the depths of her soul, she never expected to hear those three words.
"What?" She tried unsuccessfully to subdue the overpowering trembling. The volume of her voice rose exponentially with each phrase, "You're sorry?" The years of submission, incarceration, and domination bubbled out. No, not bubbled–gushed. This was not his house. She was not sequestered away from the love and support of others. She'd say whatever she wanted, and then tell him to leave. If he didn't–she'd call security. They were after all, on her call log. "Well, Tony, I believe I need a little clarification. Tell me what exactly you're sorry about. I'll gladly give you a few options."
The fury surging through her veins wouldn't allow her to remain seated. She stood and paced, around the coffee table, in front of the large windows, back to the chair and again to the coffee table. She felt his eyes on her, as she made multiple slow and methodical loops. Her mind was a whirlwind, a tornado, of words. Each syllable vehemently rushed to get out. Instead of opening the flood gate, Claire took a few deep breaths. She wanted to proceed slowly, clearing away the debris cluttering her mind, and choose the right words. Finally, she began, "First, you're sorry for invading my privacy for years, years before I even knew you existed. Second, you're sorry for kidnapping me, isolating, controlling me, and manipulating me. Third, you're sorry for lying to me, pretending you cared and oh yeah, marrying me. Fourth, listen carefully Tony, this is a big one…you're sorry for framing me for attempted murder, resulting in incarceration in a federal penitentiary." She sat back down, arms once again crossed over her breasts. It was the most direct she'd ever spoken to him, and it felt liberating. Unfortunately, the resentment coursing through her veins wouldn't allow her to relish her new found independence.
She expected her words to incite anger; after all, she'd experienced his anger before. Nevertheless, carelessly and unapologetically Claire forged ahead. "I would prefer the words, but you are welcome to say, one through four, if that's easier for you."
He leaned forward. Cautiously she looked up into his face. Her body trembled. The cause may have been the fury she'd just released, or perhaps fear of his anticipated reaction. Then she took in his expression and without warning the trembling stopped. His eyes were soft, the color of melted chocolate–even sad, overflowing with regret. He reached for her hand and gently tugged. Slowly, Claire released her appendage, allowing it to sit in his large palm. Tenderly he closed his fingers encasing her petite hand.
"I'm deeply sorry for one and four." He rubbed the top of her hand with his thumb. "I did provide you with an alternative destination for number four." Claire exhaled audibly, Tony continued, "I'm not proud of two, but three would never have happened without it." His tone deepened and slowed, "I am not, and never will be sorry for three. And, for the record, I never lied about or pretended to love you. I didn't realize it at first, but I have loved you since before you knew my name." He slowly lifted the hand he held and lowered his lips to the firm soft skin. "And, you forgot our divorce. I am sincerely sorry for that also. Had I known you would be released so soon, we could still be married." He placed her left hand on her knee, and stroked her empty fourth finger. "You could still officially be mine."
Kim's Review
If you've read Consequences then by now I know you've read Truth ~ If you haven't read Consequences then there is NO way you will understand this review. Truth is not a book you can read without reading Consequences. With all that being said we all know how Consequences ended and I can guarantee you at the end of that one I was…
I did allow some time to pass before I picked up Truth and my reasoning was Tony ~ I loathed Tony! I wanted to gouge the asshat's eyes out I wanted to..
and honestly for a good portion of the book I felt that way about him. The beginning of Truth was a whirlwind for me ~ Claire FINALLY got what she deserved and she did the first thing I would've done….
yep far away from Tony! I actually laughed, surprising, but I laughed at Tony's initial reaction to finding out what become of Claire but then true to fashion I got…
Tony is controlling with a capital C! As the book went a long slowly, very slowly, things were starting to be revealed and with the help of Claire's new friends Harry and Amber she was able to rebuild a life for her YES for her and I was totally …..
her on! I loved Claire's character in Truth ~ I realize after the mental hell she went through in the first book she would've had every right to been completely demolished! Nope, Claire pulled up those big girl panties and was ready, willing and able to serve up a cold dish of revenge ~ Slowly as she rebuilds her life it wasn't long before I was…
by little bits and pieces that she learned about the infamous Tony and his family but then again I think I was shocked by a lot of things that happened in this book. Some things came so far out of left field I had to…
and there was a ton of re-reading passages! We are introduced to two new people in the book ~ Derek & Sophie and those two truly brought a
my face. I loved their relationship! What's to become of them? I have no clue but I'm downright….
Truth isn't one of those books where you figure things out immediately! The author does a great job of spoon feeding you with little bites from a baby spoon and I was totally…
it up! The little nuances and things mentioned were key things for me to remember the further got a long. A revelation had me ….
but the author did a great job of allowing the reader to feel like they made that discovery by themselves when in all actuality I think the author strategically planned for the reader to realize who this woman was ~ yep….
I struggled more with my feelings for Tony towards the end. Was he still playing a game? or were his feelings that were expressed for Claire true ~ The further into the book and one confirmation had me…
it's something we see in books from time to time but it was well written in this case and not cliché ~ how would Tony react when he found out? What was Claire going to do? At a snail's pace I watched my emotions change towards Mr. Rawlings ~ I paid attention to the numerous changes that had taken place and the descriptions in the book as well as his ever changing eye color and I found myself starting to ..
for Tony. I never thought I would say this NEVER ~ I'm wondering if I have Stockholm Syndrome ~ I thought surely he couldn't redeem himself not that some of his actions could but the turning point for me came at the heels of something that had me…
yet again Claire showed me she is a fighter and it was when Tony lays eyes on her and those emotions were described across the page I started to sway to a Team Tony side! There was too much left in the book at this point would he screw it up? Would Claire's friends and family feel that "sense" needed to be talked into her? or would random events start happening? Well you need to figure that one out by reading Truth.
When the thread started to come loose it unraveled at a fast pace! So fast my emotions went from ….
and moved quickly to…
and then I felt …
but I moved quickly on to…
as I sat there thinking OMG! I would've NEVER figured THAT out I started to…
around my great room! I quickly moved on to …
and when I got to the end again I was left…
yet again! and that's when I FINALLY for the first time in this book
Bravo Ms. Romig! You have succeeded in shocking the hell out of me in both books ~ There is a mild cliffhanger when compared to the first book. Some questions were answered and some were raised. I'm anxious to see what becomes of Claire & Tony as well as Derek & Sophie when the third book Convicted is released! I'm totally….
Ms. Romig to ensure that someone pays their dues over and over and I'm hoping the title is a play on words!
Truth was a 5++++ read! How this plot was ever thought up boggles my mind! The pure deviousness of some of the characters blows me away! The twists & turns kept me on the edge of my seat ~ I think I would've had a fit if the ending didn't reveal some information about Claire! I love that the book again left me with questions and I truly adore the fact that this isn't a book about that I could "figure out" within the first few chapters! It was a surprising journey that let me develop my own theories and I have to say they were wrong!
If you haven't read this series I recommend this one it is one of my all time favorite! It's not light reading the first book is beyond disturbing which very well might drive you to drink. The second book, thankfully, the author gives us a little reprieve by shedding some light on things ~ not always the answer I wanted but I did get some of my questions answered!
About the Author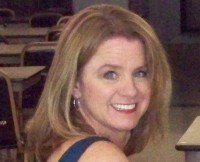 Aleatha Romig is a bestselling author, who has been voted #1 "New Author to Read" on Goodreads July 2012 – Present! She was also #9 most followed author on Goodreads – July / August 3013.
Aleatha has lived most of her life in Indiana growing-up in Mishawaka, graduating from Indiana University, and currently living south of Indianapolis. Together with her high-school sweetheart and husband of twenty six years, they've raised three children. She works days as a dental hygienist but enjoys spending her nights writing. When not imagining mind-blowing twists and turns, she likes to spend time with her family and friends. Her pastimes include exercising, reading and creating heros/ anti-heros who haunt your dreams!
Aleatha enjoys traveling, especially when there is a beach involved. In 2011 she had the opportunity to visit Sydney, Australia to visit her daughter studying at the University of Wollongong. Her dream is to travel to places in her novels and around the world.
CONSEQUENCES, her first novel, was released August 2011 by Xlibris Publishing. October 2012 Ms. Romig rereleased CONSEQUENCES as an Indie author. TRUTH, the sequel, was released October 30, 2012 and CONVICTED, the final installment of the Consequences Series, is scheduled for release in October of 2013!