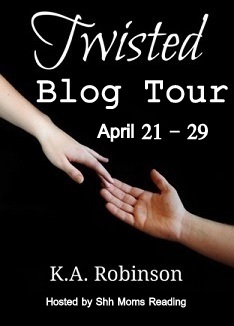 Today we welcome K.A. Robinson to our blog as she celebrates her new book Twisted which released on March 14th.
Enter using Rafflecopter below for some amazing prizes!
---
5 STARS!!!
Synopsis
***New York Times Best Seller***
Chloe and Drake have found their happily ever after… Almost.
When Chloe's mother comes back into her life with a bang, it sets off a chain of events no one could have ever expected.
Everyone has their demons, and Chloe and Drake's hit them with a vengence.
Sex, drugs, money, a crazy ex, and Rock n Roll…. Can they survive it all?
Things are beginning to feel a bit… Twisted.
Kim's Review
Twisted picks up right where Torn left off with Chloe's oh so wonderful mother NOT re-entering her life. A life she was sharing with Drake. Chloe's mother is EVIL personified in my opinion and when ever I think of her I picture………………………………………


"There are moments in your life that stand out above all the rest; Moments of pure bliss, pure anger, pure sorrow. Moments that take your breath away."
Little did I know when I started Twisted how poignant the first part of the paragraph would be. A little foreshadowing? Hmmm, that's for you to find out. Chloe had already been through so much in her short life that I was ready for some happy some BIG TIME happy. After the ride Chloe had in Torn I was happy to see her with Drake ~ getting ready to head out for the summer with him on tour. It was supposed to be PERFECT and I was so psyched to read about their time together outside of this……………………………………….


Don't get me wrong that part of their relationship works just fine; the constant attraction, spark, lust and can't keep my hands off you worked just fine for me. Ladies, who wouldn't be doing this if they had a chance with that hot freaking lead singer, Drake, in their bed……………………………………………………..


I totally would~~~ Chloe's mother seems to have a knack for jumping in and making Chloe alter her plans slightly with Drake. Chloe agrees to "assist" her mother by visiting her Aunt Jen, who has terminal cancer. Little does Chloe's mother know what she is actually going to do and little dose Chloe know what's going to take place over the next few weeks.
Going to visit her Aunt Jen in Ocean City allows her to visit with her cousin Danny but also re-connects her with his BFF Jordan. If you were paying attention in Torn you will know realize just who Jordan is ~ just how do they reconnect? What does Drake think? Will everything go the way Chloe plans? Well pick up the book and start reading because once you start you won't be able to stop. There were parts of this book where I ………………………………………………


the banter between Drake & Chloe was hysterical but it was there with Amber, Logan and of course, Danny & Jordan. There is a certain someone from Drake's past that had me………………………………….


I just knew something was going to happen and she was going to the be the instigator of the shite storm that occurred but little did I know what her actions caused and I was seriously……………………..


There were parts where I ……………………………………..


when it came to Aunt Jen and then Chloe's mother and what lengths she went to after she realized she wasn't going to get what she wanted. My heart broke for Chloe at that time. I couldn't believe what she had been through already and then …………………………………


I was like OMG ~ I prayed that our girl would have the strength she had shown in Torn to move forward. Speaking of strength remember that little piece of Drake's past well a little of this happened……….


heck yes that was hysterical~ but when a secret Drake was carrying around was brought to life I wasn't laughing anymore I was just…..


for Drake, for Chloe and the band and although what happened next had me in tears but Chloe was…………………………………….


I had to commend her maturity and her sense of self-preservation and ultimately for having the respect for herself to do what she did. I was like KUDO's girlie. Now I didn't speak much about this but there was some of this that occurred…………………………………


and don't think for a moment that everything between Drake and Jordan is rainbows and butterflies ~ nope you will feel the……………..


coming off the pages. I really started getting nervous towards the end of the book. I was afraid that what I wanted to happen wouldn't happen and yes the band was out there doing this……………………….


and I was biting my finger nails thinking well perhaps this is the way it's supposed to be and when I read this……………………..
"Sometimes life throws you curve balls, but other times it seemed like everything fell into place. I was determined to make sure Chloe had her happily ever after, starting right now."
I swooned that's for sure and when I turned the next page I totally…


Twisted was a HUGE 5 +++++++ read for me. I'm not surprised it made the NYT Best Sellers List this book is fabulous. Twisted had me tied up in knots from anxiety, laughter, anger, and sadness. The book flowed easily where I read it in one day. I couldn't put it down. K.A. did a FANTASTIC job with making sure all issues were addressed and things just weren't handed over on a silver platter or skipped over to where a reader would be left wondering.
I highly recommend Twisted the 2nd book in the Torn Series. In fact, if you've read Torn and haven't read Twisted I'm seriously shaking my head at you right now ~ this one will have you spitting fire mad at some situations, rolling with laughter at Adam's antics, swooning over a hot rock star lead singer or perhaps a hot potential NFL player who plays come college ball ~ I know that I took the journey and I cried, laughed, got mad, was devastated and end the end so FREAKING excited that I immediately wanted to jump right back into the book and read it again~
---
GIVEAWAY