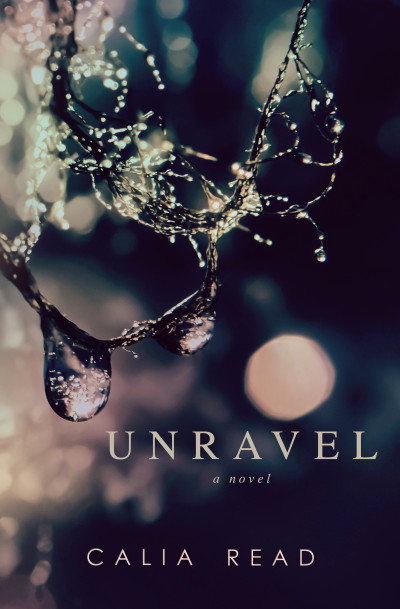 Today we welcome Calia Read to our blog as she celebrates her new book UNRAVEL which released on February 17th. Make sure to enter the giveaway below for a chance to win some amazing prizes! Good luck!
Calia has also given us the ORIGINAL ENDING for the book – however DO NOT READ IT if you have not read the book first as there are SPOILERS!! Proceed at your own risk!!!
---

Six months ago, I was happy. I was simply Naomi Carradine.
One month ago, I was admitted into a psych ward.
Yesterday, Lachlan visited me. Kissed me. And told me that I'm starting to lose my mind.
Hours later, Max haunted my thoughts, reminding me I'm not crazy and that he needs my help.
A few minutes ago, I drifted further from reality, trying to unravel the past.
And now…everyone thinks I'm insane. But, I know he's real, and I know he needs me.
Do you believe me?

 Christine's 5+++ STAR Review!!!
There are no real words that I can use to justify my feelings for this book or everything I experienced while I was reading it.  I actually wish that I could go back in time to re-read it and feel those feelings again as I have been in a book funk as of late.  I do blame a couple of the books that I have read this year – UNRAVEL – being one of them.  This book is on my favorite list of 2014 and we are only in MARCH!
THIS BOOK is why I read – to escape reality for a bit, to be in another world in a sense experiencing life as someone else.  I LIVED Naomi's life in Unravel.  Naomi is living in a psych ward and I will admit that I was crazy there with her…I didn't know what was real, what were dreams.  I experienced her highs and lows and I cried for her because I wanted to believe her….and at times I didn't.
All of the characters in this book – from Naomi, Lana, Max and Lachlan (oh yes Lachlan who embedded himself into my heart and I have still not forgotten him weeks later) were beautifully crafted and developed.  The writing so exquisitely done that I could not put this book down.
This book is pure brilliance.
I applaud Calia Read, who by the way, I messaged like a lunatic while reading this book….She created something so captivating that it held my attention to the very last page.  All my theories were wrong…I didn't have a clue…but I wouldn't have done it any other way.
So yes I know that this is probably the vaguest review that you have ever read….but just READ IT!  Trust me…READ IT!  I felt crazy insane reading this book in a totally good way… It's beautiful and powerful and you won't be able to stop thinking about it! Masterful!
I promise you that you won't regret it….go in blindly and experience the rush of emotions, the intensity and send me a message —I loved this book so HARD that I want to know what you think —-did you believe?!
If I could give this book 10 stars I would – it was MAGNIFICENT!  And yes, I have read Calia's Sloan Brother Series which I also love but this for me was on a whole other level – READ IT!  Experience it – will you be able to #unravelthetruth?!

*****Please Note: DO NOT READ THIS IF YOU HAVE NOT READ UNRAVEL YET!  This is Calia's ORIGINAL ending for Unravel and has SPOILERS!  DO NOT CONTINUE if you have not already read the book……..****
I look at Dr. Rutledge. "I'm ready to leave, aren't I?"

She nods. "I think you'll be out of here soon." She leans against the wall and stares out the window with me. "Do you know where you're going to go?"

"Wherever Lachlan is at, that's where I'll be," I answer truthfully. "You know what I'm most excited for? I won't be missing bits and pieces, confused of who I really am." I point to the window. "I'll be a whole person."

Dr. Rutledge smiles approvingly, with so much pride in her eyes. "You're not scared?" she asks.

"A little," I admit. "I know what I'm capable of now and I'm afraid it will happen again. That I'll focus on all these terrible things that happened in my past and never ever move forward."

Dr. Rutledge shakes her head. "It's not possible for it to happen again. Lana lives in you and you're now a complete person."

"But what I did with Lachlan…"

"You think what you did was awful. But do you understand just how strong you are? You thrived when most people would have died." She crosses her arms and dips her head close. "That says a lot."

Optimism. It starts as a small thread of happiness. Soon it's spreading throughout my body. That's what her words give me. I can't stop the small smile on face from forming anymore than I can stop breathing.      "So," she breathes. "Have you been doing a lot of writing?"   "Just a little," I say.

"A little? I think that notebook is almost filled!"

My lips curve into a small smile. I know she's trying to lighten the mood in the room by changing the subject but I can't let this go.

My smiles fade slowly. She stands up straighter. She says nothing. Just waits for me to talk. "How…" I swallow. "How sick am I?"

She frowns. "You're not sick. This isn't a disease," she says softly.

"It feels like it."

"It isn't. What you did was your only way of surviving. Lana was never a disease. She's part of you. You're a unique. And no disorder will ever define you." She gestures to the window. "Nothing out there can pull you back down because you've faced your pain and fears and you survived. You're unstoppable."

"But is there a chance that I could…relapse?"

Dr. Rutledge doesn't answer right away. "There's always a chance. But you're aware of what happened. You're accepting the past for what it was and your leaving it there. So is there a chance that this could happen again? I suppose so. But will it?" She shakes her head. "If you continue therapy, I don't think so."

Dr. Rutledge calls me rare. She will say that I'm unique. She will never say mental illness and it's not for my benefit. She doesn't say it because she doesn't believe it. She looks at me and I swear I can see a level of respect in her eyes that I've never received from someone.

I look out the window with her and feel hope blossom inside me.

What was stolen from me as a child made me love that much more.

I want a chance to love life.

With all of my parts.

Calia Read lives in Germany with her husband and their four kids.
She's currently working on the third book in the Sloan Brothers Series, Ruin You Completely.
---