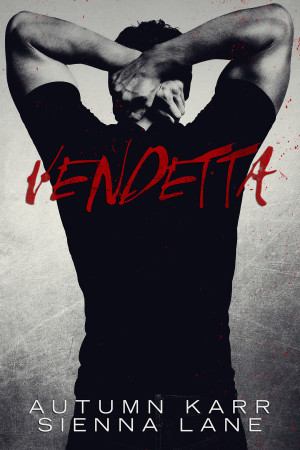 Today we welcome Autumn Karr and Sienna Lane to our blog as they celebrate their new book VENDETTA which released on December 15th.
Enter for a chance to win some amazing giveaways using Rafflecopter below. Good luck!
---

Please note: this is not dark romance.
I am not a good man.
I have lied and cheated and stolen. I've decided between life or death, like it was
my due. None of it matters, not anymore. These are not my sins.
I see her raise her hands, the dark metal she's clutching reflecting the moonlight.
Her finger trembles as she cocks the gun pointed at me. Her eyes are cold,
determined, but I know.
I know her.
My name is Devon Andre and I confess my sin. I am not a good man because this is
the woman I love.
She pulls the trigger.
* Standalone contemporary romance.
* Mature reader advised due to sexual content and strong language.

His mouth slides down my throat, his warm breath tickling the sensitive skin of my neck, and a shiver runs through my body. That's all it takes from him;
he has such an effect on me, always has. Holding me tight against his body, he talks into my ear.
"I couldn't get you out of my fucking mind. Every living thought I had was stained by you, out there in the darkness, my hands all over your body, your
fingers running through my hair, your moans and sighs. I fucking hate you for being my weakness."
His mouth finds mine, and he bites on my lip, punishing me. "I needed to get you out of my head, out of my heart, out of my soul. You owned me, and I
wanted myself back." His hand tangles in my hair, and he pulls it back harshly, exposing my neck. "I just want myself back," he ends on a whisper,
and then his teeth skim my neck, making my breath hitch.
He trails his mouth up over my throat, his hand making its own way down my stomach, where he finds the button of my jeans and pops it open. He kisses
along my jaw as he slides the zipper down, and reaches his hand into my panties. I gasp as his fingers slowly inch down and he slides first one, then
two, and starts to explore, thrusting them in and out in a delicious rhythm.
He pulls my head back gently and kisses my lips. His hand travels down the side of my face, over my collarbone, between my breasts and down to my stomach, finding its way under my shirt, cupping my breast. I moan as he rubs my clit with his thumb, making me quiver with his probing fingers, and his tongue delves into my mouth, stopping only to bite on my lips. I can feel his arousal pressing into my side, and it turns me on even more knowing that I have this effect on him. I hide my face in his neck, biting gently as the first wave of pleasure hits me. My thighs start shaking and Devon wraps his arm around my back to hold me up. I tear my mouth away from his neck and arch my back into the wall behind me, cursing as the pleasure starts to take over my body.
"Leighton," Devon growls. I open my eyes and look into his as I ride the climax, his heavy-lidded, burning gaze making me lose myself even more.
I enjoyed my first book by these authors.  Nothing in life that has worth is ever easy and Vendetta proved this to us time and time again.  This story to me was a Romeo and Juliet type story complete with vengeful families, lovers who have to fight to be together, the mob and some fast paced action that kept me on the edge of my seat.  This is one of the best synopsis' I have read in a while – it grabbed my attention and I couldn't wait to get my hands on this book!
Leighton Moore is caught spying on a conversation between one of her father's right hand men (George) and the other main character in this love story – Devon Andre.  The Moore and Andre family have been feuding for ages over the ownership of warehouses where they store alcohol.  I am nervous beyond belief of George's reaction to Leighton and think that she is a goner but to my surprise, Devon decides to kidnap her back to his uncle's house.  What will he do to her?  Will he exact revenge on things that happened in the past between their families?!  Ah!
As the story unfolds, it's both confusing yet somewhat clear in my mind that there is some kind of history between Leighton and Devon – much more meaningful than they let on to believe.  Both wanting to remain strong and not give in to the attraction that is undeniably there.  But they are each other's weaknesses.  As these two characters spend more time with each other in the locked room in Devon's uncle's house, the reader recognizes that there is a love there.  Which then makes me question – is revenge really so sweet when you are faced with the possibilities of having to kill the love of your life?
I questioned many things while reading this book.  This story showed so much promise when I first started reading and I adore love stories that are complicated.  I just wanted more.  I wanted more insight into the character's thoughts, I wanted more emotion – the physical piece was definitely there and you could feel the sexual tension but I just wanted more.  I wanted to see the toughness behind these characters growing up in the world that they did – I found them to be almost too nice.  Leighton didn't put up a fight nor did she ever really try to escape.  And Devon for all his apparent hate for Leighton, he almost gave into his love/lust too soon.  Given that this was a story filled with mobsters and a family battle that dated back many years, I wanted more of a look into those aspects of the story – the book was definitely entertaining don't get me wrong.  But I wanted more heart pounding action, more gun chases, more conversations – I think these things combined would have made this an even better read!
So yes I would definitely recommend this book to someone who is looking to read something different.  I am intrigued with these authors and look forward to reading more from them.

Sienna Lane and Autumn Karr are two friends with a joint love of reading, writing,candy, and Disney heroes (and Disney songs, of course.)
When they aren't scheming against fictional characters, or talking about their favourite books, you can find them ogling tattooed models and trying to figure out how to get them to do a cover shoot for their next book.
Together they wrote VENDETTA, releasing this December, and hopefully many more books to come.They love to hear from readers, so don't hesitate to contact them through their Facebook page (http://on.fb.me/18TGRU9
Autumn Karr
Sienna Lane
Joint Sites