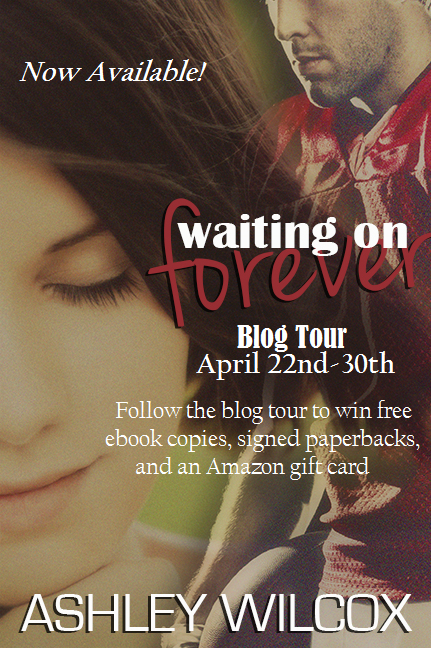 Today we welcome Ashley Wilcox to our blog as she promotes her new book Waiting on Forever which released on April 8th!
Enter to win some amazing giveaways using Rafflecopter below! Good luck!
---
3 STARS!!!
Synopsis
(Spin-off of Planning on Forever)
College.
Parties, sororities and getting drunk.
Oh, yeah. And learning.
This may be true for most college students, but not for Leah Bennett. College life for her includes studying, working, and excelling in school. When it comes to the social ladder, Leah is at the bottom. Popular girls, hot guys and star athletes are of no importance to her, except for one.
Matthew Jacobs.
Matt is the starting wide receiver at SUNY Cortland, the most wanted guy on campus and Leah's best friend. Although Leah's feelings toward Matt run deeper than just a friendship, it is something she would never let be seen because the odds of someone like Matthew Jacobs going for someone like Leah Bennett are slim to none.
When Matt starts showing an interest in Leah that goes beyond friendship, she is dumbfounded and doesn't believe it is possible – until one weekend that changes everything.
Will Matt and Leah's popularity status get in the way of having a chance at a real relationship?
Or does status mean nothing when it comes to true love?
Christine's Review
Leah Bennett is a studious, hardworking, nerdy college student going to school for Art.  She meets hot Mr. Popular, football playing Matt Jacobs during their freshman orientation and they become fast friends.  They are total opposites but their friendship is nothing more than Facebook messages until they become study partners in their advanced French class.  She is an innocent and is completely attracted to him and it's sweet to see such young innocent love blossom.  Leah doesn't see in herself what Matt sees in her and I liked watching their relationship develop.
While this was a fast read for me, I did struggle with some parts of this book.  I found that a lot of Leah's inner dialogue was very immature and judgmental.  Leah was almost TOO innocent and almost too blissfully unaware that Matt had feelings for her.  I also felt that some of her actions didn't match her being an "innocent" as her first kiss EVER with Matt (like first kiss EVER with a boy!) led to thoughts about having sex.  It felt a little rushed to me.  I thought Matt was a completely nice guy.  He took things slowly, never rushed her and liked Leah for her – weirdness and all.  He was very genuine and honest and I liked his character a lot.  I would have loved some more drama, conflict and HOT in a book that's classified as New Adult.
I enjoyed learning some of the characters back story and the issues that both characters had to overcome towards the end of the book.  It gave the book more of a story and added that much needed depth to keep my interest.
I LOVED the epilogue and seeing the future for these characters.  It will bring a smile to your face to see their HEA.  A definite recommend for anyone looking for a quick enjoyable read.
About the Author
Some may consider me a jack of all trades, but I consider myself well rounded.
I've waitressed, styled hair, answered phones and, most recently, worked full time as mom to my two beautiful little boys.
Then there was this book…
Everyone and their brother started talking about this book series titled Fifty Shades of Grey by EL James.  I didn't really pay attention to the craze at first, since I wasn't a big reader- okay, I didn't read at all.  But curiosity got the best of me, so I downloaded it to my kindle.
I was immediately hooked. I read the whole series in three days.  Yes, three books in three days.
I kept finding all these great books that I HAD to read (just ask my credit card!).
  Then I started hearing voices. Voices that turned into stories; stories that were begging to get out of my head.
I started writing them down on scraps of paper. Then I transferred them to my computer. Before I knew it, PLANNING ON FOREVER was born.
The voices in my head are still talking, so I'm still writing.
After high school I decided to give college a whirl, but found myself living back home after my first year.  I waitressed for a while then decided I wanted to try my hand at hairdressing. After graduating from cosmetology school, I worked in a salon for a couple of years.
I found myself hating the crazy salon hours so I quit hairdressing and started working in the medical field, answering phones.  Although working the nine to five thing gave me more of a social life, sitting at a desk answering phones was not my cup of tea.
Then came my husband, and the idea of going back to school.  That didn't last long because I didn't even finish a full semester.  Luckily, my husband works for a great company that I was able to get a job at, answering phones again. Not my career of choice, but it was a fun working environment.
This time instead of being bored with my career, I got pregnant, and leaving my precious bundle of joy home while I went to work was not going to happen, which leads me to today where I am a stay at home mom with two beautiful little boys.
---
GIVEAWAYS
a Rafflecopter giveaway
a Rafflecopter giveaway