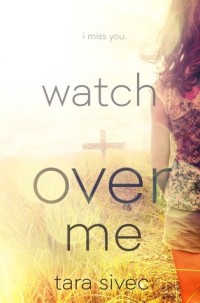 Today we welcome Tara Sivec to our blog as she celebrates her new book Watch Over Me which released on June 14th.
Enter for a chance to win a giveaway using Rafflecopter below!  Good luck!
---
4.5 STARS!!!
Synopsis
Addison Snow is your typical teenager. She has a family that loves her, friends that make her laugh, and she's wrapped up in the excitement of graduating high school and going off to college to pursue her dream of becoming an author. When her mother, who also happens to be Addison's best friend, dies unexpectedly, her world comes to a crashing halt.
Death changes everyone…
To make the pain go away, Addison and her father travel down separate, dark paths. She chooses to end her grief forever, while he drowns his sorrows in the bottom of a bottle. How do you learn to live again when the most important person in your life is gone?
Addison struggles to pick up the pieces of her life. Instead of getting back to being the carefree teenager she once was, she's stuck handling all of the responsibilities that should have been her father's. She has no time to grieve, no time for emotions, and no time for happiness…until Zander Reinhardt walks in. All it takes is one little handwritten note on a napkin to kickstart her back to life and help her realize that maybe there's
more to that life than pain.
But can it really be that simple? Can she really trust this man who makes her feel alive again for the first time in a year?
Addison and Zander both have secrets they aren't ready to share. When the truth finally comes out, is it enough to tear them apart or has something bigger than themselves always been watching over them, pushing them together, making sure they both get their happily ever after?
Christine's Review
Wow! I LOVED this book. Days later I am still thinking about it as it gave me chills – that's how good it is!
For me, death is scary – the fear of the unknown. Admittedly I've always been afraid of death, growing old and of losing someone I love so dearly. The prologue captivated me and scared me at the same time. How far would someone go to hurt themselves after losing someone they loved so much?
Addison was the typical high school teenager until she lost her mother to cancer. Her father became a shell of himself drowning himself in alcohol and leaving Addison alone to run the family bakery. She becomes an adult overnight bearing all the burdens while feeling totally alone because she has no one to rely on or trust. My heart breaks for Addison as the relationship she once had with her father is no more and because I know it's so hard to move forward and on with your life after losing someone yet I can't help but think how unhealthy it is for her to not be able to move on and it brings tears to my eys as I think of my children  Reading Addison's memories of the times she spent with her mom show the readers what a close relationship they had and I really couldn't stop tearing throughout this entire book because it made me want to hug my children even tighter and hold them even closer to me!!! Through all of this Addison is seeing her therapist, Dr. Thompson who tries to talk to her about her feelings, gives her advice, asks her to try to new things and basically tries to get her to live life again. I like their talks at the start of each chapter as I love the things she says to Addison because it really gets her to think and to me it provides some hope that there is light at the end of all of this darkness and grief.
Addison's first encounters with Zander aka "Bakery Girl" and "Napkin Guy" had me laughing out loud. I love Zander's fast witty comebacks, that he gets her to laugh and that he provides her with the comfort that she has been missing for so long. In my mind, I can't help but think that he will be the one to get her to live again. Zander is a 22 year old radiologist and he has a heart of gold. Immediately I could see how he could be a safety net for Addison. Besides being witty, he is also intelligent and has a lot of good advice to give out – I felt he was really mature for his age and just what Addison needed in her life.
"You can still pick up the pieces, Sugar. They fell apart for a little while, but it doesn't mean anything is damaged. Everything can be fixed. And you don't have to fix it alone. There's always someone who will help you rebuild."
So will this broken girl ever be able to have a relationship with her father again? Will she be able to let down her walls to put her trust in someone again? When some secrets are revealed about Zander, will she be able to forgive and move forward and enjoy life again?
You will have to read this beautiful book to find out the answers to those questions!
This was a wonderful book about hope and the power and love of afterlife. The epilogue was so well done and was so complete and perfect that I felt my heart swell with the feelings of love that I felt. I look forward to reading more from Ms. Sivec as this is a true testament to what an amazing author she is and I recommend it to everyone who believes to always live life for today and to the fullest. This is a book that I will not soon forget. Job well done!
An ARC was provided by the author in exchange for an honest review.
About the Author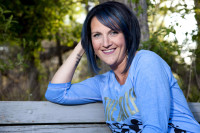 T.E. Sivec is the pen name for Tara Sivec. Under T.E. Sivec, she delves into a more serious genre that is
her absolute favorite to read romantic
suspense. She loves reading a book and feeling her heart speed up
with anticipation and wanted to be able to give that feeling to her fans.
T.E. lives in Ohio with her husband and two children, living the dream of being a fulltime
writer.