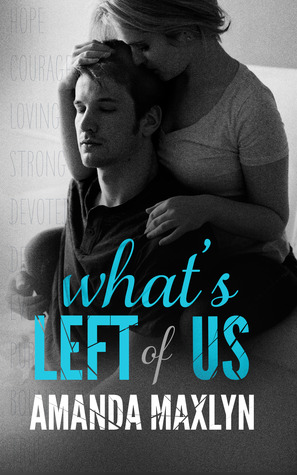 What's Left of Us

by Amanda Maxlyn
on November 14, 2014
Buy on Amazon
Goodreads


The heartwarming conclusion to What's Left of Me.

Love found me three years ago.

I'm cancer free, happily married to the love of my life, and working toward my dream career.

Our life is complete. Perfect, really.

Or is it?

I've always wanted a family of my own, but never dreamed I could have one. Now Parker's ready to make my dream our reality.

But sometimes our dreams are haunted by our deepest fears. Fears of failure, having a child, and in our case … death. How do I help the person I love get over his fear when I'm still trying to overcome that same fear myself?

Together we must learn What's Left of Us.
I COMPLETED loved What's Left of Me so when What's Left of Us came out, I jumped right in to get more of Parker and Aundrea.
What more can be said about a perfect love?
Parker and Aundrea have been through so much together and What's Left of Us brings us further into their story as they are now married and contemplating having a child.
This is a beautiful story of hope, moving forward, finding strength within each other to get that happily ever after even AFTER already having it all.
Parker and Aundrea are survivors and learn to continue living their lives despite the uncertainties of what the future may hold for them. But this is life…living without regrets.
Deeply emotional and touching, I adored Parker and Aundrea's interactions as it speaks to how much love they have in their hearts for each other. Especially Parker and his patience and kindness. A man with a true heart of gold.
If I am honest with myself, that in real life, I too am scared of what life will hold for me but life is too short to not live and What's Left of Us is a great example of how to live life to the fullest <3
Another masterpiece from Amanda Maxlyn and I look forward to what she has in store for us next!
♥READ THE SERIES♥