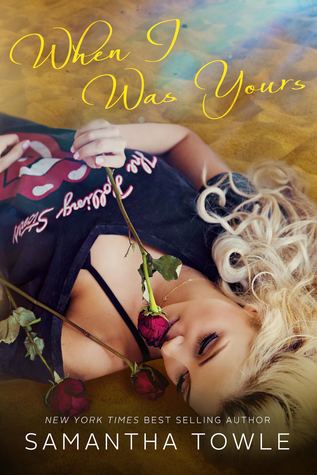 When I Was Yours

by Samantha Towle
on November 10, 2015
Buy on Amazon
Goodreads


"Marry me."
"What?" I stared back at him, unblinking.
He moved closer, taking my face in his hands. "I love you, Evie. I look into the future, and the only thing I see clearly is you. Marry me."

What's an eighteen-year-old girl who was madly in love with her nineteen-year-old boyfriend say?

Of course, I said yes.

Twenty-four hours later, I married Adam Gunner at a Vegas chapel to the sounds of "Livin' on a Prayer" by Bon Jovi. Not the best omen. I get that now.

Then, exactly one week later, I left him. I walked out, leaving behind my wedding ring, annulment papers, and my heart, and he never knew why.

I haven't seen him since. Not in ten long years.

Now, he's here, standing before me. Looking at me with nothing but hurt and hatred in his eyes, he wants answers.

Answers I can't give.
I love, love, LOVE second chance love stories and Samantha Towle wrote it so well in this love story that spans 10 years between Adam and Evie.
Samantha did so many things well in this story but what really stood out for me was the emotional aspect – the way she was able to move the reader with her words. I could feel the heartbreak, I could feel the devastation, the angst – it was so palpable and obvious to me the feelings of hurt and betrayal that exuded from my kindle while experiencing the loss of Evie, Adam's wife after one week, leave and disappear for years with him not able to find her after searching for so long.
And wow! The moment he sees her for the first time and all that fire that comes from his need for answers was complete pain and agony and made me want to cry and ask Evie – why??!
I enjoy reading books in alternating POV so that we get inside both character's heads and it was a treat to be able to read the past and present POV as well; to watch them from the beginning of their relationship, experiencing that young love had me smiling from ear to ear.
I had a feeling while reading what Evie's explanation for leaving might be and even when it all came out, even being right, I was still left with the chills and complete and utter heartbreak.
This was a full circle journey of a once in a lifetime love that kept me glued to my kindle. Samantha creates compelling characters that you fall in love with and root for. And not only that, she gives us stories that stick with us proving time and time again why she is always a must-click author for me.


Samantha Towle's WHEN I WAS YOURS Release Day and Blog Tour Giveaway