Today we welcome Lisa De Jong to our blog as she celebrates her new book When It Rains which released on September 25th.
Enter for a chance to win some amazing giveaways using Rafflecopter below. Good luck!
---
4.5 STARS!!!
Synopsis
One night changed my life forever.
Beau Bennett has been my best friend since I can remember. He was my first crush before everything came crashing down, and now he wants more, but it's more than I can give him. Things are different now. I wish I could tell him why, but I can't.
I haven't told anyone.
I never knew how much I really needed him until the day he left for college, and I was completely alone.
Then one day, Asher Hunt rides into town with his dark, captivating eyes and cocky grin. He doesn't care who I used to be, he's simply breathing life into what's left. People warn me to stay away from him, but he helps me forget the pain that has held me hostage for so long; something I thought was impossible before he walked into my life.
I've been hurt.
I've been saved.
And I've found hope.
I thought my story was written that night, but now I know it was only a new beginning. Until one secret turns my world upside down…
Again.
Excerpt
"What's wrong? What did I do?" The ache I hear in his voice makes my heart fall a little further into my stomach. This is my fault, not his.
When I felt Beau's body on top of mine, I could see the anger in Drew's eyes and feel the way his fingers dug into my skin. I just want the memories to go away.
"Fuck. Kate, please say something!" Beau says with a strained voice.
I flinch, wrapping my arms around my stomach. "Can you please just take me home?"
I want to tell him. I want to tell someone, but I can't.
He stands in front of me with his hands folded behind his neck. I back away, making sure to put an arms-length distance between us. "Jesus, will you please just tell me what's going on? I can't keep watching you pull further and further away from me."
"Just take me home, Beau," I whisper before walking in the direction of the truck. When I hear him call my name, I stop and turn my neck to look back at him.
"I can't keep doing this shit. Why won't you talk to me? Give me one reason!" he yells, gripping his hair between his fingers.
"You don't want to hear it. Trust me," I cry, covering my mouth with my hand. Just thinking about telling him everything makes the bile rise from my stomach. No one wants to hear that good little Kate isn't who they think she is. She's been damaged.
"Try me," he says, sounding tired and frustrated. "Nothing you tell me will change the way I feel about you. Nothing."
Christine's Review
I can't begin to formulate in words how much I loved and enjoyed this book.  The prologue sucks you right in and what I have learned about Lisa is that 1) she never disappoints and 2) her words and her stories are complete perfection.  Please make sure to have tissues handy with this read as I cried throughout!
Kate Alexander suffers the unthinkable one night at a party and all of her hopes and dreams and innocence are taken in a blink of an eye.  This act not only breaks her on the inside but changes her from the happy and hopeful girl she once was.
Beau Bennett has been Kate's friend since they were little.  He is sweet and attentive and SO in love with her but unfortunately Kate doesn't reciprocate his feelings and though Beau has never done anything for Kate to ever doubt him, she does because she no longer has an ounce of trust or self worth inside of her.
When Beau goes to college, Kate meets the new boy in town – Asher Hunt.  Asher is unlike anyone she has ever known and Kate finds herself beginning to trust him and confide in him.  I'm not going to lie and say that I wasn't surprised that she felt such an immediate connection and bond with Asher.  Though I did understand that in her eyes, Asher was a new beginning, someone to look forward with because he never compared her to her past self.  As I read their interactions, I see how good he is for her – someone to save her and to make her whole again.  I'm happy to see her opening herself up again to Asher, becoming the old Kate again though I still feel such an allegiance to Beau 🙂
But Asher has his secrets too….and when we learn what it is, my heart literally breaks as Lisa shocks the hell out of me!!! I am hysterical crying because I just can't contain the sadness that I feel in my heart. I won't tell you what this secret is as you will have to read it for yourself….but I did ask myself often throughout my read – is it possible to have two soul mates in life?
I LOVED everything about this book but most especially the message that Lisa was trying to tell us readers – that you need to live for yourself no matter what happens, you need to really live life and not hold back and that you need to enjoy every moment and never look back.
Lisa gave us a sweet, romantic, and yes sad and emotional book – I felt so many emotions while reading this but enjoyed every moment.  I LOVED the napkin messages and that Kate was able to find the strength within to move forward.  I enjoyed the different POV's and thought Kate was a lucky girl to not have one but two true loves of her life.  The ending, in my eyes, was complete perfection!
Thank you Lisa and I look forward to that novella you are currently working on lol <3 <3
About the Author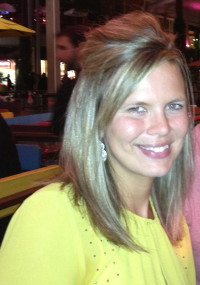 Lisa De Jong is a wife, mother and full-time number cruncher who lives in the Midwest. Her writing journey involved insane amounts of coffee and many nights of very little sleep but she wouldn't change a thing. She also enjoys reading, football and music.