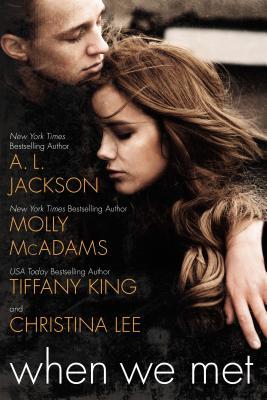 When We Met

by A.L. Jackson, Christina Lee, Molly McAdams, Tiffany King
on November 4, 2014
Pages: 400
Buy on Amazon
Goodreads


Today's premiere New Adult authors combine their talents to tell four original stories from inside one house.

When four girls decide to live off campus together as juniors at a college in Michigan, they expect it to be their best year yet. Little do they know, it's a year that will change the rest of their lives.

BEHIND HER EYES by A.L. Jackson
Unable to live down her ex-boyfriend's deception, Misha is determined to avoid betrayal. When, the new guy next door, Darryn starts to get under her skin, her defenses start to crumble. But trusting Darryn seems impossible, especially if he's not sure he can trust himself.

SAVING ME by Molly McAdams
On the outside, Indy is always ready for a party—but inside she's breaking. Kier makes a weekly routine of saving the girl next door from herself on Saturday nights… but when will she be ready to remember him on Sunday morning?

FOULING OUT by Tiffany King
Working at a sports bar, Courtney has become a pro at sidestepping propositions from arrogant jocks—which makes her a more elusive catch for campus basketball star Dalton than he expected. But when he falls for the saucy waitress, Dalton will have to rethink his game plan to prove he's not the jerk Courtney expects.

BENEATH YOUR LAYERS by Christina Lee
In order to ace her fashion internship, Chloe must team up with local college dropout and set builder, Blake—much to her chagrin. But after some "hands-on" experience, Chloe will have to ask herself if Blake factors into her carefully laid plans…
This was a different take on the normal anthology that I am used to – 4 Best Selling Authors working together to give us a complete story of 4 college aged girls who live off campus together looking for love, while learning to trust as they grow into adulthood. Each of these 4 authors have taken a girl and have built upon the story and relationship of each to give the reader a truly amazing reading experience, while keeping the story connected, well written and building upon the story giving us mutli-layers of a complete read rather than bits and pieces.
I have read 2 of the 4 authors previously – A.L Jackson and Christina Lee so it was a treat for me to be able to read short stories by Molly McAdams and Tiffany King.
Without getting too into each story as they are short and I don't want to spoil anything for you, I will tell you what I enjoyed about this anthology:
I loved that each author took a girl and showed how each girl would come full circle to grow into their own person. The college years are tough on everyone and watching their struggles whether it be with trust, self confidence, demanding parents etc was so relatable.
Each story was a fast and fun read as it was based on the simple formula of girl meets boy. There was no real angst or drama – this is just a light and fluffy kind of read.
I enjoyed how it was done together cohesively but I am not surprised as all of these authors have shown time and time again their magic with the written words. Of course the sexual tension was my fave! 😉
So what makes me give this anthology 3.5 stars is that I felt that Yes though this was intended to be short quick stories, often times I thought that things were developed TOO quickly. I am a fan of the slow build up and more depth. I needed more connection to the characters.
This was a great introduction to authors I have never read before and a fun entertaining read. I look forward to more from all of these authors in the future <3