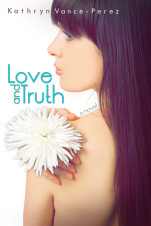 Today we welcome Kathryn Vance-Perez to our blog as she celebrates the release of her debut novel, Love and Truth, which released on January 30th!
Enter below using Rafflecopter for a chance to win some amazing giveaways!
4 STARS!!!
Summary
Eighteen-year-old Nicole Harrison has spent her high school years devoted to academics and dance, leaving no time for a boyfriend and a life. Her parents' shocking divorce causes Nicole to believe that true love is impossible to find. After spending her life in a small Texas town, Nicole joins a foreign exchange student dance program in the country where she was born. After years dreaming about her birthplace, she boldly leaves her world behind and moves in with a host family on the island of Okinawa in Japan. She anxiously awaits a year of improving her dance technique while enjoying a world of new experiences
Jonathan Hayes was born to a Japanese mother and American Marine father via a surrogate in the States. After his father's tragic death in Iraq when Jonathan was only a baby, his mother moved them back to her home in Okinawa. As a child, Jonathan's mother immersed him in American culture to honor his father. His good looks and immense musical talent have left him with no shortage of female admirers. But after a bad break-up from his girlfriend of two years, Jonathan plunges into a playboy lifestyle that leads him along a destructive path. As his wounds begin to slowly heal, he tries regaining his self-respect by living on the straight and narrow. But his heart remains closed to the idea of love; that is, until the night he sees the beautiful and innocent Nicole Harrison, upon the balcony of his neighbor's home.
While Nicole tries to navigate an unfamiliar country, she also has to learn how to navigate the unfamiliar and unwanted feelings she's developing for Jonathan through some very heart-wrenching and trying times.
Will her fears push him away, or will Jonathan show her the truth of loyal love…
**Not suitable for readers under the age of 17 due to some language and sexual content**
Excerpt
"I know you like to be in control and you operate a lot from fear. But you have to break the bounds of your past and rewrite the story you've been telling yourself based on the experiences of others. You have to write your own story. I'm not saying it will always be easy. We are human. Two people loving each other will always have difficulties, but it's how you handle those complications that truly matters. I refuse to believe that true love doesn't exist for me. Sometimes pain and hurt are good things because it means you tried for something in your life. If you told me today that our being together would result in heartbreak, I would still choose to be with you. I believe that truly living life is in the experiences, not the outcomes."

I pulled my head up from his chest and looked into his eyes.

"How did you get to be so wise at twenty? Everything you just said makes so much sense. I think I just had an a ha moment. I had truly never thought of it that way before."

His profound words made me feel safe with him. Cherished. Loved.
Christine's Review
Nicole Harrison just graduated from high school.  She grew up loving to dance but her life was so controlled and regimented because of her strict parents that she always wanted to be independent and free.  When her parents' divorce early on, it creates such negative thoughts on relationships and love, that she knows that it's just not for her.  Nicole decides to study dance in Japan and to learn more about her heritage.  I am immediately intrigued by the Japanese culture.  The images that are in my mind are so detailed because of how beautifully descriptive it is written and portrayed by the author.
When Nicole's eyes meet Jonathan's for the first time from her balcony, she is fascinated by him – he is the first guy ever to make her feel like that.  Jonathan is also American with his green eyes, fun, sexy and confident ways (oh and did I mention tattoos and a nipple ring! HOT!)  Nicole is inexperienced with guys and doesn't know what to do about this instant chemistry and attraction she has with Jonathan.
"Nicole Harrison, I can do whatever you need me to do.  Just don't run.  Don't walk away from whatever this is, from what this could be."
While Nicole doesn't believe in love, Jonathan also had a relationship that ended badly that makes it hard for him to trust.  What I love about him is that despite his past, he shows how much he likes her by showing that he cares, by being so protective that she feels loved.  He showed her how to live life and enjoy all the moments.  At times, Nicole frustrated me because I felt that she was afraid to love and lose control – she was afraid of change.
Without revealing anything, this couple will face some issues that could break any relationship.  It was so volatile and all I could think was – Why is this so hard for them?!  The back and forth between them made me want to scream!  Will Nicole be able to let down her walls and let him in?  Will they let their pride get in the way of love?  You will have to read it to find out!  The epilogue was very well done and perfectly romantic!
On a side note, I loved Jonathan's best friend – Izo with his funny, sarcastic sexual innuendo…I could tell he is a good guy inside.  I also loved Nicole's best friend Annie who had me laughing out loud!  I would LOVE to read their stories…hint hint!
This was my first read from Kathryn and definitely not my last.  I enjoyed that this book was very different from what I have been reading lately and it was so refreshing.  I look forward to more amazing reads from this author! 
Character Inspirations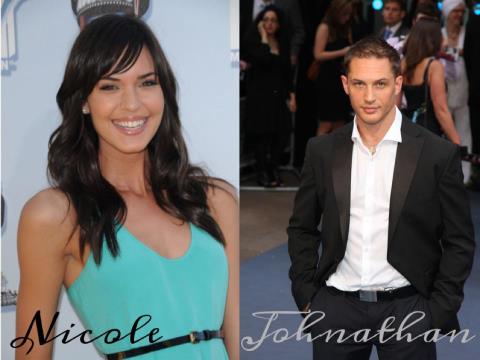 GIVEAWAY
4 lucky winners will be chosen on February 28th!  Good luck! 
You can find this author at
Facebook http://www.facebook.com/#!/KathrynVancePerez
Goodreads  http://www.goodreads.com/KatyP1203