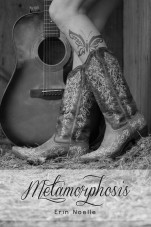 Today, we welcome Erin Noelle to our blog as she celebrates the release of her new book Metamorphosis.
Enter using Rafflecopter below for some great prizes!
---
4 STARS!!!
Summary
Scarlett MacGregor has lived a very sheltered life courtesy of her over-the-top controlling parents. Having never been to a co-ed party, much less on a date, Scarlett has relied on her books, her music, and living vicariously through her best friend Evie to keep her sanity as she's patiently awaited her freedom from their rule. When Scarlett and Evie go away to college, Scarlett quickly meets Ashton, Dylan, and later, Mason, and is thrown into a crash course of like, love, and lust. With Evie's help, she must figure out the difference in the three and which one she wants before she ends up without any of them. Metamorphosis is the story of Scarlett's transformation from a young, naive girl to a strong, mature young woman and her search for self-discovery and true love. Recommended for readers 17+ due to sexual content and harsh language. Sequel to Metamorphosis, Ambrosia, set to release later in 2013.              
Excerpt
TEAM ASH  "You are breathtakingly beautiful, incredibly talented, obviously intelligent, and when I look into your eyes I see the most pure, untainted soul of anyone I have ever met. Your innocence and inexperience only increases your sexiness and sensuality. You, Scarlett Alexandria MacGregor, truly are an enigma.'"   The thumb that had been caressing my cheek moved to my bottom lip and I instinctively opened my mouth. I flicked my tongue over the tip of his thumb, tasting his sweet flesh, before drawing it into my mouth and sucking on it. Ash inhaled deeply and his eyes darkened to a stormy blue. He broke our stare and shifted his desire-filled gaze to my mouth, watching me provocatively play with his thumb ~ licking, sucking, biting.   "So soft, so sweet. My little butterfly. My beautiful Psyche." Ash murmured as he nuzzled his face in the nape of my neck. I had found heaven. I didn't really know what he was talking about or what he had called me, but nothing could ruin my perfect night. That was the last thought I remembered having before I drifted into a blissful sleep."
TEAM MASON Once we were comfortably settled with our drinks and before saying another word, Mason grabbed both sides of my face in his hands, looked into my eyes, and pulled my mouth to his. The kiss was much softer and gentler than I had expected. His lips felt like silk up against mine and his tongue teased ever so lightly as he traced my lips, requesting entrance to my mouth. I involuntarily groaned and my lips parted allowing him easy access to my complete seduction. I could feel the metal ring on his bottom lip pressed against mine and I couldn't help but run my tongue over it. The guy oozed with pure, unadulterated sex. I was so out of my league.   I wasn't quite sure what it was that Mason evoked in me, but I yearned for both his touch and to touch him like I didn't think was possible. It was like my body was hungry for his, starving actually. Finally, I understood the draw towards the bad-boy image that so many girls and women could not resist. If I was Mason's angel, he was my perfect devil.   He started laughing and shook his head. "You continue to surprise me, angel. Vibrators and trashy novels. I'm speechless." He bent his head down and kissed my stomach, right below my belly button, and the electric charge that surged through my body triggered me to lift my hips and rub against him. He smiled, "Slow down angel, I want to take care of you. This is how I should have thanked you on Friday." He kissed my stomach again, the second kiss a bit lower than the first. I had to physically force myself not to lift my hips again. "You just need to relax and enjoy. Let me show you how much I appreciate getting to be the first to do this." Mason placed one last kiss on my lower abdomen before hooking his fingers onto each side of my panties and pulled them down.
---
Christine's Review
I did go back and forth with the rating of this book between 3.5 and 4 stars.  Ultimately it was the ending that had me push my rating up to 4 stars. Scarlett McGregor has older parents at the age of 44 and she is their do over child.  Feeling like they failed with their first child who was so heavy into drugs and alcohol, they become overbearing, overprotective parents to their daughter.  They are totally militant and strict and have such high expectations of her. When Scarlett goes to college with her best friend Evie, she has no self-esteem and is on a mission to recreate herself and find her ideal boyfriend, date and gain relationship experience.  I enjoyed that she and Evie set up a game to meet different kinds of boys to figure out what her type was and that the comparisons were made against popular books that we read and love today (how many of us do the very same thing now?) And boy, did Erin give Scarlett a wealth of boys to choose from!  Dylan Stevens is the beautiful blond hair blue eyed Abercrombie model.  He is the perfect guy, the every Saturday night date guy.  Then we have bad boy Ash Walker, Evie's cousin's roommate with his dimpled smile, Caribbean blue eyes and sexy voice that mesmerizes everyone he meets.  He is the best friend, the guy you share your secrets with and fall asleep with every night and nothing ever happens with.  And how can we forget Mason, the bass player of a band who is not true boyfriend material but is so kind and sweet inside.  He is the one who teaches her how to touch and how to be passionate.  How will Scarlett choose?!  Will it be the boy who she finds irresistible and seems to be her soul mate, the boy who is seems good on paper (but in my opinion was never really the one) or will it be the boy who has always been honest with her and who teaches her how to be a woman?  I, myself, would choose "The Rat."  🙂 I enjoyed the originality of this story and thought basing it on book boyfriends was a new and different concept.  I did think that this book was appropriately named as Scarlett came to college to grow up and mature and change from the sheltered girl she was with her parents to the carefree independent woman that she was becoming – like a butterfly – spreading her wings and learning to fly.  Some parts I thought were rushed and other parts were frustrating to me only because of the back and forth and indecision with the characters. Despite that, it was the ending that reeled me in.  Yes, there is some heartache in this story and definitely parts that saddened me to the core.  And just when you think you know what happens – it CHANGES!!  I truly enjoyed the epilogue but was also left wanting more – what happens is unexpected and totally blew me away!  I need the closure…I need to know what happens and I need to know NOW!  Thank you for an enjoyable read Erin…I look forward to reading more of your work as you continue to develop your craft and grow in your writing style.  I thought it was well done for a debut novel – congrats!    
---
About the Author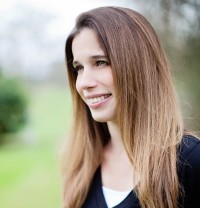 Erin Noelle is a Texas native, where she lives with her husband and two daughters. First a bookkeeper, and now an author, she often jokes that she's a woman of numbers by day and letters by night. Erin is an avid reader of all romance novels and a huge sports fan. Most nights you can find her cuddled up in bed with her husband, her Kindle in hand and a game of some sorts on tv.
BLOG TOUR E-BOOK GIVEAWAY
a Rafflecopter giveaway
---
GRAND PRIZE GIVEAWAY
a Rafflecopter giveaway