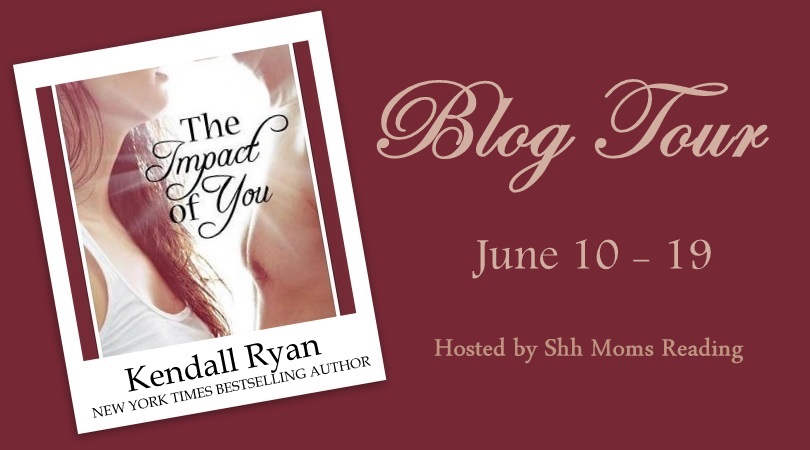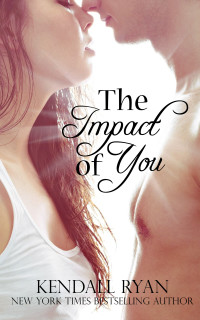 Today we welcome Kendall Ryan to our blog as she celebrates her new book The Impact of You which released on June 7th.
Enter for a chance to win this book using Rafflecopter below!
---
3.5 STARS!!!
Synopsis
A New Adult Romance from New York Times and USA Today bestselling author Kendall Ryan
Needing an escape from her past, Avery chooses a college where no one knows her. Keeping a low profile was the plan, falling for the intense frat boy, Jase wasn't. Yet she can't deny how alive she feels when he's near. Even as common sense implores her to stay away, her body begs her to get closer.
Jase, numb from his own family drama, has grown bored with weekends fueled by nameless girls and countless bottles when he meets Avery. Helping her cope with her past is better than dealing with the bullshit his own life's served up. Determined to drive away the painful secret she's guarding, he appoints himself her life coach, and challenges her to new experiences. Getting close to her and being the one to make her smile are simply perks of the job.
But when Avery's past boldly saunters in, refusing to be forgotten, can Jase live with the truth about the girl he's fallen for?
Recommended for 17+ due to mature themes and sexual content.
Denise's Review
To escape her past Avery attends college where no one knows her, she plans to keep her head down and focus on school.
What Avery does not plan for is her attraction to a frat boy;  Jase the handsome college boy with a reputation. On the outside, Jase appears to be the typical party animal, college boy with no desire to commit to one woman.  Although Jase appears handsome and put together, he is really dealing with family drama that has him questioning the nameless girls and drunken behavior he is known for.  Jase's home life is something that will pull at your heart strings, this young man has so much to deal with.  It helps the reader understand why Jase has started to question the life he is living in college.
Avery's attraction to Jase is tangible to the reader; Jase seems to sense Avery is hiding something.  He has a strong desire to help her open up and experience life.
Jase desire to uncover the mystery that is Avery is something the reader will feel. He encourages Avery to feel and Avery shares a bit of her past with him. You can feel Jase's connection to Avery, he seems connected to her like no one before.
Jase is drawn to this shy wounded woman; as these two get to know each other you can feel the relationship building, you connect with them and respect the taking it slow path they chose. Friendship develops, love blossoms.
But when the past Avery is running from is forced into Jase's face, will this couple overcome?
Well, you have to read the story to find out!
Jase's Bio


College Junior, 20 years old

Physical Description: Tall, lean body, was a swimmer in high school. Dark hair that's due to be cut. Makes you want to run your fingers through it. Or pull it. Hazel eyes.

Parents' names and occupations: Parents: Dad is in politics and Mom is a trophy wife, former beauty queen, who attempted suicide last year, but the family covered it up and kept it hush hush. He took a semester off of school to be with his mom. Doesn't get along with his dad.

Spouse or lover: He has been with many girls, and doesn't care to reflect on the number.
Ambitions: To make sure his mom is recovering, and then to be Avery's life coach, teaching her not to be too afraid to live.

Most painful setback/disappointment: His Mom's suicide attempt.

Strengths: Tough, unbreakable. Fiercely protective of his mom and Avery.
Weaknesses: Doesn't let people in easily. Is still friends with his manipulative ex, Stacia.
About the Author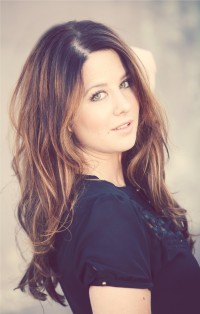 Kendall Ryan is the New York Times and USA Today bestselling author of the contemporary romance novels HARD TO LOVE, UNRAVEL ME, MAKE ME YOURS and RESISTING HER. She's a sassy, yet polite Midwestern gal with a deep love of books, and a slight addiction to lipgloss. Visit her at: www.kendallryanbooks.com for the latest books news.