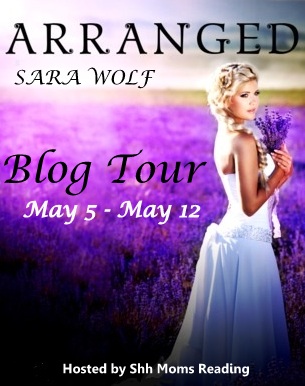 We are excited to be hosting the blog tour for Arranged by Sara Wolf. Stop by our blog on 5/12 for our review.
Synopsis
When Rose Jensen's grandfather dies, he leaves her enough money to save her parents' failing business and get her through UCLA.  The only catch – she has to marry Lee Montenegro, the infuriating half-Spanish, all-playboy transfer. Rose and Lee's grandfathers were fast friends, and betrothed their grandchildren to each other.
Lee wants the money to run from his suffocating family, and turns his full burning charisma on Rose, but she won't give in. She'll never marry someone she doesn't love, and who doesn't love her. But memories of a mysterious boy in her childhood haunt her, and Lee insists they know each other. With her parent's pressures mounting, her scholarship slipping, and Lee's advances heating up with more than just money-lust, Rose is torn between doing the right thing for her family, and doing the right thing for her heart.
**This story contains language and sexual scenes, some of which may be unsuitable for younger readers.
**This is the first book in the ARRANGED series.
May 5th
Tsk Tsk What to Read Blog – spotlight only
Book Reader Chronicles – spotlight only
May 6th
Globug and Hootie – review and guest post
Wicked Readings by Tawania – spotlight and excerpt
May 7th
Sarah's Book Blog – review and promo
Jessica's Book Review – review
May 8th
Three Chicks and Their Books – review
Books Over Boys – Guest Post
May 9th
Wolfel's World of Books – review
May 10th
RomFan Reviews – review
Sugar and Spice Book Reviews – review
The Book Avenue Review – excerpt and playlist
Krickets Chirps – review and excerpt
May 11th
Reading Fiction for Life – review and promo
The Little Black Book Blog – review and promo
May 12th
Shh Moms Reading – review