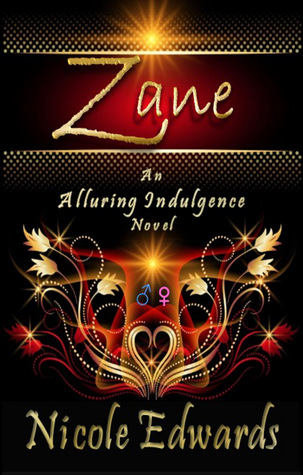 Today we welcome Nicole Edwards to our blog as she celebrates her new book Zane which released on May 6th.
You can read Denise's 5 STAR review here
Read a HOT teaser from Book 3 – Travis below….Did we say H-O-T?!?!?!
Enter for a chance to win some great giveaways using Rafflecopter below!  Good luck!!
---
Synopsis
Vanessa Carmichael will never forget that horrible day for as long as she lives. With Zane fully on the mend from the brutal attack he suffered right in her very own yard, she knows she should be grateful, which she is. She also knows that walking away from Zane might be the only way to keep him safe. Despite her denial, V knows she can't trust her own heart, especially when it comes to the youngest Walker brother, but he's not the kind of man who will walk away when there is something he wants. He wants her even if it isn't safe for him, and she's not sure she is strong enough to walk away.
Zane Walker might have been brutally attacked and after months in the hospital, walked away with his life spared, but now that he's out of the hospital, he has only one goal in mind. Getting the girl. From the first time he kissed her, Zane knew V was the one for him. He also knew that getting her wasn't going to be as easy as he hoped. She's stubborn and the walls she has erected around her heart are nearly impenetrable. However, there's one thing about Zane – he never gives up. And he's not about to start now.
Can V learn to open her heart to the one man who is desperate to get past those walls she has erected, or will she walk away to protect him? How long will Zane allow her to deny what he knows is growing between them? Or is the only option to obscure the underlying emotions with spine tingling lust?
When V and Zane come together, smoke detectors go on the fritz, but when they bring Zane's best friend Beau into the mix, extra fire extinguishers are needed.
Warning: This book contains sexual encounters and graphic language that some readers may find objectionable, including, but not limited to: m/f, m/m, m/f/m, m/m/f encounters, anal sex, exhibitionism, and voyeurism. Contains graphic material that is not suitable for anyone under the age of 18.
Erotic Romance
Mature Audience
TEASER for Book 3 – Travis
Disclaimer: May be edited or deleted prior to publication
Permission is NOT granted to re-post this content anywhere, so please don't do it. You may link to this page if you want to share it with others.
"Does it feel good?" Travis asked as they both began fucking her faster, each of them working a single finger simultaneously inside of her.
"Yes. Yes, it feels so good. Please don't stop. Travis! Gage!"
Hearing her say their names did something strange to his insides and a wave of possessive desire swept through him. As he continued to watch, Gage damn near crumbled to his knees when he felt Travis' strong, rough fingers wrap around his cock, sliding up between his body and Kylie's.
"Oh, fuck," he groaned near Kylie's ear.
"Is he stroking you?" Kylie asked, obviously able to feel the way Travis' hand was moving close to her ass, between their bodies.
"Yes. Oh, fucking hell."
"Tell me how it feels," she encouraged and Gage forced his eyes open, wondering whether he'd heard her correctly.
"So fucking good. His hand is rough, not like yours. Fuck!" Gage damn near came as Travis gripped him tighter, using slow, even strokes to force him closer and closer to the edge. It had been a long time since he'd had such a rough grip on his cock, other than his own.
Before he could stop her, Kylie pulled her hands from his neck, forcing Gage to pull his finger from inside of her as she moved against the wall adjacent, her eyes immediately traveling down the length of his body where Travis was now jacking him off with an expert grip.
"Taste him," Kylie demanded and Gage damn near fell to the floor.
His eyes met Travis' only briefly before he found his cock buried deep inside Travis' mouth, the heat and skill of his tongue threatening to send him freefalling right off the edge of the cliff he was barely hanging onto.
When Kylie lowered herself to her knees alongside Travis, Gage knew it was only a matter of time before he came with a vengeance. He had to force his eyes closed because watching as they both began licking and sucking him would've been too much.
"Fuck. Fuck. Oh, shit!" The muscles in his thighs screamed with the effort it took to remain upright as Travis once again sucked him deep as Kylie cupped his balls in her soft, smooth hand. "You're gonna make me come," Gage told them, refusing to open his eyes. If he were to look into Travis' eyes at the moment, he was going to go off like a fucking rocket and he didn't want to come too soon. He'd spent more than one night thinking about what it would feel like to have the man's lips wrapped around his dick and now that he knew, he wasn't sure he ever wanted him to stop.
About the Author
Nicole lives in Central Texas with her husband, kids and her two dogs. Although she has been writing since a very young age, she has recently ventured into the full time world of writing and is loving every second of it.
She is the author of the Club Destiny series and working on more projects at this time.
---
GIVEAWAY