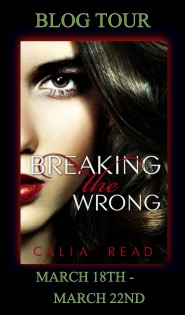 We are excited to be participating in this blog tour for Breaking the Wrong by Calia Read.  Expected release is March 25th.
Summary
Emilia Wentworth would do anything for her sister.
For three years, Emilia has lived in the past, feeling her sister's pain and hating those who are to blame, including one of the Sloan brothers.
Finally, she has had enough. The only way to be free is to create a Burn List with all the people who have ever hurt her sister.
As she crosses each name off, she gets closer and closer to her final target. But, things aren't always as they seem.
Loyalties are tested.
Boundaries are crossed.
And the truth is revealed
Tour Schedule
March 18th
Natasha is a Book Junkie
My Secret Romance
Talk Supe
Book Bitches
Reviews by Tammy and Kim
Reality Bites! Let's Get Lost!
March 19th
Cristina's Book Reviews
The Little Black Book Blog
First Class Books
Shhh Mom's Reading
March 20th
Storm Goddess Book Reviews and More
Three Chicks and Their Books
Angie's Dreamy Reads
I Love Indie Books
March 21st
WORD
Beauty, Brains and Books
Whirlwind Books
Ashley's Book Nook
March 22nd
Sugar and Spice Book Reviews
Tattooed Book Reviews
Book Passion for Life
Book Crush
The Indie Bookshelf