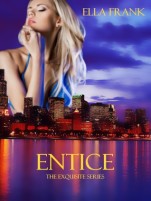 Today, we welcome Ella Frank to our blog as she promotes her new book Entice which released on January 29th.
Leave a comment about what song reminds you of your favorite book on our facebook page under this post for a chance to win a $15 iTunes gift card!  Winner to be announced tonight!  Good luck!
4 STARS!!!
Summary
What if everything you think you want isn't what you actually need…
Dr. Shelly Monroe is a woman who doesn't shy away from going after what she wants, but lately good sex has been hard to find. Shelly's become increasingly frustrated with the men she's been dating and the men she believes are the right choice.
Joshua Daniels is certainly not even close to the right choice. In fact he is exactly the wrong choice. For one thing, he's Mason Langley's best friend and best man. Second he's too much of a risky complication for Shelly to even consider.
Then why can't she stop thinking about how delicious he looked that first night she met him at Exquisite? Why is it so imperative to keep her lusty desire for a man that doesn't meet her preconceived mold hidden from Lena and Mason, her trusted friends?
It seems unreasonable that being with a man completely wrong in theory could somehow feel so right. Then why is it the more she sees him the more enticing he becomes?
Denise's Review
Life often has a way of bringing you just what you need even when it's not what you thought you wanted.  Healing from a past that has shaped Shelly creates a woman ready to take ahold of her life.  Entice tell the story of Dr. Shelly Monroe, a character we meet in book 1 – Exquisite.  If you have not read book 1, please go pick up a copy now.
Shelly is a successful professional who thinks she has it all figured out. She thinks she knows the kind of man who will complete her life.  Problem is this has left her frustrated and unsatisfied. 
Joshua Daniels, Mason Langley's best friend and best man (again please make sure to read Exquisite first), has returned to Chicago after a failed relationship.
Josh and Shelly almost instantly find themselves attracted to each other; an attraction that even their friends can feel. Both see the other as what they don't need in a partner so they decide a sex only relationship will satisfy their needs.
Readers be warned in typical Ella fashion, there are some smoking hot and unique scenes; Josh's questioning of how this arrangement works leads to a hot scene in Shelly's office that you won't soon forget.
The reader soon learns much of Shelly's emotional issues stem from her parents and their relationship.  It was engaging and heart tugging to watch Shelly come to terms with her parents marriage and its affects on her.
Shelly's journey to move forward while addressing her past warmed my heart.
Josh truly is a man who knows what he wants; once he knows it, he works to ensure Shelly is aware it is all or nothing. Although it is mysterious and frustrating to read these interactions; in the end it is so worth it. 
The end of this story was so well done.  Josh made it clear that he understands Shelly, that he loves her for who she is and that he chose her to be with for his life's journey.  And Shelly has grown too and you will have to read it to see!
Ms. Frank masterfully weaves Lena and Mason from book 1 Exquisite into the story.  I adored their wedding and I challenge the reader not to shed a tear while they exchange their wedding vows.  Allowing the reader to experience the timeline moving forward with all there characters truly pulls the reader into the story. 
And I have to say I can not wait for Edible!! I adored the glimpse into Rachel…there is just something about the Langley's family!
Enjoy Ella's inspirations for this wonderful book below!
Entice Play List ~ The Scenes they Influenced
* Almost Here – Delta Goodreem & Brian McFadden
If I had to pick a theme song for Entice then this would be it. The lyrics and hurt that are sung from the woman's perspective, is how I always pictured Josh feeling. So yes, this would be Josh's song to Shelly and it is absolute perfection.
Favorite Lyrics ~ "Don't let go on us tonight, love's not always black and white. Haven't I always loved you?" & "When I'm with you, I'm close to tears 'cause you're only almost here."
* Green light – John Legend
Scene – This song is a fantastic representation of Shelly's thoughts when she sets her sights on Josh at the Blue Moon and vice versa.
Favorite Lyrics ~ "Give me the green light, give me just one night." & "I'm ready to go right now, ready to go right now."
* Bang Bang – K'naan feat. Adam Levine
Scene – I always picture Josh joking with Mason after he and Shelly are caught in a moment.
Favorite Lyrics ~ "She shot me, she shot me, bang bang, she shot me." & "She was walking around with a loaded shotgun ready to fire me a hot one, it went bang bang straight through my heart"
* Bad Influence – Pink
Scene -This to me is Shelly – both at the Blue Moon in Exquisite and Entice and also fits later for Rachel at Whipped.
Favorite Lyrics ~ "Three olives shake it up I like it dirty" & " Tequila for my friend it makes her flirty, trust me"
* Man! I Feel Like A Woman – Shania Twain
Scene – No explanation needed – trust me, the book says it all.
* Both Sides Now – Joni Mitchell
Scene – First off this song is just amazing. For me it represents a pivotal moment between mother and daughter. The light bulb moment of complete understanding and absolute sadness, betrayal and pity that Shelly feels for her.
Favorite Lyrics ~ "And if you can don't let them know, don't give yourself away" & "It's love's illusions that I recall, I really don't know love at all"
* The Idea of You – Dave Matthews Band
Scene -This song pretty much sums up the gentle slide that both Shelly and Josh do on their road trip. She falls for the feelings he brings out in her where as he falls for the whole package.
Fav. Lyrics ~ "I fall so hard inside the idea of you" & "Want to stay but I think I'm getting out of here"
* She's So Mean – Matchbox 20
Scene – This is when Josh and Shelly return from their road trip. At this exact moment in my book this song reminds me of all three of my girls at some stage – although I don't think they are mean, they certainly have their not so nice moments, as we all do. Lena in book one gave Mason hell. Shelly doesn't always make the best decisions here in Entice and well Rachel at Whipped, let's just say she has a mean streak.
Favorite Lyrics~ "For an angel she's a hot hot mess" & "Yeah you want her but she's so mean"
* One Day Like This – Elbow
Scene – This song is beautiful and it floated through my head the entire time i wrote the night/dream she spends with Josh. This would most definitely be from Josh's POV
Favorite Lyrics ~ "Cause holy cow I love your eyes" & "Oh kiss me like your final meal, kiss me like you die tonight"
* Fool To Think – Dave Matthews Band
Scene – Pretty much sums up Josh mid way through the book. However, he isn't one to sit around and decides he needs to find some direction. He refuses to be that fool in love
Favorite Lyrics ~ "Look at me dreaming of you" & "Was I a fool to think, the way you looked at me"
* Alone – Heart
Scene – Stubborn Shelly – need I say more? I want to write so much more, but I don't want to say too much. All I will write is – I spent a lot of the time, shaking my head and thinking stubborn, stubborn Shelly. Hurry up!!
Favorite Lyrics ~ "The night goes by very slow" & " 'Til now I always got by on my own, I never really cared until I met you."
* Ordinary People – John Legend
Scene – I love this song. It always makes me think of two normal everyday people struggling to find that perfect love and for me the last half of this book is all about slowing down the relationship. It's about learning the other person involved and understanding what they need. Josh recognizes not only what he needs but also what Shelly does for things to move in any kind of direction, whether it be forward or back. Life is not always going to go the way you want it to and sometimes things may not happen when you expect them to. You can't always have everything wrapped in a bow and what I love about Josh is he recognizes that.
Favorite Lyrics~ "We both still have room left to grow" & "As our love advance we take second chances"
* Crash Into Me – Dave Matthews Band
Scene – Yes it was a very important part of book one and is equally as important in this one and you will know why when you read.
Favorite Lyrics ~ All of them? Ok, ok for the scene this is in – "Sweet like candy to my soul." & "Lost for you, I'm so lost to you." & "Come crash into me."
* * *
Entice is, at the core a story about a man who is so sexy and sweet he'll give you a tooth cavity and a woman who is struggling to find out who she is and that love is most definitely worth fighting for.
 
Character Inspirations

About the Author
I am happily married and mother to a crazy cat
I am the author of the Exquisite Series, which includes Exquisite, Entice (due in Feb) and Edible (due in Summer 2013).
I am also set to release Blind Obsession in March/April 2013.
I love chatting so stop by here or my site and say hi!
Currently I reside in the Southern portion of the United States of America.
Twitter EllaFrank2012
Website http://ellafrank30.wordpress.com/
Goodreads http://www.goodreads.com/author/show/6451816.Ella_Frank