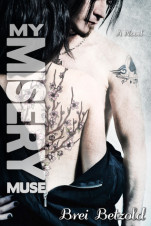 We are so pleased to welcome Ms. Brei Betzold today as she promotes her new release My Misery Muse! Christine enjoyed this book and posted a 4 STAR review a few weeks back – read the review HERE.
Brei Betzold will be giving away an ecopy of My Misery Muse at each blog stop. Please enter below using rafflecopter to win an ebook copy of this great new book!
---
 Excerpt
"Dinner's ready, Jaks is already at the table," I said.  He looked over his shoulder and gave me that lopsided grin and my heart stopped for a second.  I cleared my throat and said,"Come on this way," and turned back towards my small kitchen where Jaks was sitting in his booster seat playing with his food.
"When did you learn to cook?" he asked while sitting at my small scarred kitchen table.
"I can't cook much, but Jaks and I have to eat, so I am slowly learning, " I responded then made a plate for myself.  The truth was I could only make a handful of meals but the beef stir fry I threw together was one of my favorites.  I watched Seth dig into his food with a gusto he always took to life; it was always one of my favorite things about him.  He seemed to savor everything life had to offer as if it would be the last, but then from what I knew about his childhood that made sense. He always said that everyone's life is hard no matter their background and refused to let it get to him though. 
We ate in silence for a while, Jaks talking enough for both of us.  He talked about school and playing with his friends, needing minimal response from us to keeps the story going, every now and then looking at Seth curiously.  When dinner was finished, I went to work on our normal evening routine, giving Jaks a bath, getting his pj's on all under Seth's watchful eye.  I could tell he had lots to say but he seemed resigned to hold it in until we were alone.  After Jaks was dressed in pj's he plopped on the floor with his cars and I sat down beside him taking the car I was offered and we started crashing them into each other. Jaks looked over at Seth who was sitting a foot or so away watching,with a longing look in his eye, Jaks grabbed another car and held it out to Seth and gave him his own lopsided smile. With that Seth joined us crashing cars and asking Jaks about them and about the other things he likes to do. 
"Jaks, what's your favorite toy?"  Seth asked him.
Jaks got up and walked over to his box of toys and pulled out a plastic Thomas the train guitar, which he loved to play with, and make different train, sounds with.  Seth looked at me, his eyes bright with pleasure at what his son pulled out.
"My choo choo tar," responded Jaks and with that he played for us, the familiar theme of Thomas interrupted with different train whistles and chugging interspersed as Jaks hit different buttons.
Shortly later it was time for Jaks to go to bed, so I snatched him up and carried him to his room, laid him down in his toddler bed and sat down beside him.  I pulled out his favorite book from the bookcase beside his bed and glanced up and found Seth's eyes trained on me.  I read Jaks Goodnight, Moon, kissed him on the forehead and finished tucking him in.  On my way out of the room I turned on the small lamp on his dresser then turned out the overhead light.
"Wub you Mommy, nigh Daddy," Jaks said then turned over and cuddled tighter into his favorite stuffed elephant.
About the Author
Stay at home mom to one very interesting little boy. I have been writing since 7th grade when my English teacher turned me onto poetry and never stopped. Thank you Mrs. Williams. In high school I had yet another English teacher inspire me to start writing short stories where I found my first true love, turning words into something so simple yet complex that it can move other people to love it or hate it, but in the end to feel emotions about something I created.
Twitter breibetzold
Website http://mymiserymuse.blogspot.com/
Facebook http://www.facebook.com/amy.lane.167?ref=ts&fref=ts#!/brei.betzold
---