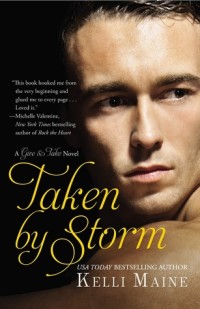 Enter for a chance to win an ebook of this AMAZING book using Rafflecopter below!
---
Synopsis
The emotional rollercoaster of the USA TODAY bestselling Give & Take series by Kelli Maine continues with MJ and Maddie's story!
DECEPTION
Maddie Simcoe knows the devastation that comes from keeping secrets. Now, she's desperate to move on from the heartbreak that almost destroyed her — trading wild passion that once made her knees weak for a life of comfortable stability. But before Maddie can start over, she must return home to put the past behind her once and for all…
PASSION
When Maddie blows back into MJ Rocha's life, nothing will stop him from proving to her that walking away from him was the biggest mistake of her life — not even the engagement ring she wears. Her every look, every touch tells MJ that the fire that once raged between them still burns hot, and MJ won't give up until Maddie gives in to the inferno.
REDEMPTION
Trapped by a hurricane roaring through Turtle Tear Island, MJ and Maddie find shelter in each others' arms. While the lightning flashes, MJ and Maddie are helpless to fight bonds of desire that tie them together. But just as they're about to surrender to the torturous longing that consumes them both, the storm unleashes violent secrets from MJ's past…secrets that could wash away all MJ and Maddie's hopes of forever…
Review
Read Christine and Kim's 5 STAR review here
EXCLUSIVE BONUS SCENE
**If you have not read Taken By Storm yet, STOP HERE!  DO NOT CONTINUE!  SPOILER ALERT!  This is an bonus scene that Kelli has provided for the blog tour – come back and read AFTER you have read Taken By Storm first.  Thank you!**
Enzo Rocha's Revenge

After stashing their golf clubs in the garage, Mr. Simcoe headed up the steps to his apartment. At the top of the stairs, Enzo called up. "Why don't you keep the trophy? It was your birdie that won us the scramble after all."

The men's summer tournament at Enzo's country club was a tradition the two of them participated in together. "You keep it with the others," Mr. Simcoe said. Enzo's office was full of golf trophies.

But, Enzo was half way up the stairs already. "I insist."

Mr. Simcoe acquiesced and reached for the heavy glass golf ball on its wooden base. Enzo pulled it back, tucking it into his chest. "I'll even carry it in for you."

"Okay. I'll pour us some iced tea." Mr. Simcoe unlocked and opened his door. Enzo followed him inside.

His old friend and employer had been acting oddly all day, inquiring about Maddie and her plans for the immediate future. Mr. Simcoe wished his daughter had a plan, but she'd been up-in-the-air and unable to decide on anything more important than pizza toppings for over a year—ever since she left the Rocha Estate in a rush and wouldn't give him a good reason why.

He knew whatever her reason was, it had to do with MJ, Enzo's grandson. The two of them were like a hurricane—a black curtain you could see coving the sky, getting closer and closer over the years. He knew they'd end up coming together, becoming much  more than friends over the years. He also knew they'd challenge each other every step of the way. A relationship between them would be difficult, but worth the struggle. Now with both of them off to Turtle Tear, who knew where they would end up? He'd told Enzo just as much that very morning.

Mr. Simcoe opened the cupboard and took out two glasses. He poured them both a glass of tea and they sat at his kitchen table sipping in silence.

"Do you think they'll end up together?" Enzo asked, suddenly putting his thoughts into words.

Mr. Simcoe didn't have to ask who. Maddie and MJ. "Of course they will."

"That's what I was afraid of," Enzo said. His voice held a dark promise that Mr. Simcoe had never heard before.

"What are you afraid of, friend?"

Enzo shook his head and smiled. "Just don't want the kids getting hurt."

Mr. Simcoe stood and took their empty glasses to the sink. "They'll be fine. No stopping love I suppose."

Enzo strolled to the door. "I should be going."

Mr. Simcoe opened the door for him.

"You're wrong, you know," Enzo said, picking up the trophy from the table and running his palm over the dimpled glass. "There is stopping it. Love."

Mr. Simcoe didn't know how to respond. He glanced down to the bottom of the stairs—and the pain that jarred the back of his head was staggering.

He fell, head over heels, the stairwell coming in flashes of white paint and black stair treads. Then all was gone—blackness…nothingness.
About the Author
Erotic romance author of the Give and Take series. TAKEN and NO TAKE BACKS: A Novella, now available! GIVEN 2013.
---
GIVEAWAY