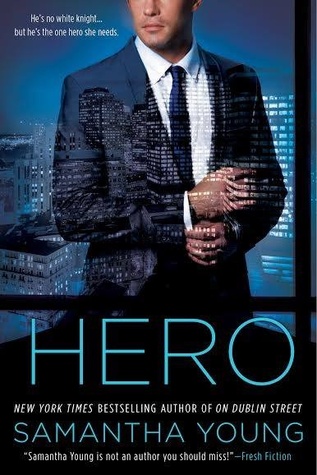 Hero

by Samantha Young
on February 3, 2015
Pages: 384
Buy on Amazon
Goodreads


The emotional and unforgettable new romance from the New York Times bestselling author of the On Dublin Street series.

Alexa Holland's father was her hero—until her shocking discovery that she and her mother weren't his only family. Ever since, Alexa has worked to turn her life in a different direction and forge her own identity outside of his terrible secrets,. But when she meets a man who's as damaged by her father's mistakes as she is, Alexa must help him.

Caine Carraway wants nothing to do with Alexa's efforts at redemption, but it's not so easy to push her away. Determined to make her hate him, he brings her to the edge of her patience and waits for her to walk away. But his actions only draw them together and, despite the odds, they begin an intense and explosive affair.

Only Caine knows he can never be the white knight that Alexa has always longed for. And when they're on the precipice of danger, he finds he'll do anything to protect either one of them from being hurt again…
Happy Release Day to Samantha Young and her new book HERO!!! Make sure to enter the giveaway below! Good luck!
Hero is a new stand alone romance from Samantha Young.  It is no surprise that we dove right in considering we have loved Ms. Young's work since reading On Dublin Street.
Hero tells the story of self-made man Caine Carraway and Alexa Holland.  This is the kind of book that from moment you open it up you will be wishing you could stay immersed in it. Caine and Alexa's lives immediately intertwine, in ways the reader never expects and in ways that will have you wanting to know more about their pasts.
The plot in this story is masterfully woven into an engaging and gripping story that will have you wishing you could sit and read all day!
I loved watching Caine and Alexa go from adversaries to almost friends to lovers, to maybe friends to well then you need to read the book. Caine is a tough nut to crack; he has a past, one that will keep  you on your toes.
Just when you think all the surprises and secret are revealed, Ms. Young throws the reader another twist; I don't want to share any more as I want you, the reader to experience this unfolding just as I did.
There are some wonderful secondary characters in this story! I adored the bromance between Caine and his best friend Henry. And Effie, Caine's adorable grandma like neighbor was often a scene stealer!
As the story progresses, both Henry and Effie are also used to move the story forward.
The end of this book truly brought a smile to may face as not only did Caine and Alexa get a happy the suited them, but Henry got one too!

I gritted my teeth, channeling the most patient me possible as I tried to discuss the changes to the list of costs the interior designer Caine had hired had sent him. He'd hired her to re-vamp the summerhouse he'd just bought in Nantucket. The week was almost over and it would have been so much better if I could have ended it on a high note—not arguing with a cocky she-witch of a designer.
"I don't see what the problem is," she said in this nasally voice that, along with her bad attitude, made me want to punch her.
I refrained from verbally punching her. "The problem is you've sent over a new list of costs for this refurbishment and it's fifteen thousand dollars more than the original that Mr. Carraway signed off on."
"Style takes cash, darling."
"That's the thing, I'm going over the lists and I can't see where that extra fifteen thousand is going . . ." I suddenly became aware I wasn't alone and glanced to my right to see that Caine had come out of his office and was standing over me, eyes blazing in annoyance.
I cast him a wary look but continued to haggle with the irritant on the other end of the line.
Suddenly Caine's large hand appeared and he pressed the mute button on the phone. The jerky movement suggested I was right about him being annoyed, and I looked up at him wondering what the hell I'd done. "I can afford an extra fifteen g. Get off the phone. Now."
I tsked. "Just because you're loaded doesn't mean you should let people take advantage." I hit the mute button. "No, I'm still here," I responded to her frantic twittering. "Where was I . . . ? Oh yes, unless you want it getting around that you're an incompetent idiot trying to screw over your clients, I suggest you stick to the original budget."
"Well, I . . . how . . . I never—"
"Okeydokey, then." I hung up and looked up at my irate boss. "Why is there a vein popping out on your forehead?"
"What the hell did you put on that card?"
"Card?" I said innocently.
Caine's angry countenance ramped up to murderous. "I just got a call from Phoebe. She thanked me for the flowers, said my card was so sweet, and that she was looking forward to seeing me soon too."
So I'd known changing the message on the card with the flowers was forward of me, but I didn't think it would be that big of a deal. Apparently it was. Caine appeared to be excessively irritated and I had to admit that made me more than a little nervous. "Well . . . I just thought . . . well, I thought it was more appropriate to sign the card with a greeting of some kind." I smiled up at him hopefully.
"Alexa," he warned.
"You know you can call me Lexie."
Caine actually growled.
"Okay," I hurried to explain, "I had them write 'Phoebe, I look forward to seeing you tonight, Caine. And"—I almost closed my eyes in preparation for his reaction—"I may have put a little kiss at the end."
The air around him seemed to swell with annoyance. "What?"
"An X. You know…a kiss…" I trailed off, wishing I was back in Hawaii with a mojito.
Quite abruptly Caine put his hands on the armrests of my chair and shoved it against the desk as he bent down to level his face with mine. He was so close I could actually see the chocolate coloring in his eyes that stopped them from being entirely black, and his mouth . . . his mouth was but an inch from mine.
I held my breath from the shock of his sudden movement and his closeness.
"First of all," he said through clenched teeth, his hard stare holding mine in its grip, "do I look like a man who would ever put a kiss at the end of a message?"
I didn't have to contemplate the question long. "Not really."
"Not really." He nodded, and pushed in closer, his breath fanning my lips and causing me to swallow a gasp. "Second of all, if you ever meddle in my personal life again I will annihilate you. Understood?"
"W-well, annihilate is—it's, is pretty final," I stammered, "So—so yeah."
His eyes flashed. "Alexa."
I fought past my physical reaction to him in order to attempt an explanation. "I was just trying to help. I thought it would be more romantic. I'm sorry. I won't do it again."
"You weren't helping," Caine hissed. "Contrary to popular belief, I give a shit about the women I date. That means I don't want to hurt them. And one way I avoid that is by never making a woman feel like she has more of me than she actually has, because inevitably it won't work out and I don't want to be the bastard that led her on. What you did with Phoebe will make me that bastard."
That was kind of honorable in a fucked-up way.
"But why will things end?" I whispered, confused. "Phoebe Billingham is perfect for you."
Something flickered across his face and then he grew scarily still. I held my breath as we stared into each other's eyes. He was so close.
The sexy jackass smelled delicious.
For a moment I forgot where I was and who I was. Who I was to him. My eyes dropped to his mouth. It was right there. Right there.
Arousal shot through me and I glanced up quickly, afraid he'd catch sight of my desire, but to my surprise I found his eyes trained on my lips.
They parted under his stare.
Caine's gaze returned to mine. The tingling between my legs increased at the heat in his. "Don't do it again," he said softly, his voice hoarse.

We are giving away a paperback copy of this book (open to U.S. residents only)! Enter for a chance to win by sharing the link to this Exclusive Teaser post on your social media sites (FB, Twitter, Tsu, Instagram, etc). The more shares, the more chances to win! Leave a message at the bottom of this post with the links to your shares. ONE WINNER will be chosen on Friday February 6th at 10am EST. GOOD LUCK!