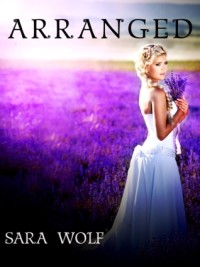 Today we welcome new author Sara Wolf as she celebrates her debut book Arranged which released on March 16th.
We have an EXCLUSIVE teaser to book 2, Disarranged, that you do not want to miss if you enjoyed book 1!
Enter for some amazing giveaways using Rafflecopter below.

---
4 STARS!!!
Synosis
When Rose Jensen's grandfather dies, he leaves her enough money to save her parents' failing business and get her through UCLA. The only catch – she has to marry Lee Montenegro, the infuriating half-Spanish, all-playboy transfer. Rose and Lee's grandfathers were fast friends, and betrothed their grandchildren to each other.
Lee wants the money to run from his suffocating family, and turns his full burning charisma on Rose, but she won't give in. She'll never marry someone she doesn't love, and who doesn't love her. But memories of a mysterious boy in her childhood haunt her, and Lee insists they know each other. With her parent's pressures mounting, her scholarship slipping, and Lee's advances heating up with more than just money-lust, Rose is torn between doing the right thing for her family, and doing the right thing for her heart.
**This story contains language and sexual scenes, some of which may be unsuitable for younger readers.
**This is the first book in the ARRANGED series.
Character Inspirations
---
Christine's Review
Sara Wolf is a new author for me and this was my first book to read from her – it will certainly not be my last. I was immediately drawn into this book and think you will enjoy it too!
Rose Jensen attends UCLA on a scholarship. She is super nerdy and has never had a boyfriend. One day she literally falls at the feet of a very naked Lee Montenegro, the hot swim team player. Lee attempts to talk to Rose following this initial meeting and she is initially flattered by his interest.
When Rose's grandfather dies and leaves her money to save her parents failing business, she finally understands what Lee's interest in her is as she learns the condition to receiving her grandfather's money is to marry Lee. You see, Rose and Lee's grandfathers were friends and had arranged for their grandchildren to eventually marry.
Though this plan is farfetched in my mind, I wonder if Rose will give Lee a chance. There is a definite underlying attraction between Rose and Lee that makes me feel giddy inside 🙂 And at times, I wish that Rose would let her walls down to live and experience life.
Lee insinuates that he and Rose know each other from the past from Rose doesn't remember him at all.
"Why? Why am I so great to you?" My voice rises.
"You're beautiful. Not party girl cute or cheerleader slutty, but a soft, quiet sort of beautiful. Elegant." Lee counts off on his fingers. "You're sweet, even to people you don't know. You're smart as a whip – the professors on campus won't shut up about you."
For once, I don't have an insult to hurl at him on the tip of my tongue. I'm speechless. Lee flashes a smile and counts on another finger.
"And you saved me. You saved my life, Rose. And even if you don't remember that, I do. You saved my life. So I want to make yours better – no, the best. I want you to have the best food and the best laughs and the best sex. I want you to have the best of everything."
And as everything comes full circle and secrets are revealed, I am wondering if it is all worth the price of happiness and love. Will this couple ever be together and can their love overcome?
I was SHOCKED to say the least at the ending and yes, it is a cliffhanger and what a cliffhanger it is! Let's say it involves a witch of an ex-girlfriend. The parting words that gave me goose bumps and made me want to scream in madness because I knew where it was going were:
"I love you, Rose Jensen. Don't you ever fucking doubt that again. No matter what happens from now on – never forget that"
My only real complaint about the book was that it was very short and I am wondering if the entire book could have been done in one book rather than in two.
Read an excerpt from Book 2 – Disarranged scheduled to come out at the end of May. Thank goodness we don't have long to wait to see what happens next with this couple. This was a great debut novel for Sara and I very much look forward to what she has in store for us next!
DISARRANGED TEASER **DO NOT read if you have not read Arranged. SPOILERS**
Kiera smiles at a passing waiter and crosses her legs under the table. I pick at my fettuccine and try to ignore the way her foot rubs on my ankle. Even at a ski resort in the mountains, she prefers fashionable clothes over sensible ones – her feet bare out of her beaded sandals. She rubs higher, over my shin, and scoots her chair forward to give her legs more length. I know where this is going. I sigh into my wine and adjust my tuxedo cuffs.
"Is this really necessary? Can't you wait until we're alone?"
She pouts her baby-pink lips. "You used to like exhibitionism."
"I used to like a lot of things. Like freedom."
She laughs and waits until the waiter is come and gone with water. The restaurant buzzes around us, the predominant language French. I don't know how Kiera convinced me into coming to the goddamn Alps – something about a vacation and a change of scenery. Even if she thinks she's clever, she's so transparent sometimes. She just wanted me away from L.A. Away from the people I love. Her constant jealousy of any woman who looks at me or talks to be is nauseating. Her jealousy moves her like red-hot wire puppet strings, burning her and everyone who tries to take control.
Her foot inches up my leg, presses against my inner thigh, and rests on my crotch. Between the dress pants and her rubbing, I'm involuntarily hard in seconds. And it sickens me. Every reaction of mine to her come-ons sickens me. I try to control it – push out the image of her face leering across the table at me. Any other man would die to be in this position – she's had the male attention of the entire restaurant the moment we walked in. But I know who she really is. I know the heartless child under her perfect façade of toned, tanned, rich-girl brand names. She doesn't want a relationship, or a boyfriend. She wants a toy. And I'm just the toy she's figured out how to play with for a long time without breaking it. I'll never break. Not as long as I'm protecting someone.
Kiera's foot moves faster, in circles, and I clutch my fork with white knuckles and clench my thighs together to stop her movements.
"Cut it out."
She smiles. "I want to see you lose it, Lee. Right here, right now. And if you make me stop, well. I know a girl who could use a mystery stalker harassing her. I have so many willing criminals my father got out of jail, which one would be best for her, do you think? There's a very sweet suspected rapist. Ex-military. I think he'd be wonderful."
I slam my fist on the table. It makes the people around us look. Kiera only smiles wider. Everything in me burns to lurch across the table and shake her. She wouldn't dare. But the glint in her eyes says she would. She would definitely dare to do that to Rose if it made me squirm. If it punished me. And it would punish me like no hellfire ever could. Slowly, guiltily, I unclench my thighs.
"That's a good boy."
I want to sneer at her, to keep my face blank and rob her of the pleasure of seeing me ashamed. I focus on the space over her shoulder, to where people go in and out of the restaurant. Focus. Don't let her win. Don't show any emotion.
In the restaurant doorway, I see something that punches the air out of me.
Dirty blonde hair. A slender, tall frame, a gentle face with long-lashed eyes and a happy smile on her face. She's smiling. Suddenly everything in me warms, the bitter ice of Kiera's ministrations fading. Her smile melts my façade so easily, but panic quickly rises in my chest.
Rose is here.
It's simultaneously the thing I dreaded and the thing I burned for.
She's here, in the same room as me. It's been months. The sweater she's wearing hugs her chest and her jeans cling to every curve, every curve I memorized, every curve I try to remember in my dreams, every curve I try to replace Kiera's with when she's under me, writhing.
I keep a straight face as Kiera's rubbing grows faster. But my eyes are locked on Rose. Rose's hair. Rose's eyes. The way she smiles as she looks up at the chandelier, enchanted.
Rose.
I pretend it's Rose, and give in to the pleasure.
About the Author

Sara Wolf is a romance author who, in-between wrangling a husband and a parakeet, inhales a lot of chai tea and gardens (badly!!). She's a huge fan of Vampire Diaries, angsty love, and all kinds of chocolate. She works as a internet marketer in the day, but she'd much rather be writing tortured heroes at night.