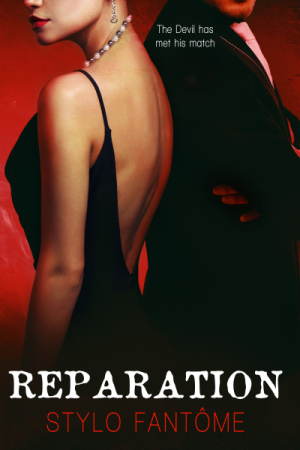 Reparation

by Stylo Fantome
on December 8, 2014
Buy on Amazon
Goodreads


The Devil has met his match

When Tatum O'Shea decides it's time for some payback, no one is safe from her new game - not even the devil himself. Tate is going to get her happily ever after, even if it means making everyone else unhappy in the process.

But a persistent Jameson, a meddling Sanders, and an amorous baseball player make it very hard for a girl to keep her focus, and suddenly it seems Tate has a few too many suitors for her fairy tale ending.

Sometimes, it's very difficult to tell who Prince Charming really is ...

WARNING: may induce Kindle throwing, screaming at fictional characters, and possibly a few tears. Also graphic sexual situations and sadomasochistic themes.
So when one of my good blogger friends, Jennifer from Schmexy Girl Book Blog, asked me to check out Stylo's book and to help out with her tour for Reparation, I was overwhelmed with life in general, the number of books I had to read on my TBR and didn't think that I would be able to do it.
But when Stylo sent me book 1, Degradation, and I met Jameson and Tate, not only did I put all other books aside, I jumped at the chance to read her books. And I am so glad that I took a chance on this new author because her series is on my top reads of 2014 as Best Erotic Series (my series will post this week so you can see some of my other faves!)
I will try to be as brief as possible as this is a review for all three books in the series (and because you really want to jump ahead to look at the teaser for the novella Completion below!)
When we first meet Tate in Degradation- she is the nice girl, the good smart one, going to Harvard to make something of herself. Everything changes the day she visits her sister's apartment and is alone for the first time with Jameson Kane (her sister's boyfriend might I add). One moment of a hot sexual encounter will forever change her life. Fast forward 7 years and Tate is a complete 360 of her former self – she is no longer on speaking terms with her family, didn't go to Harvard, temps at various jobs, and has a sexual appetite like no other. Never expecting to see Jameson again, she comes face to face with him at one of her temp jobs and Jameson is fascinated with the woman she has become. And what ensues is a relationship like none I have ever experienced…dark, gritty, hot and OH SO sexy…I just couldn't put this down! Two messed up souls so physically connected yet unable to trust themselves or their hearts..who knew that I could fall for a man like Jameson so alluring and degrading..but I did..is that messed up of me?!
Separation picks up where Degradation left off and Satan (a.k.a Jameson) has his work cut out for him, realizing the consequences of his actions and treatment of Tate. Tate is not even recognizable as she is left broken by Jameson. I have to say that I was a bit annoyed with Tate throughout this book because of her need for revenge. I know that Jameson has done so much wrong towards her but I can't help but notice how far he has come along and the lengths he goes to to try and get Tate to forgive him. I honestly felt sorry for him. I am not saying he has done a complete turnaround but his attempt at growth and change touched my heart. Completely angsty and sexy….this couple has a tough journey ahead of them as they encounter so many bumps in their road to finding forgiveness and trust. Will the Devil be able to ever win her heart?
Reparation takes us full circle…Tate has a lot of realizations in this installment; namely her self worth and that she is indeed worthy of love. What started off as sex in book 1, has turned into something so much more for them both. This is not your typical relationship. Tate and Jameson both have their own twisted views of love and sex. But I have to say that it worked SO well for them; it just made sense. Appropriately named, Reparation will bring forth mending and repairing of this couple's relationship and hearts.
Completely captivating, I devoured this series! Well written with amazingly developed characters and a story not seen before, Stylo Fantome is a new must click author for me and I can't wait to see what she has in store for us next.
P.S. I have to mention that I completely LOVED Sanders, one of the secondary characters in this series. So smart albeit a little strange, I adored his witty banter, his honesty and most of all his dedication to make these two f#@!ed up people see the truths within themselves so that they would be able to find each other again. I SO hope that there is a book for him in the future!!!!

♥READ THE SERIES♥
Book 1 – Degradation – AMAZON
Book 2 – Separation – AMAZON
Book 3 – Reparation – AMAZON

Stylo has given us an EXCLUSIVE first look into Completion, the novella following Jameson and Tate two years later. The novella is scheduled to release on February 13, 2015. ENJOY!
~Back Together Again~

"Stop. Stop, I'm begging you."

"Begging, huh. I must be doing something right."

"I can't take anymore."

"You'll take everything I have to give."

"God, stop."

"I don't think so."

"Please."

"Are you finished?"

"Um …,"

"Then neither am I."

"Please!"

Jameson leaned back on his heels. Tate gasped for air underneath him, one of her hands resting against her chest, the other pushing her hair out of her face.

"If you don't like to be punished," he started in a low voice, "then maybe you shouldn't be so bad."

"I'm sorry. I can't help it," she panted, licking her lips.

"Are you finished?" he asked again. She finally opened her eyes, looked up at him.

"This isn't fair, you know," she pointed out. He snorted.

"Since when have I ever given a fuck about what's fair?"

"This goes beyond that."

"I'm sorry, am I still needed?"

Both of them craned their heads around towards the voice. Sanders stood upright and dusted off his pant legs. Adjusted his tie. Tate chuckled and Jameson turned back towards her.

"I'm not sure. Tatum, are you going to behave?" he asked. She smiled big.

"Baby, I always behave myself."

"Now that's a fucking lie."

"But all I asked was -,"

"Tate."

"If you would just -,"

"I'm warning you."

"Just tell me when -,"

"Tatum."

"Are we leaving soon!?" Tate couldn't hold back, asking for the millionth time. Jameson sighed and leaned back over her, trying to grab on to her wrists.

"This time, Sanders, hold her arms down," he instructed.

"No! No! I'm sorry! Two against one isn't fair!" Tate yelled. Sanders grabbed onto her wrists and held them against the floor while Jameson scooted down her body.

"You asked for this," was all he said before he lowered his head.

"No!" she shrieked, but then his lips were against her skin.

"I can't believe I came all the way home just to witness this," Sanders complained, looking away. Jameson lifted his head.

"Shut up, you love it."

And then he went back to blowing raspberries on Tate's stomach.

~1~

A lot can happen in two years.

Tate drove back to Boston with Jameson and Sanders. She stayed with Jameson, lived with him in Weston. It was home, after all.

He was home.

Jameson was the devil. Sometimes he was cruel, sometimes he was sadistic, sometimes he made her want to tear her hair out. But always, always, he made her love him even more. Underneath everything, was his love. His trust. His adoration.

Sure, they weren't perfect, and she was pretty sure they had turned fighting into an art form. One time she threw a dinner plate at his head and called him retarded. Then he held her down in the shower, calling her a hot-head. But it worked for them, and afterwards she let him "punish" her by tying her wrists together and then fucking her in the hallway. She loved it.

Every single second.

When they got through the summer without anymore hiccups, she decided to take his and Sanders' advice, and she went back to school. Sanders had been right, Tate was a smart girl, and she excelled in her classes. She was going to work towards a business degree so she could open her own bar, and Jameson informed her that if she finished the year strong, he would help facilitate that dream.

But then a bomb was dropped. That next spring, Sanders decided it was time to leave the nest. Tate took it a lot harder than she would have thought; they had grown ridiculously close. He was her best friend, they went everywhere together. He taught her how to drive a stick shift, she taught him how to play beer pong. What would she do without him!?

She wasn't sure how to deal with it. Jameson was of no help at first, wouldn't even tell her the reason why – neither of them would. She pouted. She gave everyone the silent treatment. But finally, she gave in and told him if he had to go, then he had to go, and wished him well.

Though she did make sure to give him a going away party he would never forget.

By the time June rolled around, Tate had a lot of freedom. Ang had moved to Los Angeles – his porn career finally took off, no more B-rate for him. Sanders was in Moscow. Her old roommate Rusty had moved away, and even Tate's sister, Ellie, was settled down with a new boyfriend, way out in the country side. And Tate loved Jameson, she really did, but she couldn't spend all her time with him. They would kill each other if they didn't come up for air once and a while.

Jameson solved the problem by making good on his promise – he bought her a bar. Just came home one day and gave her the keys. At first she was angry. If it was going to be hers, she wanted to be the one to pick it out, to scout the location, to see if it worked for her. She wanted to yell at him, get mad. But somehow it evolved into crazy sex in the conservatory, and suddenly she was making a midnight phone call to Sanders, explaining to him that his geraniums wouldn't be there when he came home.

Jameson had actually picked the perfect location. It shouldn't have been a shock, really. Tate had learned to expect perfection to come out of most of his decisions. The man didn't do things by halves. And it also turned out that the bar Tate used to work for had closed down, and she was able to hire most of the old staff, people she trusted and knew worked well. She was very confident that her first foray into business would be a success.

Turned out "success" wasn't a strong enough word – business was booming. It took off like a rocket. She managed the place as well as worked the bar for the first six months. It completely killed her college career, and almost caused Jameson to kill her. He didn't like her being gone so much. She eventually dropped out of school altogether, figuring she was doing well enough on her own, anyway. And after one too many late nights, she decided to back off of working on the floor. Set some hours for herself. Took a vacation even, visited Sanders.

It was all going so well that by the following spring, she approached Jameson with the idea of opening a second bar. Something a little different. A little darker, sexier, and in a different part of town. His response was a hearty "no", at first. But she had ways of convincing him, and it helped that she promised to keep the same hours. It took a couple months of begging, but she finally got her way.

"We should have a party."

Jameson suggested it towards the end of the summer. It was shocking – Jameson never wanted to have a party. Never wanted to leave the house, and never wanted people to come over. Tate had been busy, scouting new bars, and figured it was his way of getting her attention.

"What kind of party?" she asked.

"A special kind."

"Oh god. I'm not ready for an orgy."

"Prude."

He thought it would be fun for one last hoorah, of sorts. The new bar, along with the old bar, would take up all her free time. It would be a while before they would be able to get out and get away, or anything like that; so why not have Sanders come home for a visit, and it could be like old times for a little while, the three musketeers!

Well, who could say no to that? Didn't seem like such a big deal.

Though she seemed to have forgotten that virtually everything Jameson did turned into a big deal, some way or another …