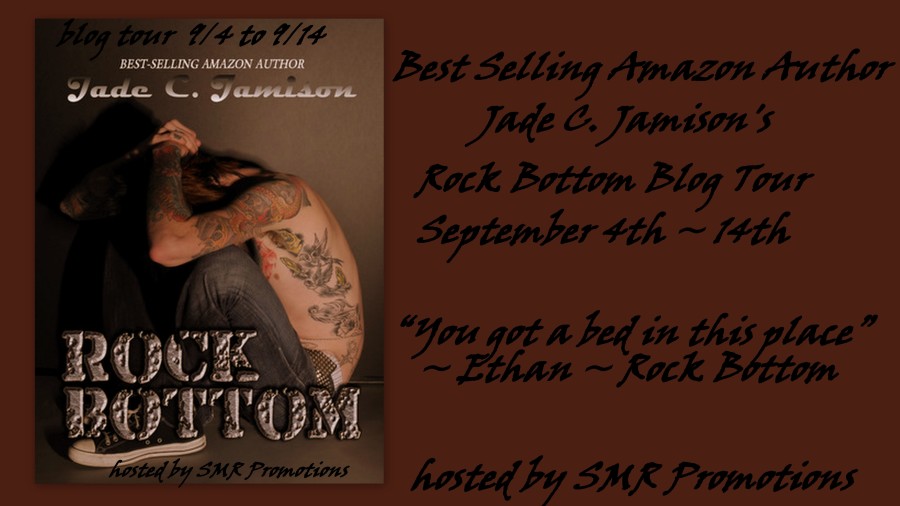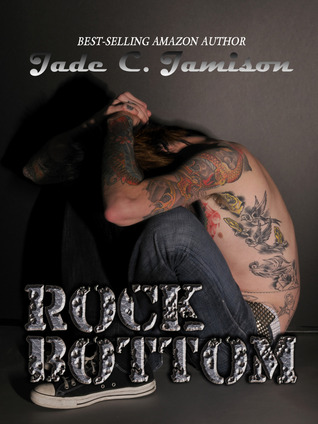 Today we welcome Jade C. Jamison to our blog as she celebrates her new book Rock Bottom which released on September 2nd. We had the honor of hosting Jade's Bullet tour and are so excited to be hosting this one as well!
Enjoy an exclusive scene that Jade wrote below!
Enter for a chance to win some amazing giveaways using Rafflecopter below!
---
4.5 STARS!!!
Synopsis
Ethan Richards has fought depression and a host of other demons all his adult life, and it's caused him to lose everything—his wife, his son, his friends, and he almost loses the one thing that means the most to him—his band. He hits rock bottom and believes there is no way out.
Enter Jenna McCormick, a feisty drug and alcohol counselor, a woman with her own share of troubles. She finds Ethan intriguing but keeps him at a distance while trying to help him face life without crutches. She feels a spark but denies it, knowing that a relationship with unstable Ethan could be dangerous for both of them.
Ethan knows what he wants, though, and isn't used to being told no. Jenna isn't willing to risk Ethan losing his tenuous grip on sobriety, however, and is prepared to deny her deeper feelings to help Ethan climb out of his hole, but he learns how to let go of his pain when he finds that someone is prepared to walk with him through the shadows. Can he convince Jenna that they should take a chance on love or will they forever deny their feelings in an effort to keep Ethan on the straight and narrow?
Denise's Review
Ok first read Bullet….please do not read this review until you have done so.. then go one-click Rock Bottom because you will want to hear Ethan's story.  SPOILERS BELOW!
Ethan Richards is the man many of us hated by the end of Bullet. In Rock Bottom, Ms. Jamison exposes the pain beneath Ethan's drug and alcohol abuse.  Ethan's selfish actions are put into context as Ethan's backstory is told and as he himself comes to terms with his depression.
Many who started Bullet get so mad at Ethan, oh and rightfully so but as Bullet unfolds it became clear to me that Brad was Valerie's forever; Ethan for Val was a lesson, growth for this younger woman who found the courage to grab what she wants.
The minute you open this book you get pulled right in.. Ms. Jamison hats off to you for a prologue that is one of the best I have read to date!
In Rock Bottom, Ms. Jamison truly paints a soul-mate for Ethan; enter Jenna McCormick. A drug and alcohol counselor who does not take Ethan's self hatred and pushes him to understand himself. Jenna truly understands Ethan's need to be a better man for himself.
Ethan's story broke my heart, his childhood memories so affected my feelings for him and his battle with depression I thought was so well done.  Ms. Jamison did not sugar coat a cure for Ethan. Ethan's battle is one of everyday struggles and a desire to want to live a better life for himself and for Chris, his son.
Ethan and Jenna's attraction to each other is tangible both on an emotional and physical level.  As these two become physical yes it will make you hot but more than that, you will come to understand Ethan's soul mate is one with a deep understanding of the pain he carries in his heart.
I loved the end of this book.. and I am so honored that Ms. Jamison wrote us a Bonus Scene where we could see a bit more of this couple's happy..
Warning do not read the scene until AFTER you read the book.
Ms. Jamison – I love this series and as so excited for the next book in the series; bring on Jet!!!!
Exclusive Scene – PLEASE DO NOT READ BELOW IF YOU HAVE NOT READ ROCK BOTTOM!!!!
Letting the World In

Rock Bottom after story written exclusively for Shh Mom's Reading

Jade C. Jamison

"Push, babe.  You can do it."  Jenna grunted and bore down, her face turning as red as a strawberry.  Ethan wanted to be the supportive boyfriend, the man who could handle just about anything, but seeing his girl in pain was killing him.  After all he'd been through in his life, he never would have thought watching the mother of his next child give birth would be the thing that would do him in for good.

A few years earlier, he'd been in the hospital room with Valerie when Chris was born, but he could barely remember it.  He'd been chemically numb, and that had been his strategy going in; at the time, he'd known being under the influence would be the best way to handle it.  He would have preferred alcohol that day, but Val would have been able to smell it on him and would have been pissed.

Now, though, he was as sober as could be…and he felt helpless.

The day before had started out perfectly.  They'd gone to the hospital just like the doctor had ordered.  Jenna was excited though nervous, and on the ride there, she'd rubbed her swollen belly and talked to it.  "Sweet little baby," she'd said, "I can't wait to see your darling little face.  I can't wait to kiss you on that smooth forehead of yours and let you know happy your mother is to hold you in her arms."

Ethan had smiled.  Before they'd known what sex their child was, they'd chosen both boy and girl names.  They'd settled on Bradley Allen for a boy.  Deciding to name a second son after his best friend had been a cinch, but he and Jenna had struggled with the middle name until she told Ethan they should give their child his middle name. Ethan had never much cared for his middle name, but—if a boy—Jenna wanted her firstborn to have part of Ethan's name…and so he relented.  He'd do anything for that woman, and so he couldn't deny her sweet request.  They'd struggled trying to choose a girl's name, though, and Jenna at first figured that meant she was having a boy.

When the doctor had informed them earlier that week during her regular OB/GYN appointment that he wanted to induce her labor, she asked, "Why?  Is something wrong?"

"No…but you're a week overdue, and I don't want you to go much longer."

So they'd packed her bag Wednesday night and made sure the baby's room was ready to go.  Ethan had also called Val to let her know, because even though he wanted Chris to see his baby sibling, Ethan thought he'd rather have him visit the next weekend.  Val was okay with it but did ask if she, Brad, and the kids could come by the hospital after the baby was born to make an introduction.  That was huge.  Val was mellowing out, and Ethan figured it was because he'd been clean well over two years now.  She was starting to believe he'd changed.

When they'd arrived early Thursday morning, the nurse had gone over pages and pages of information with Jenna and had done lots of things with her to prep her.  One of the things she'd done was to wrap some Velcro belts around Jenna's belly to monitor the baby's heartbeat.  So Ethan had enjoyed hearing the steady beep-beep noise coming out of the machine.  That sound represented his child preparing to exit Jenna's womb that had been its home for the past nine months.  The nurse had also inserted an IV in Jenna's arm.  She'd explained to them both that the IV had something called Pitocin in it, something that would induce labor and, therefore, bring their child into the world.

She'd smiled all morning and even half the afternoon.  Her friend Sophie showed up late in the afternoon and chatted with Jenna, trying to keep her mind off the growing discomfort she felt.  By that night, though, Jenna said she was hurting.  Ethan asked, "Don't you want some of that pain medicine they said they could give you?"

He could tell she was feeling weak.  "No…bad for the baby."

He scooped a couple of ice chips into a spoon from the large cup the nurse had filled for her and held it to her lips.  She pulled the chips into her mouth and sucked on them.  He took the damp washcloth off her head and dipped it in the tub of water next to the bed.  After wringing it out, he laid it on her forehead again to help cool her off.  "What about one of those epidural things?"  She'd already told him no twice…once nicely and the second time with a snap ("Absolutely not!").  Midnight came and went and still no baby.

So he just tried to be the good boyfriend, tending to her every need and trying not to let the worry show on his face.  Jenna was one of the strongest women he'd ever known…and she looked like she was going to break.  She was his bedrock.  He couldn't imagine her cracking or how he could handle it if she did.

He'd had no idea, though, because around two that next morning, the doctor came in and, unsatisfied with Jenna's results, broke her water with a long hook.  Jenna, the fiery redhead who'd been fighting the contractions before, was now too tired to struggle.  Ethan could see the pain etched in her face, and the nurse kept pushing the button on the IV to drive more of the medicine into Jenna's veins to keep her contractions just a minute apart.

About half an hour after the doctor had sped up the proceedings, Jenna finally relented to letting the nurse put some pain medication in her IV.  The only difference Ethan noticed afterward was that she started sleeping between contractions.  Again, what worried him wasn't the pain he could tell she was experiencing but the fact that she looked like she wasn't fighting anymore.  She was doing the breathing patterns they'd taught her in the childbirth classes they'd attended, but the unnatural panting she was doing didn't seem to be helping at all.  Ethan resisted the urge to yell at the nurses to do something.

Finally, the nurse who seemed to be in charge checked Jenna again.  She said Jenna was at a ten and fully effaced and was ready to start pushing.  Ethan felt a huge weight lifting, because they'd watched the videos.  If she started pushing, the baby should be with them soon.

Except it wasn't.  Jenna pushed and pushed and pushed.  One hour passed.  Then another.  The nurses kept checking her, saying they could see the baby's head.  Ethan looked once and saw it too, but he also saw something else.  She looked mangled inside, and he didn't think it looked right.  When he saw the two nurses whispering by the door, he knew something had to be wrong.  He didn't want to leave Jenna, but he needed answers.  She'd just finished another contraction filled with futile pushing, and so he knew he could leave her for a few seconds.  She wouldn't even notice because she would be sleeping.

Both nurses looked like deer caught in headlights as he approached.  His voice was low.  "What the hell's going on?  Why isn't the baby here?"

The nurse in charge examined his eyes and the other nurse looked ready to bolt or at least tell a lie.  The nurse in charge took a deep breath.  "The baby's stuck."

"What do you mean stuck?"

"Not moving."

"So why aren't you doing something?"

The nurse's voice got snippy.  "That's what we're discussing."

"Discussion's over.  Get the goddamned doctor here now."

She looked a little angry but relieved at the same time.  Both women seemed intimidated by the doctor, but maybe it would be easier for them to ask him to come back if the father of the child demanded it.  Goddammit.  Jenna had begged him not to throw his weight around, use his fame to get favors, but he was about ready to.  This whole thing was bullshit.  She was suffering, and while the baby's heart monitor tried to assure him that the baby was doing fine, he was no longer convinced.  He had no faith in the idiots here.

He was back at Jenna's side for her next contraction, and after she pushed again to no avail, he wiped her brow and fed her another ice chip.  Her face was flushed and she looked like she wasn't fully with him anymore.  Ethan was ready to kill someone.  He heard the nurses whispering again, but this time, when they were done, the mousy quiet one told him the doctor would be there shortly.  Apparently, after breaking Jenna's water, he'd gone to the doctor's lounge to sleep and had given the nurses instructions to wake him when Jenna was ready.  What?  Pushing wasn't ready?

When the doctor arrived five minutes later, it took everything Ethan had to not go off on the guy.  He respected that the guy had plenty of education and experience, but he had two lives at stake here…and Ethan knew he wasn't even exaggerating in this instance.  The doctor examined Jenna and then started barking instructions at the nurses.  Before Ethan could even register it, there were lots more people in the room.  A long silver table full of instruments that looked like they could have been used during the Spanish Inquisition (except that they were stainless steel) and something that looked reminiscent of a movie theater popcorn machine were wheeled in.

Ethan couldn't hold it in anymore.  "What's going on, doc?"  He knew he didn't sound happy, and he didn't give a fuck.

The doctor looked pissed but Ethan didn't care.  When the guy talked, though, he was calm.  "Your child is stuck.  I'm going to use forceps to get the baby out."

Forceps?  Ethan could barely process the thought as the room started to spin out of control.  Add to that, the feel of the room was like a sidewalk on Denver's 16th Street, bustling with life and frenetic energy.  Ethan, on the other hand, felt like vomiting.  Two years ago, he would have had a cure for that feeling, but today he had to find a way to cope with it…here, now, and completely alive and aware.

As though he were watching a movie, he saw his hand take Jenna's in his, and he heard a silent prayer repeating in his head, one asking for both his wife and child to be okay.  That they weren't really married didn't matter to Ethan.  Today, she was his wife…and, goddammit, she'd better see this thing through.

Still as though he weren't a part of the action, he saw two silver instruments in the doctor's hands.  They looked almost like salad tongs.  The doctor was talking, telling Jenna what to do during the next contraction.  Ethan looked at her and her eyes were open—barely, but they were.  She seemed more alert now than he was.  Her next contraction began and she did as before, bending her knees and holding her legs up to her chest and pushing as hard as she could.  The doctor used the forceps inside Jenna's birth canal, and Ethan could envision what the man was doing—using them to pull the baby out.  The second time she pushed, she groaned aloud and the doctor pulled again, this time lifting her hips off the bed.  Jesus Christ.  That couldn't be good.  Jenna's eyes fluttered closed, but she still held her legs up to her chest.

At last, though, the doctor's arms started moving and Ethan knew then the baby was coming out.  "You can do it, babe.  You got this."

Jenna seemed to sense what he was saying, pushing a little harder, a little longer, and then Ethan saw the doctor's arms moving more.  The man said, "Okay…stop pushing."  Jenna started doing the breathing again, a kind of panting, one of the techniques they'd learned in one of the classes, designated to stop her from following her natural urge to force the baby out of her womb.  Ethan wanted to go to the end of the bed to watch the baby's entrance into the world from that vantage point, but Jenna's fingers touched his, urging him to stay.  He could see enough from where he was, though, and just as the doctor announced that Jenna had given birth to a baby girl, Ethan saw it for himself.  It wasn't a surprise but a confirmation.

It wasn't long before the doctor had a pair of scissors in Ethan's hand so he could cut the cord.  He looked up at Jenna and held back a couple of stupid tears threatening to make their way out of his eyes, but then looked back at the infant.  God…even newborn, the baby looked just like Jenna.  Red hair, not long, but in tiny corkscrew curls all over her head, deep blue eyes, and heart-shaped lips.  Once the cord was cut, the doctor rested the baby on Jenna's belly just below her breasts for a few moments until the nurses whisked the infant over to the weird popcorn machine, where they could clean her up, check her vitals, and get her ready for the world.

Ethan hadn't remembered much from Chris's birth.  He'd been surrounded by a soft, echoey cocoon that protected him from the harshness of it all.  Yeah, when the shit hit the fan with Val, he'd excused himself long enough to take the pressure off.  Unfortunately, his memories of that evening were hazy.  He remembered feeling awe at seeing his son, but it hadn't been as clear as this child's.

While the nurses tended to the baby and the doctor coaxed Jenna's placenta out, Ethan held her hand and brushed her hair back with his other hand.  He could see tiny capillaries broken in the skin under her eyes, and he figured it was because she'd been pushing so hard.  They looked like tiny red freckles.  He noticed she was looking over at the baby, a small tear forming in the corner of her eye.  "She's beautiful, isn't she?"

Jenna just nodded, her eyes still on the infant.  Ethan felt relief that Jenna wasn't dozing off like she had been with the medicine coursing through her veins.  He knew that they had more painkiller going through her IV but the other bag was almost empty, the bag that had been causing her to contract.

The doctor started sewing Jenna up, explaining to her that she'd ripped inside because the baby had gotten stuck.  Jenna just smiled and Ethan kissed her on the forehead and squeezed her hand.  Then he stood.  He had to go see the little one.  And, just like Jenna, he felt his eyes flood with liquid, thinking about this beautiful life in front of him.  He couldn't wait to see what Chris thought.  Yeah, Chris already had another sister named Hayley Marie, but that was Val and Brad's child.  And Hayley was over a year old now.  Chris was finally at an age where he'd really be able to understand…at least that was what Ethan thought.

The nurses wrapped the baby in a receiving blanket, seeming to be done fussing with her for a little bit.  The head nurse looked at Ethan.  "Do you want to hold her?"

He smiled.  "Hell, yeah."  The nurse handed Ethan his newborn daughter and he cradled her in his arms. It turned out they'd chosen the perfect name.  He and Jenna had settled on Scarlet Rae, and her hair certainly fit the moniker.  Ethan started walking over to the bed so her mama could hold her as well, but before that, he stopped, trying to make that goddamned tear back off.  He whispered to his daughter, "I'm gonna do you proud, kid.  I love you."  He took another few steps toward the bed and saw Jenna's tired smile.  She'd overheard…and that was okay.  Ethan smiled back.  He knew he had to call his mom, Jenna's best friend and her sister, and Chris…but he wanted to savor just a few moments alone before letting the world in.
About the Author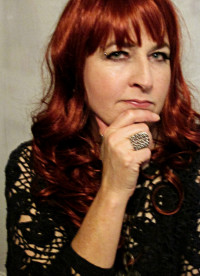 Jade C. Jamison was born and raised in Colorado and has decided she likes it enough to stay forever. Jade's day job is teaching Creative Writing, but teaching doesn't stop her from doing a little writing herself.
Unfortunately, there's no one genre that quite fits her writing. Her work has been labeled romance, erotica, suspense, and women's fiction, and the latter is probably the safest and closest description. But you'll see that her writing doesn't quite fit any of those genres.
You'll have to discover Jade's writing for yourself to decide if you like it.