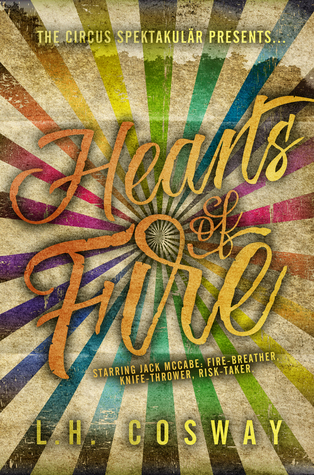 Hearts of Fire

by L.H. Cosway
on March 9, 2015
Pages: 350
Buy on Amazon
Goodreads

The Circus Spektakulär is proud to present Jack McCabe: Fire-breather, knife-thrower, risk-taker.

My house burned down when I was just a boy, robbing me of both my parents.

Now I breathe fire, eat the poison that almost killed me.

Crowds come to see me night after night. Men for the spectacle, women for the thrill. I'm an oddity to be stared at and desired. With each flame I spit, I risk my life.

I wear scars on my body that will never go away, but the scars inside my head are far more difficult to overlook.

My brother doesn't know me, and if I have it my way he never will.

Life was going exactly the way I'd planned until Lille came along. She wanted to run away with the circus, have an adventure, but this world was never meant for her.

I try to keep her safe, because she doesn't know the dangers that are out here on the road. She doesn't know the monsters that lurk behind the bright lights of the ring. In truth, I could be considered one of them.

We were fashioned from different cloths, never intended to mix. So I watch her. I try not to touch, even when her eyes invite me.

Join us in the Spiegeltent and let us give you a show. Allow my Lille to draw a picture for you in paint and sweat and skin.

The truest love is always the hardest to let in.

This is a standalone romance that tells the story of Jack McCabe, Jay Fields' long lost, presumed dead brother. It is not necessary to have read Six of Hearts in order to enjoy Hearts of Fire.
We hope that you have been enjoying the HEARTS OF FIRE blog tour for L.H. Cosway! L.H is a MUST READ author for us – we absolutely LOVE her books! We have an EXCLUSIVE first look at the cover for KING OF HEARTS below and a SECOND giveaway for sharing the cover below! Go and check it out!!!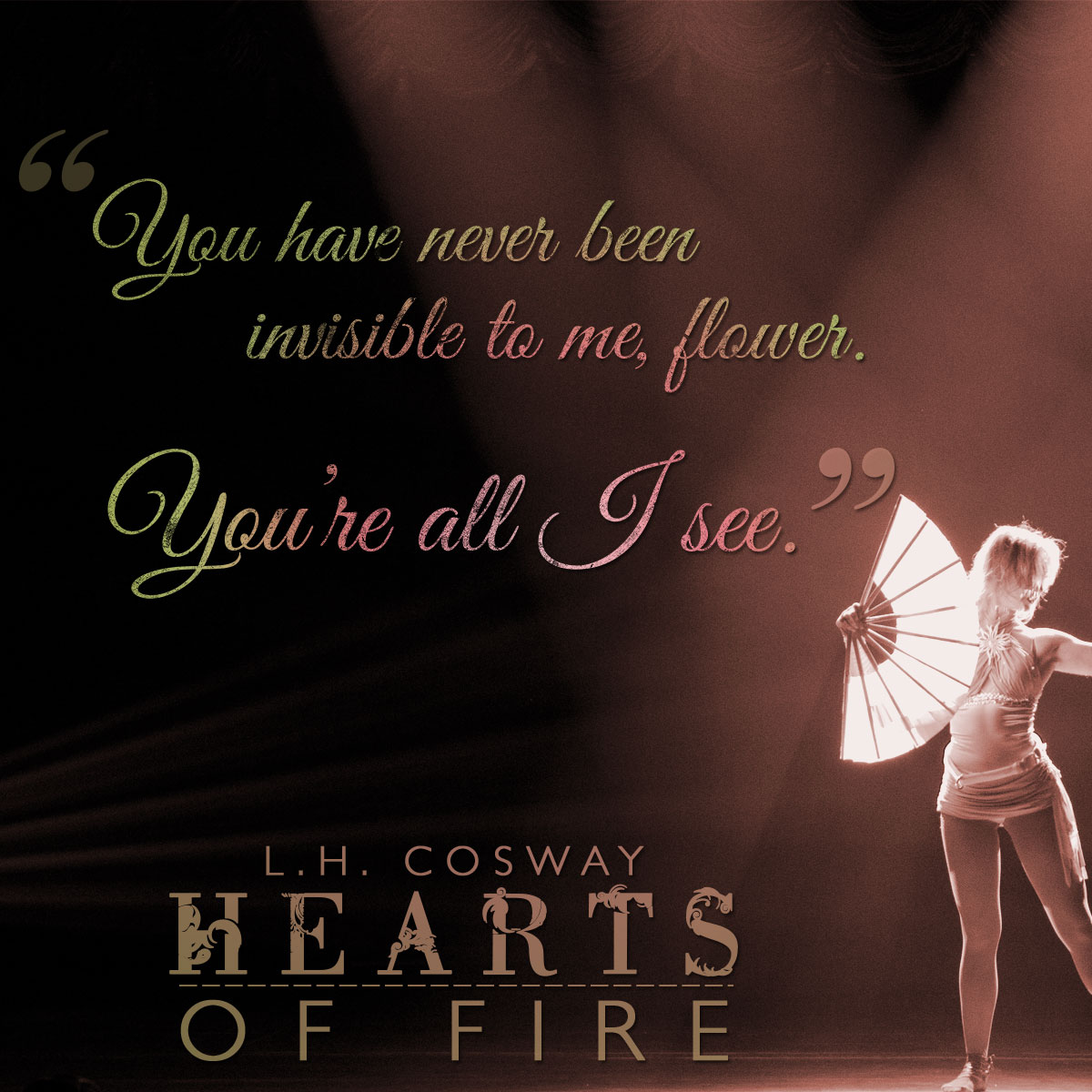 Jack didn't even announce that he was starting when he stood at least ten feet away from me, flipped a knife in his hand, caught it, then lunged with his whole body and flung the knife right at my head. I squeezed my eyes shut, and a hollow thud sounded at my ear where the knife had, thankfully, hit the board. Sounds of nervous excitement and clapping came from the audience as Jack continued his assault on me. He moved his body with the kind of skill that only comes from obsessive practice.
Adrenaline drowned me, my chest rising and falling rapidly.
A small squeak of fright escaped me when he threw a knife at my hip and it barely missed. In fact, I could feel the hard edge of the steel pressing against me. I was surprised it hadn't cut into the fabric of my coat. Jack prowled around the stage, gaze on me, calculating his next throw. Everywhere his eyes looked, I felt positively laid bare. Molested by disinterest.
I might as well have been a sack of potatoes for all the care he showed as to whether or not he might cut me. Deciding I couldn't take any more, I kept my eyes closed until it was over and all six knives had been thrown.
Thud.
Thud.
Thud.
When I finally opened my eyes, Jack was standing before me, unbuckling the belt that held me in place. I didn't move even after I'd been released, still trying to come to terms with the terror I'd just endured. All of a sudden, Jack McCabe was more scary than sexy.
"That was a close one," he said as he pulled out the knife that had landed just below my ear. I glanced to the side to see a tiny lock of my hair fall to the stage floor. Oh, my God.
"You cut off my hair," I gasped.
"Only a small bit. Don't worry — I didn't leave a bald patch." He chuckled darkly.
I didn't know what to say, but I was momentarily appalled at how cavalierly he was taking all this.
"I could sue you," I said, and then instantly grimaced. I sounded like my mother. It was only hair, after all.
He leaned in, and I thought I saw him bare his teeth for a second. "Go ahead, pumpkin."

Hearts of Fire by L.H. Cosway from Becca the Bibliophile on Vimeo.

---
---
EXCLUSIVE first look at the cover for KING OF HEARTS releasing this summer!!!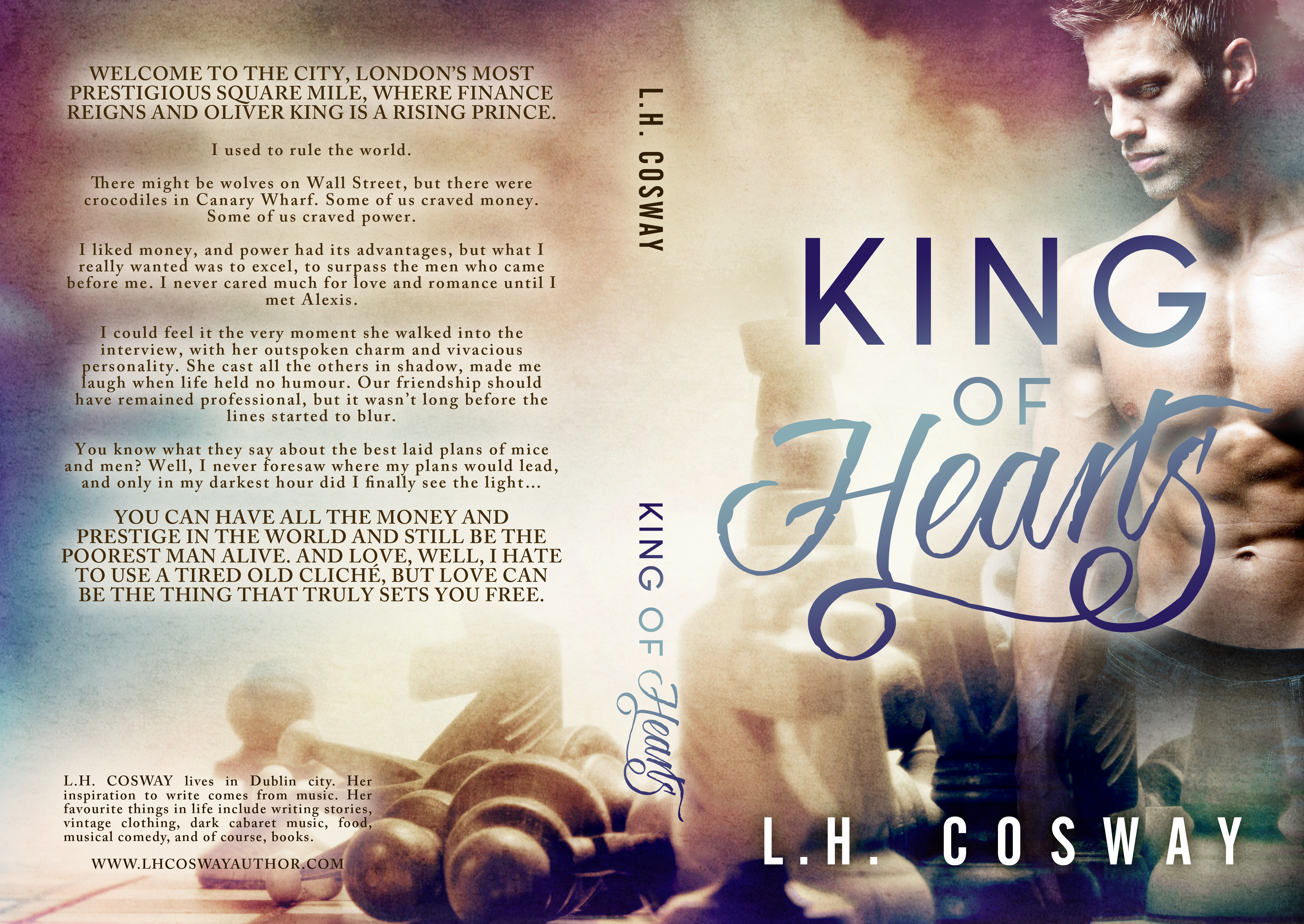 Welcome to the City, London's most prestigious square mile, where finance reigns and Oliver King is a rising prince.
I used to rule the world.
There might be wolves on Wall Street, but there were crocodiles in Canary Wharf. Some of us craved money. Some of us craved power.
I liked money, and power had its advantages, but what I really wanted was to excel, to surpass the men who came before me. I never cared much for love and romance until I met Alexis.
I could feel it the very moment she walked into the interview, with her outspoken charm and vivacious personality. She cast all the others in shadow, made me laugh when life held no humour. Our friendship should have remained professional, but it wasn't long before the lines started to blur.
You know what they say about the best laid plans of mice and men? Well, I never foresaw where my plans would lead, and only in my darkest hour did I finally see the light…
You can have all the money and prestige in the world and still be the poorest man alive. And love, well, I hate to use a tired old cliché, but love can be the thing that truly sets you free.


Enter to win a $20 Amazon Gift Card!!!
All you have to do is share this Cover Reveal post on your social media account(s) (Facebook, Tsu, Twitter, Instagram, etc). Sample message below:
#KingOfHearts is coming soon! #LoveWillSetYouFree #Summer2015 @LHCosway @ShhMomsReading
Please make sure to post a link to your shares below. ONE winner will be chosen on Thursday March 26th at 10am EST! Good luck! And thank you for sharing!
♥READ THE SERIES♥
Book 1 – Six of Hearts
Book 2 – Hearts of Fire