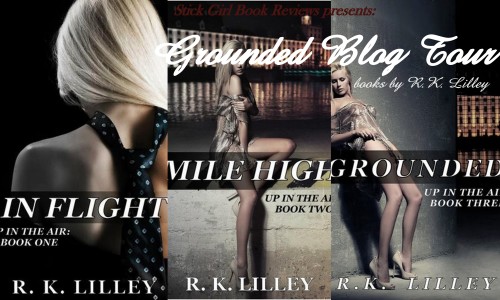 We are excited to be participating in the upcoming blog tour for Grounded, book 3 in the Up in the Air series by R.K. Lilley.  Stop by our blog on February 18th for our review!
Summary
James and Bianca's story draws to a close in the explosive conclusion to the Up In The Air Trilogy.
After a short but earnest courtship, Bianca can no longer deny her feelings for James, and though she's tried her hardest, she can't help but see that he cares deeply for her, as well. In a completely uncharacteristic move, she has put aside her misgivings and agreed to live with the enigmatic billionaire. Is her leap of faith the beginning of something wonderful, or is it too much, too fast?
As James and Bianca feel a growing need for each other that neither can deny, circumstances beyond their control intervene, trying to tear them apart. Amidst the ever mounting threat of a monster who wants Bianca dead, and the constant pitfalls of an indiscreet past that James can't seem to escape, can these two passionate lovers manage to find their happily ever after?
Tour Schedule
2/12/13-  Aestas Book Blog                    
2/13/13-  Ana's Attic                               
2/14/13-  Sinfully Sexy                            
2/15/13- Stick Girl Book Reviews               
2/16/13-  Wolfel's World of Books  and Reality Bites! Let's Get Lost!    
2/17/13-  The Book List Reviews            
2/18/13-  Holly Loves Indie Books and Shh Mom's Reading                  
2/19/13-  Angie's Dreamy Reads  and Becca the Bibliophile
2/20/13-  The Book Avenue  and Three Chicks and Their Books  
2/21/13-  The Book Enthusiast                
 2/22/13-  Literary Mania Reviews            
 2/23/13-  Stick Girl Book Reviews