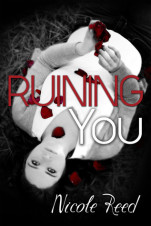 Today we welcome Nicole Reed to our blog as she promotes her new book Ruining You.  Denise read and reviewed this book a few weeks back.  Check out her 4.5 star review here.
Nicole is providing an ebook copy to 1 lucky winner.  Enter by leaving a comment on our facebook page or following this blog post.  Winner will be selected tonight at 10pm.
Enter using Rafflecopter below for a Grandprize giveaway.  Good luck!
---
In writing Ruining Me and Ruining You, I never dreamed I would receive personal responses like I have. I wrote Jay's story straight from my heart. Every single heart-shattering emotion was felt in the telling of her story. I lived each and every moment right along with her and breathed every single word. I never could have imagined the impact that it would have.
You see, as much as I appreciate every review and rating, my daily life is being changed with the personal emails and comments that survivors and families who have suffered the loss of a loved one from suicide have shared with me. My heart takes a beating with every story, but God, it's so worth it, and I feel so unworthy. They understand that I didn't write this story because I'm a depressing person, but instead, that I wanted to tell a story and have true life feelings pour out on every page. By doing so, others that have lived it would know and relate, and those that haven't may have a little more compassion for those that do.
My favorite and most soul-crushing moment in Ruining You is when Jay speaks with her mother while seeking treatment. As someone who has lived it personally and also as a parent now, that scene plays across my heart and resonates through my soul. Most of the time, in these situations, those close to the individual are caught up in their own life. Yes, even parents. Unfortunately, that is reality, and I'll admit to being guilty of it. It's never intentional, it is…what it is. Jay's mother was given the chance to have that conversation when so many, in life, do not.
So, thank you, reader, for opening your heart to Jay and taking this journey with me. I can promise you one thing: out there in this vast world that we live in, there is a real Jay. Open your heart, your mind, and listen. Sometimes all it takes is for someone to care.
I <3 YOU ALL!!!
Nicole
Grandprize Giveaways
$50 G/C to Amazon or B & N
Signed copies of both Ruining Me and Ruining You
Ruining You Book Necklace  — picture below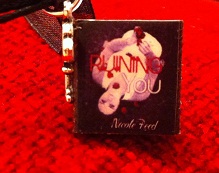 Synopsis
For a girl who dared to tempt death, living is the only promise that matters now.
Jay's life almost came to a forced end when her darkest secrets were revealed and the one who she chose to give her future to was ripped away. Now, everything she kept hidden is the topic of everyone's conversation, and not all are sympathetic. Someone wants her horrific past to dictate her future, and another is determined to help her choose a different path.
In conclusion to Ruining Me, Kane and Rhye know that Jay is worth the fight, but waiting for her to find herself may ruin them all.
Author Bio  
I love angst….I thrive on it, but only the fictional kind. I adore a story that grips the reader from the beginning and doesn't let go…EVER. I'm an avid reader who just recently discovered my love of writing. My favorite things in life include my three wild & crazy kids, Reeses Pieces, and every genre of music. Please come find me @ www.nicolreed.wordpress.com or www.facebook.com/ruiningme
Social Media Links
https://www.facebook.com/RuiningMe