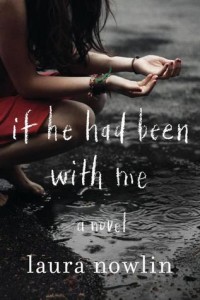 Today we welcome Laura Nowlin to our blog as she celebrates her new release If He Had Been With Me.
Thank you to Sourcebooks for providing us with an ARC copy for an honest review!
---
5 STARS!!!
Synopsis
If he had been with me, he wouldn't have died.
Throughout their whole childhood, Finn and Autumn were inseparable—they finished each other's sentences, they knew just what to say when the other person was hurting. But one incident in middle school puts them in separate social worlds come high school, and Autumn has been happily dating James for the last 2 years. But she's always wondered what if…
The night she's about to get the answer is also one of terrible tragedy.
Kim's Review
Most of you are used to my reviews by now that you expect or maybe even anticipate "gifs" interjected drawing out how I felt while I was reading. Well this review is going to be different because I will be telling you how I felt as I explain the basis for this beautiful tragic love story filled with me wanting more "time" if only there was more time; although I knew before the book started heck even if I didn't the first chapter alone showed me what would end up happening. I have to let "loose" how this book made me FEEL and that it did.
This is the story of Autumn & Finn were born a week apart to mother's her are best friends. The kids affectionally referred to the as "The Mothers". They grew up together as best friends always together. Always looking out for one another.


Finn would take up for Autumn when they were in elementary school. While the memories they shared may have been the same they were different in how each of them perceived those memories to be. Autumn always knew she was "weird" but she also knew she was a very pretty girl. Finn was the shy boy who was utterly talented when it came to sports but also a very caring boy which will make complete sense how things came to by at the end.

Middle-school years their relationship changes and it's not clear as to how or why at first. Autumn narrates this story and it has to be told by her because Finn isn't there to tell it. They grew apart as Autumn liked to call it. Went their different ways, new friends and new interest but they always remained in each other lives since "The Mother's" got together for dinner once a week and they shared every major holiday together. However, not all memories of this time were of them apart.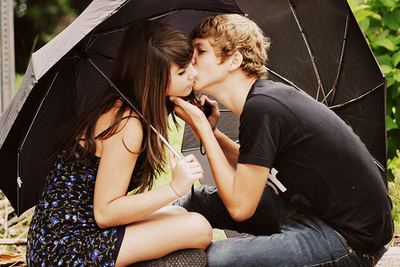 When high school comes around Autumn makes friends with those of like mind. While Finn being the star soccer player he is and "super" hot as he is referred to in the book gravitates towards the popular kids. Autumn meets Jaime and thus begins a relationship with what she termed her first love. Finn meets Sylvie and they quickly pair off ~ the star soccer player and the cheerleader.
Autumn walks us through the four years of high school and her ever evolving feelings towards Finn who she may not communicate with at school but remember their lives are still heavily intertwined. We watch her relationship with Jaime continue and her bonds with her "group" of friends get stronger. We watch as she begins to observe Finn from a distance and begins to wonder what if things had been oh so different if one event when they were 13 years old was only seen as the same through both their eyes. Autumn & Finn barely communicated when they were together outside at school and they certainly didn't communicate while they were at school.
Graduation comes and go and relationships change, feelings change, friendships renew and past events are discussed. If only, they would've started this discussion so much earlier. If only, we could turn back the hand of time. If only, it's the saddest statement there is.


If He Had Been With Me is a heartbreaking story of changes one endures while growing up whether those changes take place in family life, friendships and even relationships thought to be "forever." It's also a story of a brief, blink and you will miss, of one perfect moment when everything is oh so right ~ but tragically it's so utterly short.
I cried when the story began, I turned pages quicker than I thought possible while I gobbled up the story of Autumn & Finn. I also knew the closer I got the end what was going to happen but I didn't know that I would be treated to confessions that made my heart burst with happiness even though I knew in a few short pages I knew my heart would break in two. I wanted more, more for Autumn, more for Finn, more "The Mother's" and more time so much more darn time.
I watched Autumn shut down towards the end completely and totally understanding the reasoning as though I was reading it through a young woman's mind. As selfish as it could've been the ending of the book left me with hope of a life save, a life continued and a second chance for all to find some piece of happiness.
This was a 5 star read for me. It's beautifully written, simply told from a teenage girls POV and perfectly so where at times I felt I was reading a journal or I was inside Autumn's head. This is a story that will always stay with me. I will always see the oh so apt cover and remember both Autumn & Finn. For a YA read I was so pleasantly surprised I connected with the characters like I did ~
I recommend you mark this one down. Put it on your TBR and purchase and read it. Come take an emotional journey into the life of a beautiful young woman who acknowledges her first love and has a chance to spend some time with that first love making memories and celebrating first that you never get a chance to go back and make.
About the Author
Laura Nowlin holds a B.A. in English with an emphasis in Creative Writing from Missouri State University. Her short stories have appeared in The Moon City Review and STEM. In addition to being ambitious  writer Laura is also an avid reader who believes that books allow her to live many lives in one lifetime.  When she isn't at home agonizing over her own novels Laura works at the public library where the patrons give her plenty of inspiration for her writing.  She lives in St. Louis with her musician husband, neurotic dog, and  psychotic cat.