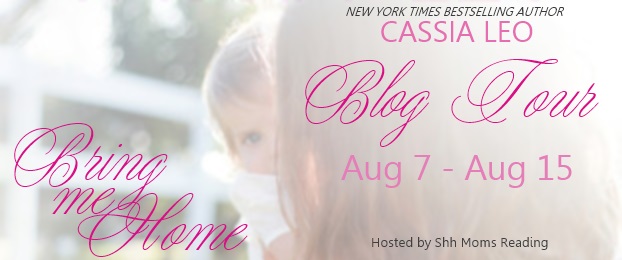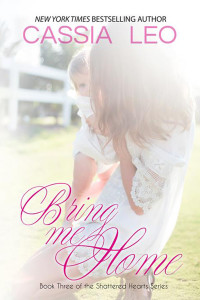 Today we welcome Cassia Leo to our blog as she celebrates her new book Bring Me Home which released on August 6th.
Christine and Kim sat down for an interview with the main characters of the series – check it out below!
Enter for a chance to win some amazing giveaways using Rafflecopter below – good luck!
---
5 STARS!!!
Synopsis
The breath-taking conclusion to the New York Times and USA Today bestselling series is expected to be released August 6, 2013.
Claire Nixon is a college student with a past full of secrets and heartbreak. She was saved once by her first love, and rock star, Chris Knight. But when she encouraged Chris to leave town to pursue his dreams, both Claire and Chris didn't realize it would be the biggest mistake of their lives.
After a devastating year apart and thousands of miles of distance between them, Claire met sexy surfer Adam Parker. With his awful jokes and profound patience, he helped Claire pick up the shattered pieces of her broken heart for the second time.
But now Chris has returned and he is willing and determined to make Claire's dreams come true—the same way she did for him when she let him go.
With Adam's former girlfriend in the picture, Claire finds herself torn between the new, passionate love she shares with Adam and the love and family she shares with Chris.
Kim's Review
Bring Me Home is the conclusion of the Shattered Hearts series ~ I was so excited to receive and arc in exchange for an honest review. I fell in love with this series and the 1st book reeled me in ~ Claire is faced with a decision, not an easy one by all means, on the whether or not she will continue a relationship with Adam or Chris ~ I was …
I was petrified at first to see if Claire would end up with WHO I wanted her to end up with been then when I thought about it I knew I'd be happy with whomever she chose as it would be her solid decision. Claire was taken steps to come to terms with her past and I was…
her on as she totally deserved to be happy. I honestly had to …
when a meeting takes place that was so heart wrenching you could feel the emotions seeping from the page. I think this meeting was a real eye opener for Claire and made her decision much easier ~ her heart opened up and she was clear on who she loved and wanted to be with and I was totally..
although the other guy was still in the picture I have to say I was…
with how Cassia decided to handle his story and you know what it totally worked! It's like his time with Claire taught him something. Oh there were a few parts where I had to…
Chris is quite the character and you have to laugh at some of the things he said. Especially when in the presence of Jackie and she would get on to him. Adam still has his corny jokes but he wouldn't be Adam without them. Cassia also gave us a little surprise when it came to Senia that left me …
Claire's attempted reunion with someone totally..
Though I wasn't that surprised as she didn't need that in her life. Oh yeah I was totally….
when I got closer to the end and then Cassia had me …
yet again when Claire learns something! But NOTHING topped the Epilogues now that's where I went from …..
to …..
and finally more …
Bring Me Home was a 5 star read for me all the way. Cassia did a brilliant job with completely wrapping up Claire, Adam & Chris's journey ~ there's nothing left hanging no more questions ~ Claire ended up with the man whom loved her with everything and she returned that love and that's all that matters regardless who you may have been "routing" for throughout this series. It's difficult I think for an author to please everyone when you have a plot with a love triangle but on the other hand it's so rare to see an author complete the stories of each individuals in such a way you can't help but get to the end of Bring Me Home and you KNOW it ended just the way it had to end. It truly was a very emotional book for me with a lot of difficult decisions made by all parties involved.
Obviously if you've read Relentless & Pieces of You I'm not sure why you haven't read Bring Me Home ~ It's a fantastic story that showed maturity amongst all parties, healing, forgiveness and finally true love ~ what more could you ask for at the end of a series ~ I highly recommend Shattered Hearts series to anyone who hasn't had the pleasure of reading this series and just think since all books are out you won't be left hanging as I was at the end of the first two 😉
Shh Mom's Reading Interview with Claire/Chris and Lindsay/Adam
Hi Chris/Claire and Adam/Lindsay
Thank you all for inviting us to dinner to meet with you.  We have followed your journeys together since Relentless and are so excited to meet you in person and to see how happy you are.  We are sure you know that everyone has been wondering what's been going on with you all so we hope you don't mind some of the tough questions!
For all: Would you have done anything differently?  If so, what?
Adam: I never would have made Lindsay second-guess my love for her.
Lindsay: Adam and I have spoken about this. As much as I regret cheating on him, we both will never regret the beauty and joy Kaia has brought us.
Chris: I never would have let Claire break up with me. I would have held onto her and showed her that she would always come first.
Claire: I never would have given Abigail up.
For all: How has this journey reinforced your relationships?
Adam: I'll let Lindsay take this one.
Lindsay: Of course, you will. [shakes head] Our journey was full of so many detours. Adam and I didn't get engaged for over a year after Nathan's death. And we eventually decided we would wait until Kaia was at least three before we got married so that she could be in the wedding. I think the detours and the waiting strengthened our relationship. I never doubt Adam's commitment or love for his family, or me.
[Claire smiles sheepishly.]
Chris: Okay, I'll take this. I'm sure everyone knows by now that there is nothing I wouldn't do for Claire and our family. She's the reason for everything I do. This journey of losing her and fighting for her; losing Abigail and letting her go; all of it only reinforced my belief that there's nothing more important than love and that you don't always share DNA with your true family.
Chris/Claire:  Now that some time has passed, do you have any contact with Abby's adoptive parents?  How is Jackie doing with her boyfriend?
Jimi: [whispering] Daddy, who's Abby?
Chris: I'll tell you about Abby soon, princess.
Claire: The only contact we have with the Jensens is the yearly letters we send them. The letters always include digital and physical photos of us; Chris and me, and the kids. They send us photos of Abby every December and it's still the best Christmas present I get every year.
Chris: My mom and Joel have been married for over five years. I never thought that anyone would be good enough for my mom, but Joel comes pretty close.
Claire: He's perfect.
Chris: [squeezing Jimi] Anyone who makes Grandma Jackie that happy holds a special place in my heart.
Jimi: Daddy, sing the song you wrote for Grandpa Joel.
[Claire laughs.]
Chris: Maybe some other time.
Jimi: Pleeeeeeease!
Chris: [sighs] Okay. "Grandpa Joel, he's got soul. He may be weird, with his mighty beard. And if that beard, is ever sheared. He will always be, the best darn grampy." That baby's going platinum.
Claire:  Have you had any other contact with your dad/sister?
I have not. I did try once more to contact Nichelle when she was a bit older and, I assumed, more mature, but she didn't want anything to do with me. I was never a sister to her; I was just Kelly's daughter. And my mother was not well liked in their household.
Adam:  How are your surfing competitions going?  Are you doing this 100% of the time?  Do you do any work for your dad?
I still surf competitively, though I've slowed down the last seven months now that Lindsay and I are trying for another child. I compete year-round and we travel to wherever the surf takes us, but we're not completely happy with Kaia's private teacher. We're thinking of having the girls settle down in Carolina Beach and putting Kaia in private school. Then I'll probably work for my dad during the off-season.
Adam:  Why didn't you go to Cora's funeral?
I didn't even know about Cora's death until I got back from Costa Rica a few weeks later. I was pretty mad at myself.
Adam: When did you realize that it was Lindsay for you?
Hmm…. I don't know if Lindsay ever stopped being "it" for me. She just gets me, and she always knows what I need. We both fucked up the first time we were together because we were both afraid of losing. But I don't think Lindsay or I ever really stopped believing that we had lost the one person who would make all the bullshit go away.
For all: What's next for you?  Do you foresee more family get-togethers?
Claire: I would love that; especially if I get to cook. Anything that keeps Chris out of the kitchen prevents kitchen fires.
Lindsay: Well, Adam is no culinary genius.
[Lindsay and Kaia high-five.]
Adam: Is that supposed to be funny? 'Cause I've got something that's really funny.  [Lindsay and Kaia groan.] Why was the mushroom invited to the party?
Kaia: Because he's a fun guy!
Adam: Yep. And you're a smart girl.
Thank you so much for meeting with us and allowing us into your home and lives.  You are truly an amazing bunch of people and you have a bunch of fans who adore you and want to continue on life's journey with you.  We hope to see more of you in the future.
Thank you to Cassia Leo for creating such a wonderful cast of characters that we love and consider family!
About the Author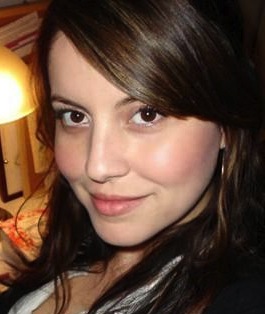 USA Today bestselling author Cassia Leo loves her coffee, chocolate, and margaritas with salt. When she's not writing, she spends way too much time watching old reruns of Friends and Sex and the City. When she's not watching reruns, she's usually enjoying the California sunshine or reading–sometimes both.